Run your store alone or get a little help from your friends.
Aspiring alchemists, get ready to mark your calendar if you love couch co-op and party games. Potion Party comes to PlayStation 4 and PlayStation 5 on April 8.
In Potion Party you are the owner of an alchemy shop. To satisfy your customers you need to brew and sell colorful potions. With the money you earn, expand your shop, and buy new tools, furniture, and characters. But wait, parties are better with friends! So get up to three other players together and have an awesome evening with this crazy and chaotic party game.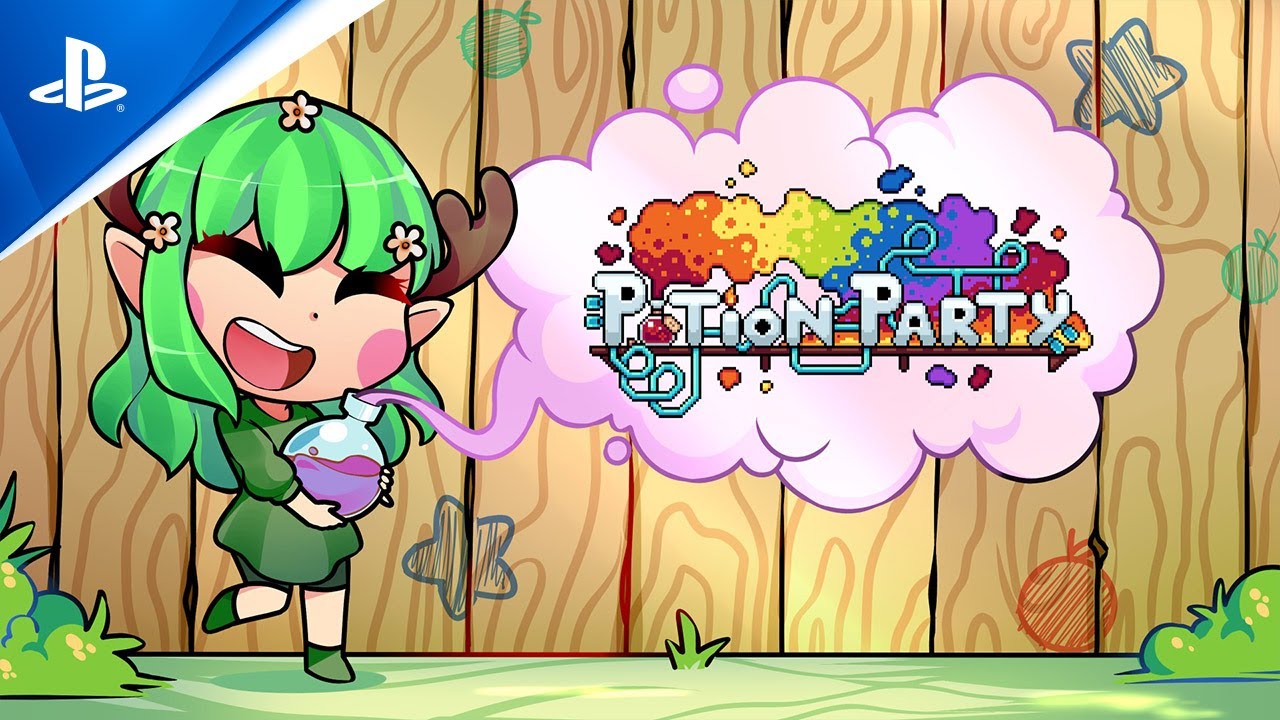 Potion Types
Customers want different types of potions. Potions differ by size and color. Need a green potion? Just mix a yellow and a blue. Need a black one? That requires you to prepare some coal.
Building the shop
When you start your shop, it will be empty and run down. It's your task to add furniture, tools, and decorations to the store. Step by step, your shop will improve and provide more ways to create various potions. Each new stage introduces new items to use and challenges to overcome.
Storage
When you're not actively helping a customer, use downtime to your advantage. Pre-produce some potions and put them in your storage area. The next time a customer needs one of these potions, you already have one at hand. You should also have some candy ready to make customers happy that need to wait a little longer. Especially when playing in co-op mode, managing your shop storage area is an important task to get customers served as quickly as possible.
Defend against monsters
Shortly after your shop opens, you will get unwanted visitors. Slimes, ghosts and thieves of different types will invade your store and try to stop your business. Each of them needs to be handled differently to get rid of them. Don't let them take over your shop.
Play with different characters
You can unlock up to 12 different fantasy characters in the game. Each character has a unique special ability that makes them valuable for certain tasks. These abilities can also be leveled up to become stronger.
When playing together, it's best to assemble a team that complements each other. Have Mary sell the potions to the customer as she gains extra tips. Grifryt is best for brewing the potions as he can make them much faster than other characters. Zeph is a speedy allrounder that can get zoom from A to B to help out in the shop. Each character has roles that fit them best.
Play together or against each other
You can play the whole game alone and unlock all stages, items, and build up your store. However, you will have the most fun when playing with others. Play together with them in co-op mode and split up the tasks in your shop to get more potions sold in time.
You can also compete with your friends in the unlockable versus mode. Two teams (one or two players each), will face off to become the potion masters. It's all about getting the right potion ready before the other team does. Only the first team that sells the potion to the customer will score a point.
Unlike other games, Potion Party focuses on simple controls. Everything is handled with a single action button. This makes the game super accessible. Just one button and one analog stick. Skill level shouldn't hold anyone back from fulfilling their potion-making dreams.
RP Games and FusionPlay
Potion Party is developed by RP Games, and ported and published to PlayStation by FusionPlay. Both are based in Leipzig, Germany. FusionPlay and RP Games worked closely together when designing and testing game mechanics, balancing the game and optimizing it for PlayStation. We hope you and your crew have great chemistry when Potion Party hits PS5 and PS4 April 8.