Build your deck and meet a world of colorful characters in a future sort-of-Earth.
Signs of the Sojourner is a narrative card game about connecting with people. It's the debut release from our studio, Echodog Games, and I'm delighted to share the news that it'll be available to download on PS4 from March 16.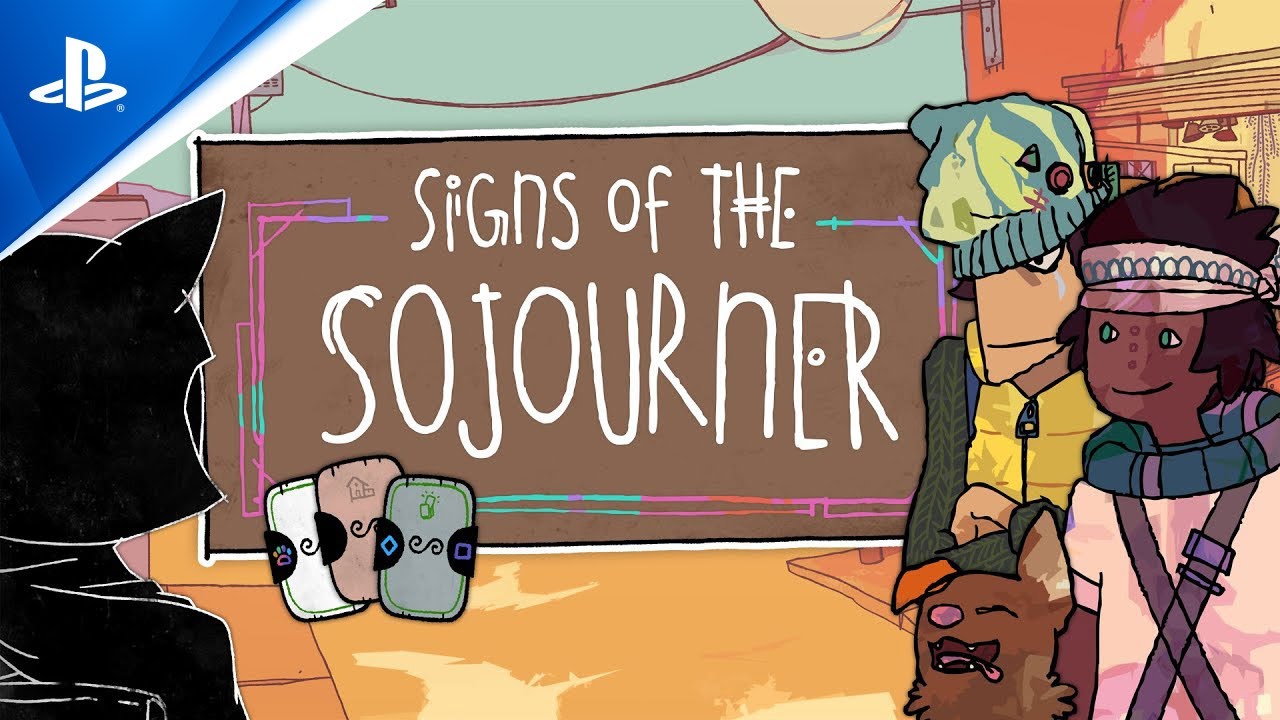 Deck-building begins
We started development on Signs of the Sojourner during the summer of 2018 (at that point it was called 'Project Thunder'), with a lot of prototyping and experimenting early on. The original pitch was 'your deck is your character', but figuring out what that actually meant took a lot of exploration and iteration.
How the game looked during the early stages of development
By the start of 2019 we'd figured out the core structure, systems, and visual language, and that's when things really started coming together. We began bringing on external collaborators during that spring and by the fall we had an open alpha and growing community. Involving the community so early was a new experience for all of us, but a fantastic one. Folks were so enthusiastic and bursting with ideas about how the game could be expanded.
Designing a narrative
At first, we included mechanics similar to those found in games such as Slay The Spire and Magic: The Gathering, but quickly realised it encouraged players to approach card encounters with a hostile mindset. They would regard characters as foes to be defeated, which was not what we wanted at all.
We moved in a direction that focused on symbols and stringing together sequences, which we felt was a much better representation of how it can feel trying to connect and communicate. Combined with how your deck develops over time, the new direction also brought more focus to the themes of identity and personal growth that we wanted to explore.
Different communities in the game tend to favour certain card and deck types, and it's up to you to choose how to build your deck as you travel around Signs of the Sojourner's near-future, sort-of-Earth world. Of course, by curating a deck that allows you to communicate more successfully with one group, it may make other conversations more difficult (even if it's with old friends!).
There is no 'ultimate' deck that can bring favourable outcomes in all conversations. Instead, it's about different decks producing different narrative experiences. There are many possible endings, and players will have to replay the game, exploring different paths and decks to discover them all.
The journey starts soon
Having launched Signs of the Sojourner for other platforms last year (and seeing it subsequently featured on numerous Game of the Year lists!), we can't wait for PlayStation players to start their own journeys and relationships within the game.
And I'm thrilled to also tell you we've introduced five new characters for players to meet and learn about. They include a mysterious stranger, a grumpy neighbour, and someone fighting to save their town.
All of us at Echodog Games are incredibly proud of what we've achieved with Signs of the Sojourner and we hope you will enjoy building your deck, exploring the world, and meeting its colorful characters when it arrives later this month.