Become a metal gladiator in this free-to-play, team-based multiplayer title.
Hello everyone! Hoplon Studio here, from Brazil, and we're thrilled to announce that Heavy Metal Machines is arriving on PS4 (and playable on PS5) February 23.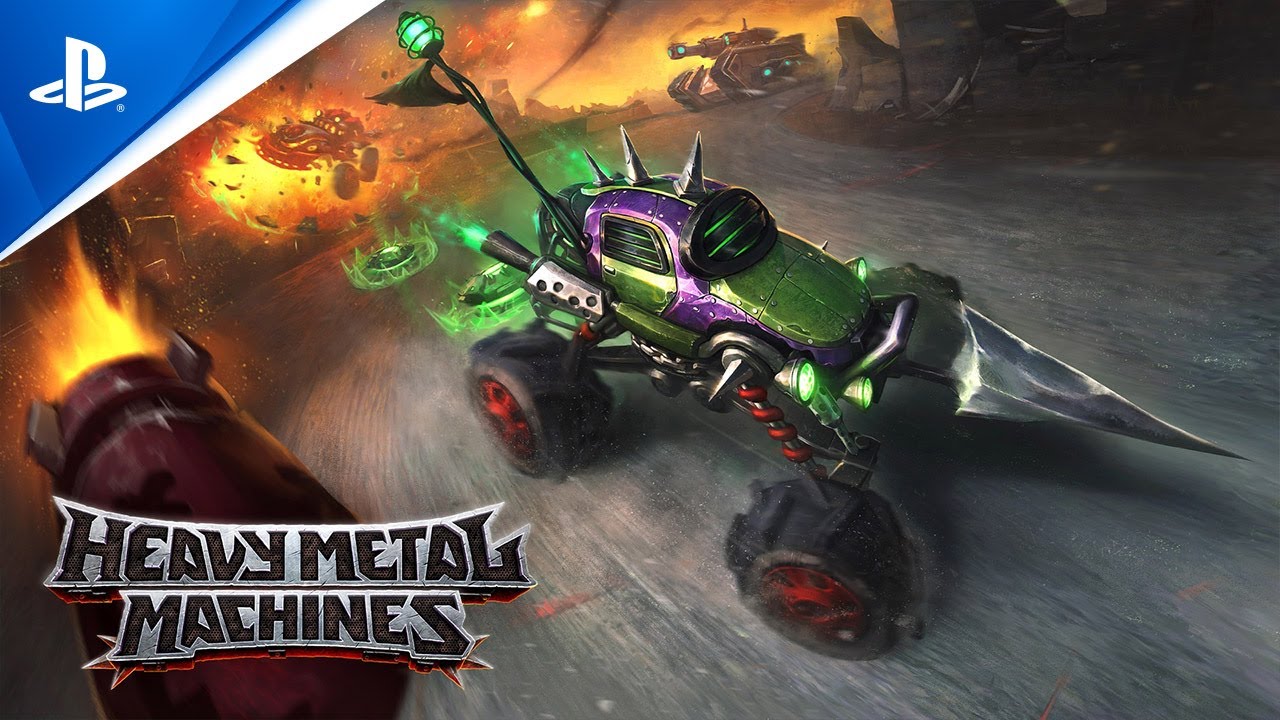 Heavy Metal Machines is a one-of-a-kind, free-to-play multiplayer vehicular combat game where players engage in 4v4 intense battles, controlling lethal vehicles in post-apocalyptic arenas, and I'm pretty sure you'll love it.
Heavy Metal Machine's combination of unique vehicles, fast-paced combat, and post-apocalyptic sports arenas will take you to a whole new gameplay experience where two teams of four players fight to pick up a bomb and take it to the enemy base. Deliver the bomb 3 times to be the winner.
Match your best skills with a role
Ranging from a car-crushing Monster Truck, heavily armored Tank, blade-throwing Motorcycle, to a magnetic Tow Truck, each of the many vehicles has a different set of weapons and gameplay styles that bring a wide range of strategic possibilities to each match.
Play as an Interceptor, to chase and destroy enemies, as Support to keep your allies safe, or as a Transporter to take and deliver the bomb to the enemy base.
Become a metal gladiator
You can play Heavy Metal Machines casually, or if you want to spice things up, join the Ranked Mode and aspire to become godlike. You can also create your Team and bring it to the Colosseum, an in-game Tournament, to battle for prizes and prestige.
Golden tips for new players
Try different Machines (vehicles), each one has very different mechanics and weapons, and find your favorites.
Use the Training Mode to get to know a new Machine, or to learn and sharpen your skills with your favorite ones.
Each vehicle has a role (Interceptor, Support, and Transporter). Play according to your vehicle's role:
Be wise when picking vehicles before each match, so that you have a balanced team with all three roles.
Play for the team, considering the roles of each team member.
Communicate with your team at all times using the quick chat or voice chat.
Any vehicle can transport the bomb, however Transporters are the best fit for the job.
Be very careful with the droppers, areas in the Arena where you lose possession of the bomb and enemy players can easily catch it.
When you are low on health, escape from combat and look for a Repair Charge or an ally support.
New content all the time
New content is continuously added to Heavy Metal Machines, including new Vehicles, Arenas, Battle Passes (aka Metal Passes), and Seasonal Events. The game is free-to-play and not pay-to-win. Rest assured that there is no way to buy in-game items that give vehicles gameplay advantages.
Every two and a half months a new Battle Pass (Metal Pass) season is released, bringing lots of new items to unlock and missions to accomplish.
Special gift for PlayStation players
As an early PlayStation player, download the game now and enjoy a Free Battle Pass Pack, a special gift available only until March 8, that includes the Battle Pass for the season, 3 characters and lots of cosmetic items. See you in the Arenas.