The port that nobody asked for finally reaches PlayStation 4.
The year was 2005. The game was Stubbs the Zombie in Rebel Without a Pulse. The console? Not the PlayStation 2… whoops. 15 years later, Aspyr would like to make things right the best way we know how: reanimating that classic on PlayStation 4 and 5. Better late than never, right?
For the authentic 2005 Stubbs experience, we've brought the game back exactly the same as it was back then. Same gameplay, same graphics, same UI. Okay, we also added modern resolution support, improved controls and key bindings on modern controllers, and nifty new Trophies. But other than that, it's the same!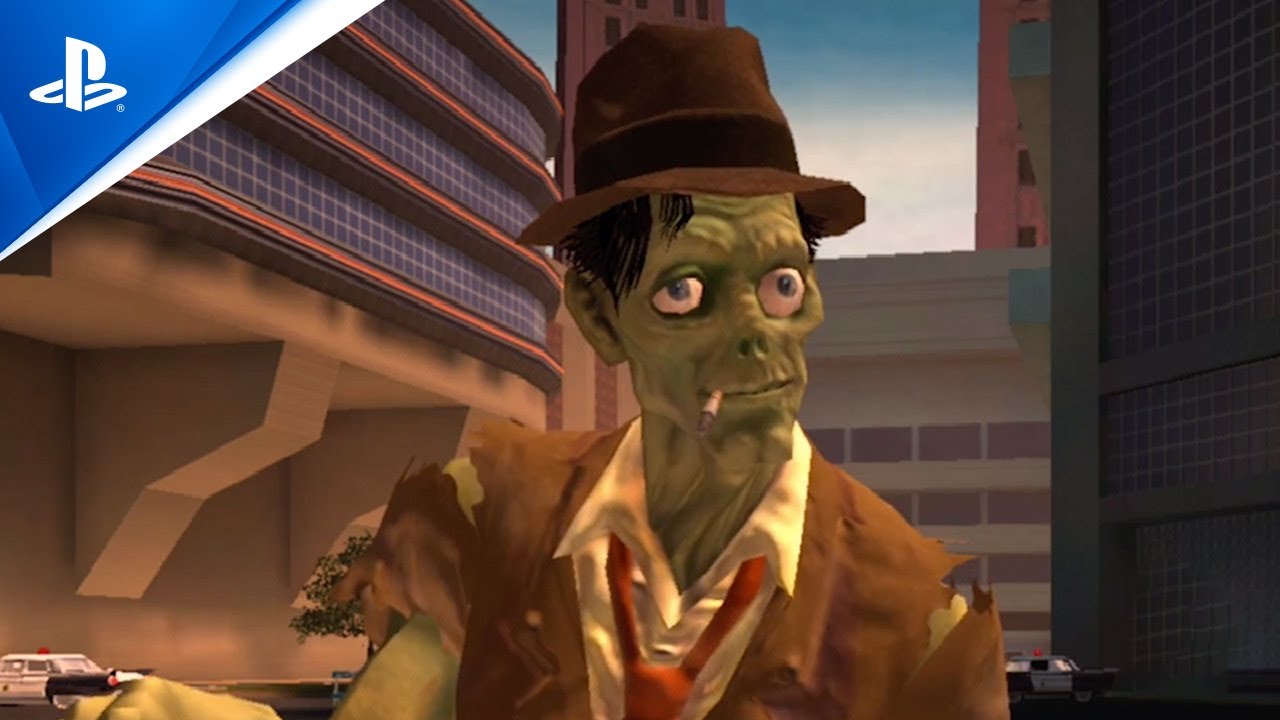 Since Stubbs the Zombie in Rebel Without a Pulse is new to PlayStation, we figured we'd give you a look into what the game is all about.
Retro-meets-future
It's 1959 and the city of Punchbowl, PA, is a beacon of progress and ideal living. The perfect combination of classic 50's style and futuristic technology. Kind of like what we're doing here with an old school game on cutting edge consoles.
As Stubbs, you'll wreak havoc on the idyllic and retro-futuristic city of Punchbowl.
Brains, brawn, and good looks
The trick to a hostile takeover of a town like Punchbowl? Take your enemies out for a bite and add them to your zombie horde. The more the scarier, after all!
In your quest to reunite with the love of your life, you'll explore several of Punchbowl's most impressive locales. Each self-contained location features new mechanics, challenges, and (of course) new Punchbowl citizens to gnaw on. Ever wondered if a crazed farmhand's brains taste different from a ray gun-wielding, jetpack joyriding barbershop quartet member's? Now's your chance to find out!
Eat brains and add unwitting Punchbowl citizens to your loyal horde.
In Stubbs the Zombie, there's more to being a zombie than just eating brains, building a horde, and terrorizing a city. It's all that plus unholy flatulence, gut grenades, and sputum heads. Here's the lowdown on all of Stubbs' special abilities:
Unholy Flatulence: The foes you hit with unholy flatulence might not agree, but I think it's a gas. You'll come up smelling like roses while you knock down your enemies.
Gut Grenades: Always trust your gut, especially when you can use it as a grenade. All you have to do is look inside yourself, rip out your guts, and lob them at the closest clump of adversaries.
Sputum Head: No leader of a ragtag zombie hoard would be complete without a good head on their shoulders. Of course, it's just as useful as a weapon.
Bowl over enemies with the Sputum Head special attack.
Idle Hands are a Zombie's plaything
We know, we know, waiting a month to get your hands on Stubbs after waiting patiently for 15 years is going to be tough. If you're hungry for more Stubbs the Zombie while you wait, follow @aspyrmedia on Twitter for the latest scoop on all things Stubbs.