Use a magical paintbrush to bring color to a black and white world in a new adventure by Wandersong's creator.
The world's color has vanished, and it's up to you to restore it! Chicory: A Colorful Tale is a coloring-book adventure game from the talent behind award winning indie titles such as Wandersong, Celeste, and Night in the Woods.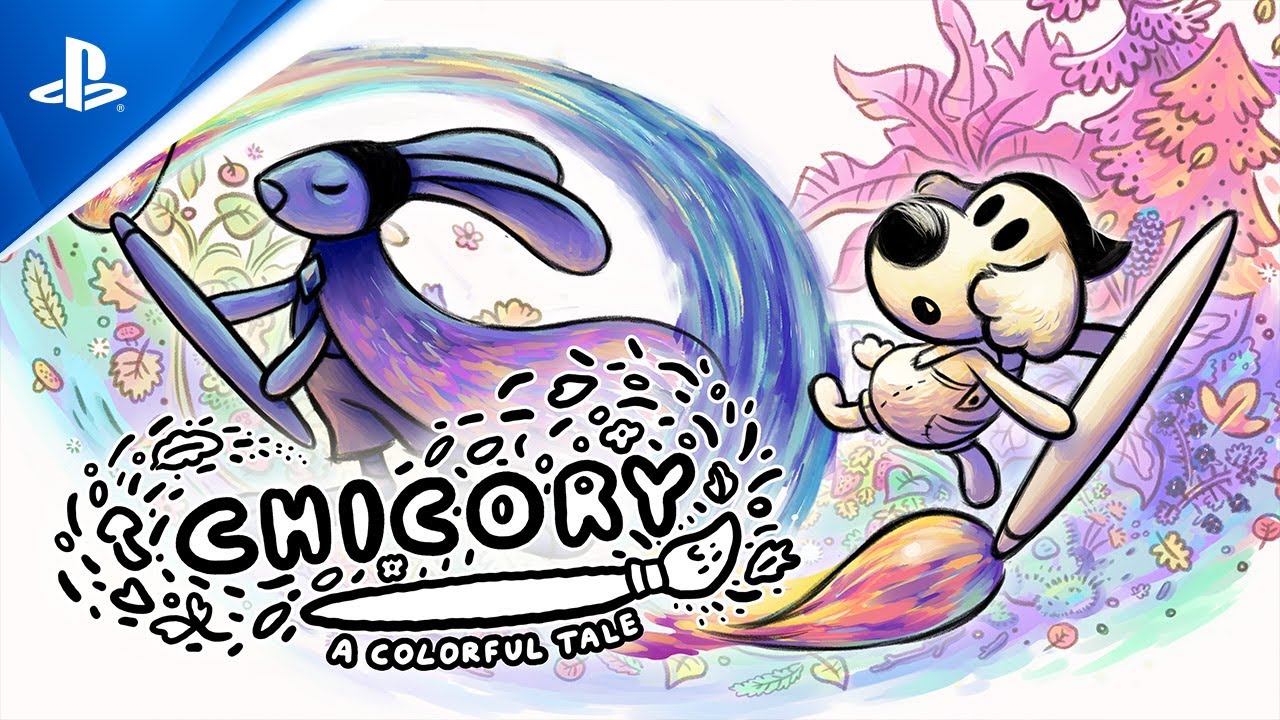 Lead creator of Chicory, Greg Lobanov (Wandersong), started prototyping the game with one idea in mind. After playing a lot of games with drawing in them over the years, he realized he had never actually seen one where it was the main mode of interaction for the player. With his past work in the adventure game genre in both his professional and personal gaming experience, he started questioning whether he could take a player on an adventure while emphasizing the creative aspects rather than just strict problem-solving so common in the adventure and puzzle genres.
"At the outset, I was just wondering if you could make a game where the main player interaction was drawing," Lobanov explains, "but this game felt like the ultimate opportunity to engage an audience with their own creativity, and to tell a story that intersected with all that too."
Your options for personalizing the world of Chicory constantly expand as you strengthen your bond with the magic paintbrush. You gain new abilities throughout your adventure, like glow in the dark paint, which illuminates previously inaccessible caverns and lets you explore new places. Discover hidden stamps and texture brushes to personalize your painting style.
Every world looks unique, since every player can color it as much or as little as they want. Even the main character looks unique since players can change and color their outfits. Best of all, you can do this with your nearest and dearest because Chicory: A Colorful Tale has local co-op, so two players can explore and color the world together.
Chicory: A Colorful Tale was stitched together by a team of development veterans and new voices to the industry. Led by Lobanov, Chicory's engaging mechanics have been molded and fine tuned by a small team of collaborators. Award-winning composer Lena Raine (Minecraft, Celeste, Guild Wars 2) arranged for live performances from musicians across the whole sprawling soundtrack. Sound designers Em Halberstadt (Night in the Woods, Untitled Goose Game, Wandersong) and Preston Wright lent their talent to the game by coming up with not just all of the satisfying gooey sounds that paint makes but also the full range of sound that makes Chicory's world feel truly alive.
Chicory's art and animation team are both new to the industry. Alexis Dean-Jones created all of the characters and animation in the game. And you can thank her for letting you sit on every chair you come across! Madeline Berger drew all the environments, with wiggly lines and creative shapes that are just begging to be colored in no matter where you explore.
Chicory: A Colorful Tale is launching with multiple language support and the team is excited to let fans experience the game in a more accessible way.
"We got to work with some really amazing localizers who cared a great deal about my previous work and put a lot of heart into the translations for Chicory," said Lobanov. "Although, I'm excited to have the game in Russian so that my mom–who was born and raised in Russia—can play it in her native language."
You will be able to play Chicory: A Colorful Tale in English, Spanish, French, Italian, German, Brazilian Portuguese, and Russian on launch.
Chicory is being published by Finji (Night in the Woods, Overland, Wilmot's Warehouse) and will be coming to PS5 and PS4 in 2021.