Next two episodes launch on February 23. 
Surprise! We just released the first game in the We Were Here series on PlayStation Store today for PS4, and it's free to download for a limited time! The rest of the We Were Here series will also be coming to PlayStation 4 on February 23 (and of course all three games are playable on PS5 as well)! It's a perfect opportunity to try out the game and see if you vibe with our brand of online co-op puzzle solving in a sinister castle.
So, just what are you getting into?
If you don't know, our games are cooperative first-person puzzle adventures where your goal is to escape, and all you have is a pair of walkie-talkies. You and your partner will be challenged to work together on the same wavelength in order to solve puzzles and explore.
Each game is two player online co-op only, in which players take the roles of Antarctic explorers. The first two games We Were Here and We Were Here Too see players forced to seek cover by a blinding snowstorm, when they come across Castle Rock – a mysterious medieval castle in the wastes of Antarctica. Upon entering, you become separated from each other – can you and your friend escape Castle Rock?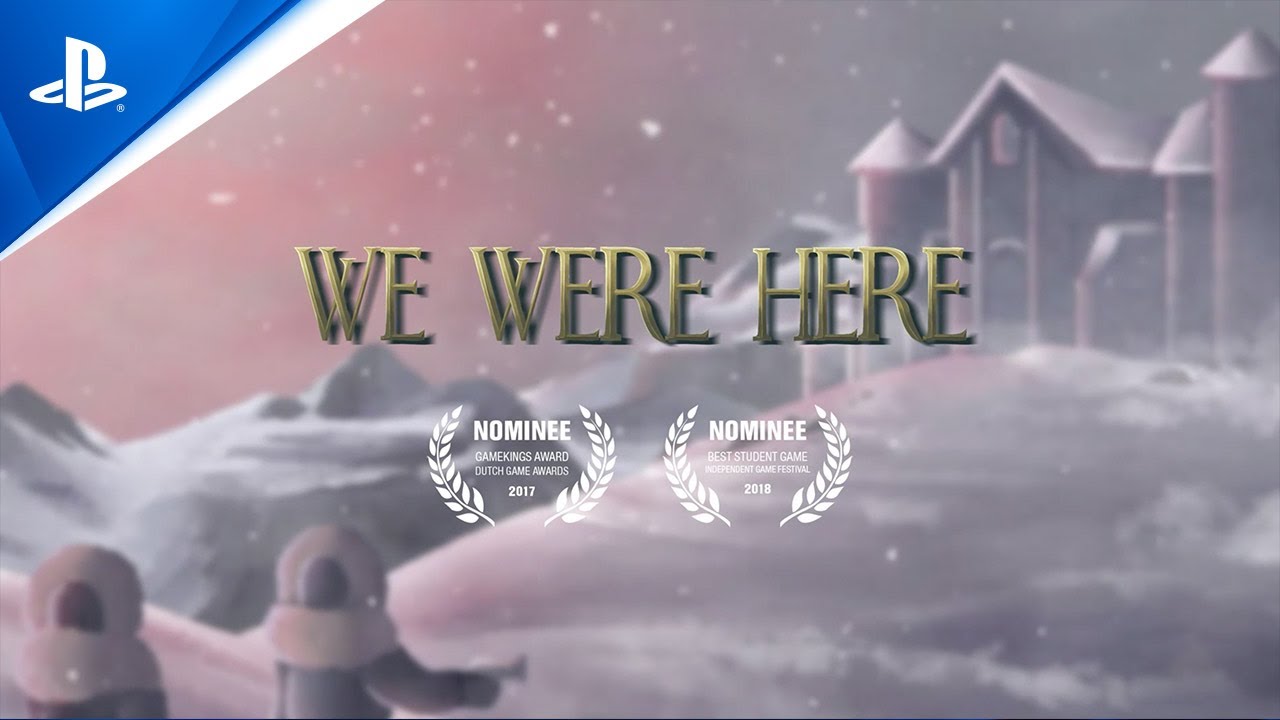 Inside Castle Rock you might occasionally see the other player from a balcony or on the other side of bars, but often your only direct interaction will be speaking via walkie-talkie. We find that this actually makes the game more intimate, not less – you really have to listen to your partner, or you'll never escape. As you explore your part of the castle, describe everything to your partner, and try and see where you can combine knowledge to work together and progress towards the exit.
While the first two games are set entirely within Castle Rock, for our third game We Were Here Together we figured that it was time to change things up. That's why you start out playing alongside your partner in a new base camp area – close enough to touch! This means you can explore side by side. We'll give you a hint though… you'll still need to split up in order to solve the puzzles – it'll just be by choice! It's a more cozy introduction than you get in the earlier We Were Here games!
The expedition base camp is a sharp contrast to the earlier We Were Here games, which see you thrown straight into Castle Rock. In We Were Here Together we really wanted to expand the world, and let players explore beyond the halls of Castle Rock. The base camp is a warm, well-lit space which opens out onto a pretty Antarctic scene with a seafront view. Too bad you have to venture forth to track down the source of a distress call which will ultimately lead you to Castle Rock. There's beauty in the icy, snowy outdoor scenes, but things get darker and more threatening as you progress towards the castle.
Socially distanced fun
In times of separation, We Were Here connects people! It's not only possible to play the We Were Here games remotely, it's necessary for the best experience – which is helpful in these times of Covid-19. Nearly every puzzle in the game revolves around you and your partner sharing information and observations. You might not be physically together, but playing We Were Here games is still an intimate experience! You have to think along together — as they say, great minds think alike! How well you communicate will determine if you escape… or will remain trapped forever.
You'll need to talk to each other, but the walkie-talkies in-game allow for complete immersion – although you can also play with any other voice chat system you might like. That said, we'd highly recommend you use the in-game walkie-talkies, to set the mood and for some extra challenge. Remember that walkie-talkies only have one channel so you can't send and receive at the same time – so try not to talk over each other when things get exciting. Over!
The rest of the series arrives on February 23…
Castle Rock is no ordinary castle, and there's more than one story to be told here. Aside from being in Antarctica (how?) something clearly isn't right. While you're looking out for clues on how to escape, maybe you'll discover hints about the past of this sinister citadel.
Have you claimed your free copy of We Were Here, and completed it? Do you want more? Well you won't have to wait for long! The two sequels will be released on February 23, both offering more puzzles and advancing the story of Castle Rock. There will also be a bundle deal containing all three games!
While it's nice to play them in order, every We Were Here game is a complete experience in itself. Think of it like a TV series where the episodes are individual stories, but also tie together in the longer term. In the same way, you can return to the first two games after playing We Were Here Together and still discover new details about the backstory of Castle Rock. Don't forget that while anyone can claim the game, you'll need a PlayStation Plus subscription to play since it's an online co-op experience.
So that's the We Were Here series in a nutshell! We hope you'll take the chance to explore Castle Rock while We Were Here is available to claim for free. Maybe you'll even be able to escape… together?