Experience Liyue's biggest annual festival, join in the Lantern Rite, and win a Liyue character.
Greetings, Travelers! Genshin Impact's developers here. As we march on into 2021, Teyvat will see its own new year arrive in an update to be released on February 3. We would like to invite all Travelers to celebrate Lantern Rite in Liyue Harbor and usher in a new year of adventure!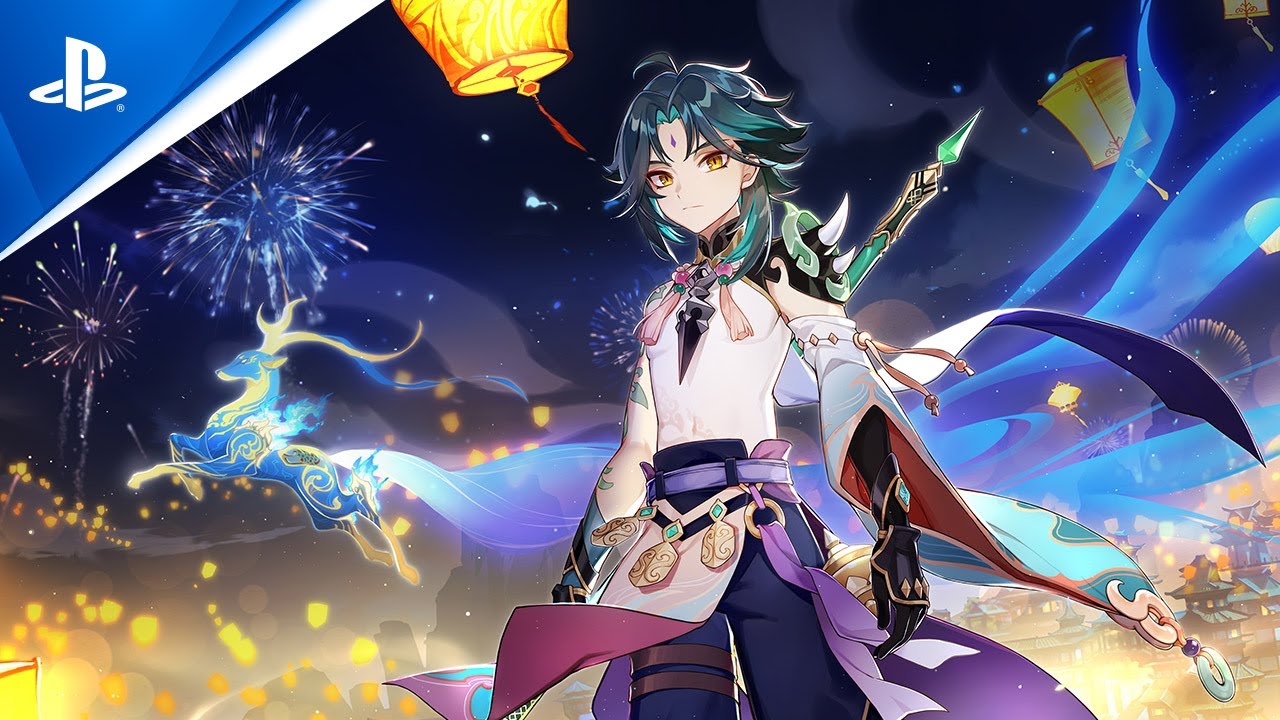 Travelers will have the chance to immerse themselves in every aspect of this historic Liyue tradition, from the preparations in the days leading up to the event to the celebrations on the big day itself. Participation will be richly rewarded, with over 1,600 Primogems, a free four-star Liyue character, and other rewards on offer to help you fully prepare for the year ahead — whatever adventures it may bring.
Remembering the past and welcoming the future
As the biggest festival in Liyue's calendar, the Lantern Rite is packed with festivities, culminating in a spectacular ceremony on the first full moon of the year that sees every household release specially made Xiao Lanterns into the night sky. Liyue locals believe that as well as lighting up the sky, these lanterns deliver their wishes to the heavens and guide the lost souls of fallen heroes back home.
Xiao Lanterns are crafted according to a traditional technique and are able to float thanks to a unique kind of ore called Plaustrite — the same material that was widely used in the construction of the Jade Chamber. Each year, a giant Mingxiao Lantern built in the image of an adeptus is the first lantern to be sent into the sky at the ceremony, followed by thousands of smaller Xiao Lanterns and a beautiful firework display.
Like any good festival, the Lantern Rite is also a time to relax and have some fun. The Lantern Rite gala lasts for several days and is packed with all kinds of exciting festive activities for Paimon and the Traveler to enjoy.
The more lanterns, the merrier
Before getting too engrossed in the fun and games of the festival, we must call on the Traveler and Paimon to once again lend a helping hand to the locals of Liyue, this time to help them prepare for the festival. As always, Travelers' generous assistance will be generously rewarded. Lantern Rite is the most important festival of the year, and every household from Liyue Harbor, to Wangshu Inn, to Qingce Village must make meticulous preparations. The Lantern Rite event will be divided into three stages, each with a series of requests from citizens of all walks of life to help them and their loved ones get ready for the Lantern Rite. Complete requests to raise the Festive Fever level and unlock further quests and stories.
The grand finale of the festive period comes on the final night, when countless lanterns are released into the sky, carrying with them the wishes of Liyue's citizens. With your help, it is sure to be an even more spectacular sight this year — maybe even one that the Vigilant Yaksha, Xiao, will pause to take in. Either way, if you use an HDR screen with your PS4 or PS5, we highly recommend that you take this opportunity to put our HDR Display function to the test!
A time for games, good food, and rewards
No festival is complete without games, food, and rewards, so be sure to chat to the street vendors and see what they've got in store! During the Lantern Rite gala, the brightly lit streets of Liyue are filled with festival-exclusive games, snacks, and activities. Don't miss out!
The highlight of this year's many festive activities is Theater Mechanicus, a tower defense strategy game which you can play solo or with friends. Beat Theater Mechanicus at different difficulty levels to win Peace Talismans, which can be spent at the Xiao Market on rewards including the Crown of Insight, a new namecard style, and more.
We also recommend trying out some other daily events available only during the Lantern Rite period. Fans of photography simply mustn't miss "Five Flushes of Fortune," which will have you claim a certain Kurious Kamera from Ji Tong, take pictures of specific targets, and exchange the photos with Ji Tong for troves of treasure. Surplus photos can be sent to friends.
Meanwhile, avid adventurers may be interested in a new proposition from Katheryne of the Adventurers' Guild. In "Vishaps and Where to Find Them," available from Adventure Rank 20, Travelers can accept investigative expeditions to hunt down the dangerous Geovishaps threatening Liyue in return for rewards.
---
Suffice to say, Lantern Rite is a golden opportunity to experience the richness of life and culture in Liyue. Travelers who manage to accomplish all the seasonal events mentioned above can earn plenty of resources and over 1,600 Primogems.
Finally, we've prepared some extra little surprises to thank everyone for your ongoing support and to help you get ready for a busy year of adventuring ahead: a daily login event, in which you can claim a total of 10 free Intertwined Fate, and an event challenge offering the chance to win a four-star Liyue character of your choice.
May the flames of virtue spread to all, and never be extinguished!