Gear-busting combos and oversized battles await on PS4 and PS5.
Hey Pilots! The time is finally here to enter the arena and start your journey to the top in Override 2: Super Mech League. At Modus Games, we're extremely excited to welcome returning fans and newcomers to the series with today's launch.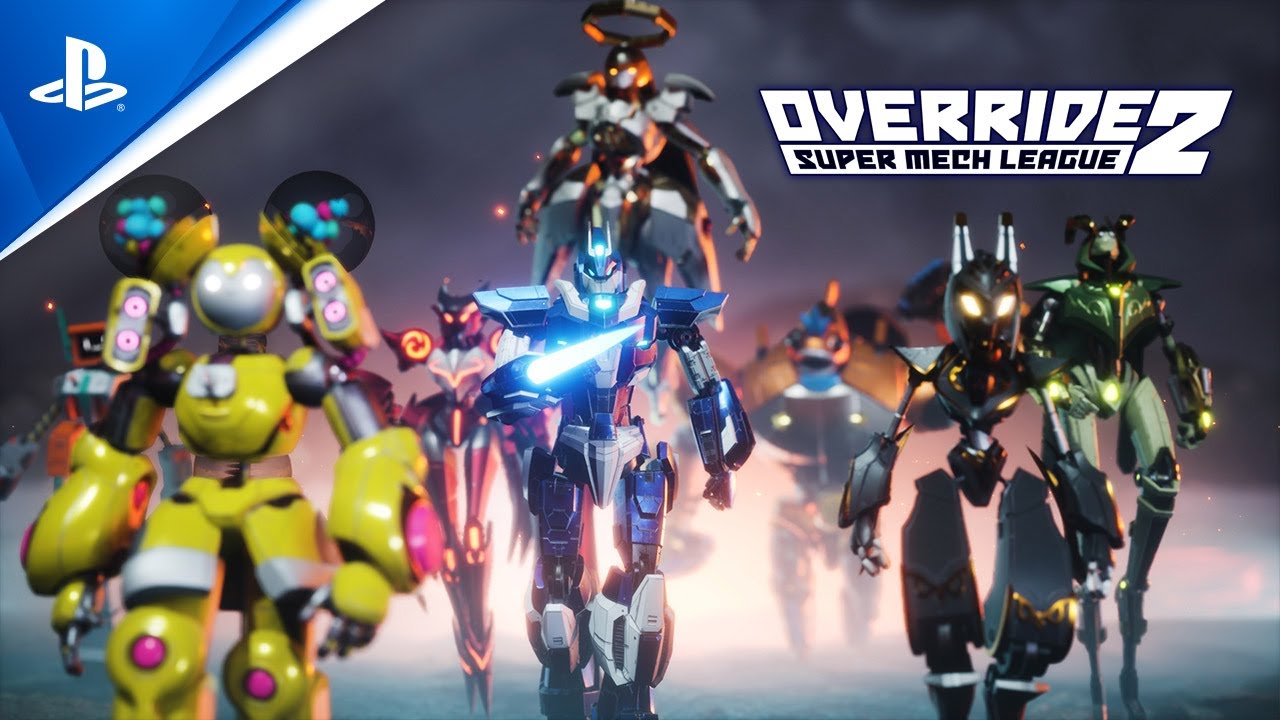 The 3D competitive arena brawler returns with 20 distinctly devastating mechs, an amped up fast-paced combat system, and an all-new career mode.
Rise through the Ranks
What better way to make a name for yourself as a pilot than Override 2's all-new career mode called Leagues. In Leagues, your agent Zoe will guide you through the ins and outs of the Super Mech League and set you up with your first few matches.
Each match type available in Leagues has an associated rank, which increases as you beat-down the competition against players online worldwide. Leagues feature returning match types from the first Override such as 1v1, 2v2, and free-for-all brawls. Additionally, series-first match types such as Control, a king-of-the-hill style battle, and Xenoswarm, a battle for survival against Kaiju-infused bots, will appear in the Leagues rotation.
Earn Sponsorships and Join Clubs
As you attain reputation in the mech fighting circuit, pilots have the option to accept limited-time sponsorships. Put on a show for the crowd by completing the in-game challenges from sponsorships to earn bonus coins. Raking in that extra cash opens up a slew of options for customization in the Garage, including unlocking additional mechs to fight with in Leagues, skins for each part of your mech, and cosmetic attachments.
Once you've gained enough experience, you'll unlock the option to join one of three Clubs – Magma, Pacifica, and Starlight. Winning matches and completing challenges will raise your clubs collective influence. The more influence your club gains, the more rewards you'll reap!
Become the Best Mech Pilot
Finding the right mech to suit your fighting style and personality will be the first step in becoming a top-tier pilot, but we also wanted to provide a few tips and tricks to give you an advantage in the arena.
An important mechanic pilots should use is the quick recovery system. By tapping the jump button while knocked down, mechs will spring back into action. "The bigger they are the harder, the harder they fall," doesn't really apply to these advanced technological fighting machines.
Upon death, mechs will persist on the map for a short duration and explode. In matches with more than two players, surprise your opponents by grabbing the mech scraps. Timed correctly, you can throw them like an item to catch your enemies in the blast!
Override 2: Super Mech League and Override 2: Super Mech League – Ultraman Edition are available now at PlayStation Store for PlayStation 4 and PlayStation 5. Till next time, we'll see you in the arena.