The new season of the wildly popular trip 'em up lands December 15.
An icy wind blows through the Blunderdome for Fall Guys: Ultimate Knockout Season 3, decking the halls with wintry wonders. The whole world's invited to the 'Winter Knockout' on December 15, delivering swathes of festive mayhem, including seven new Rounds, bountiful features and fresh costumes that are truly the snowy peak of Fall Guys fashion. But what about the most dedicated beans? The players who truly rack up the Crowns on their quest for slimy domination? We're delighted to exclusively introduce you to Crown Ranks and Golden Costumes—a whole new dimension of content for Fall Guys royalty…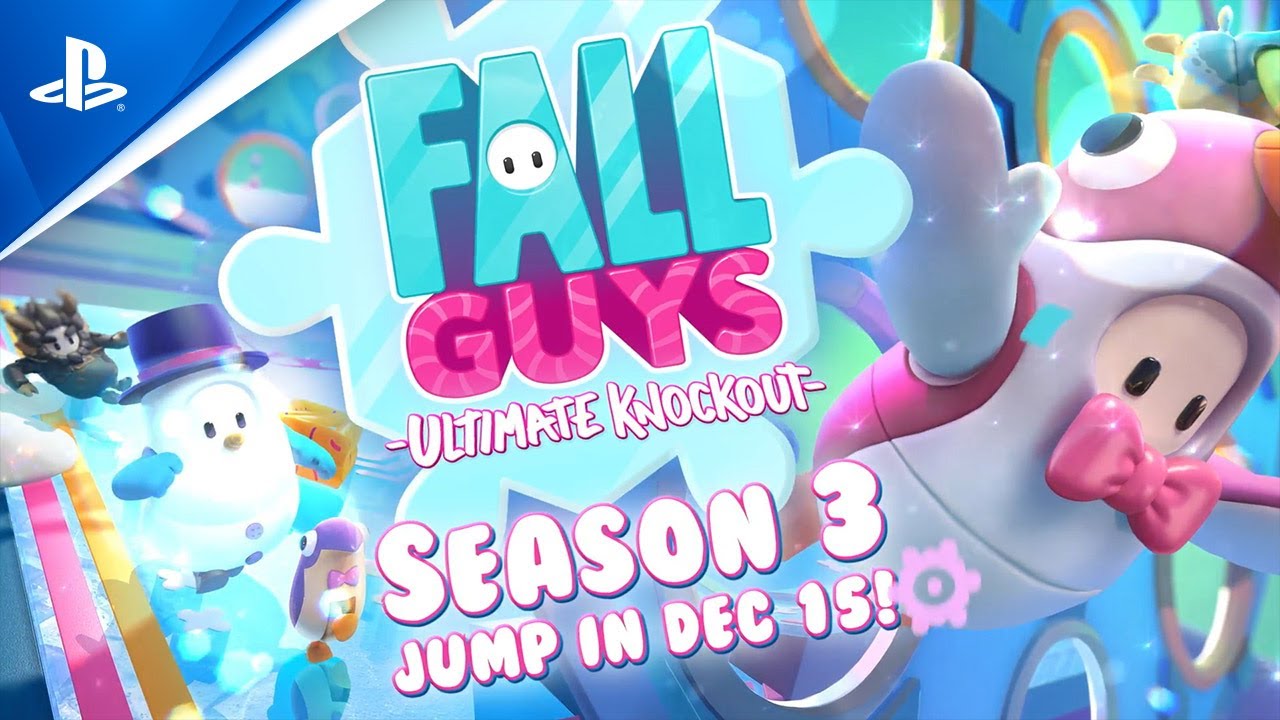 Are you down with the Crown?
Fall Guys Season 3 throws down the gauntlet to players whose thirst for victory is frankly unquenchable with Crown Ranks! We've been thinking hard about new ways to celebrate our most dedicated players—something to make seizing those coveted Crowns more trackable, shareable and ultimately, more rewarding.
That's why we cooked up Crown Ranks, an all-new rewards track that salutes the players who have truly stumbled their way to the top again, again and again.
The more Crowns you grab, the higher your Crown Rank rises. And with it, players will unlock a world of curious and highly desirable rewards, including exclusive Colours and Patterns to leave other players in no doubt of your commitment to the bean cause. But that's not all…
Going for Gold
As an extra special treat for avid Crown-getters, climbing the Crown Ranks will also reveal…Golden Costumes! In the most prestigious addition yet to our overflowing wardrobe of Fall Guys accoutrements, players who excel can adorn gilded versions of iconic costumes.
Decked out in glitzy gold, these shimmering creations will transform the looks you know and love into something altogether more special. Ever see a solid gold chicken get yeeted? Finally, we have the technology.
Prepare for the Winter Knockout!
With Season 3 dropping on December 15, our entire team is super excited about the fresh snowy stumbles we've put together. On top of our biggest haul of new Rounds to date, you can also look forward to experiencing a slew of devious new obstacles, dozens of game-changing variations and some of our most stylish (and if we're honest, cutest) costumes to date.
We cannot wait to hear what you think, so share your tumbles with us on Twitter, Instagram and TikTok. Plus, dive into the helpful community over on our official Discord server. See you on the starting line!