Get ready to drop into a new battle royale experience and eight free Multiplayer maps, live today.
Season One of Call of Duty: Black Ops Cold War and Warzone is live today. Prep with all the intel you need below:
Two Free Weapons, Stitch Highlight the Season One Battle Pass System
Season One adds two free weapons within its Battle Pass System: the Mac 10 and the Groza.
Mac 10 (Tier 15) – The fastest firing SMG thus far boasts moderate damage and impressive handling speeds.
Groza (Tier 31) – This lightweight, fully-automatic assault rifle is an all-around threat with impressive handling properties, solid damage and fire rate, and fantastic range.
Purchase the Battle Pass to gain access to all 100 tiers of content, which include a new Finishing Move and Blueprints for the two new weapons, as well as Adler's one-eyed ex-KGB adversary Stitch instantly at Tier 0.
Get More on PlayStation – *Exclusive Content for Black Ops Cold War and Warzone
'Tis the Season for Holiday Onslaught
Sleigh the undead masses in Holiday Onslaught, available later in December. In this limited-time mode, Operators will fend off zombies decked out in holiday attire with snowballs to help freeze them on the spot. Keep the Aether Orb filled and watch out for the new stocking power-up, which could either be a nice gift for the good—or a punishment for the naughty.
This limited-time mode also comes with a new Weapon Blueprint to unlock. Kill 25 enemies frozen with snowballs while playing Holiday Onslaught, and you'll unlock the "Bronzewood" Legendary Sniper Rifle Blueprint, a powerhouse long-range tool perfect for picking off the undead at a distance.
Release Your Inner Assassin with the Season One Combat Pack
As part of Season One, all PlayStation Plus subscribers can grab the Season One Combat Pack, a seven-item bundle centered around urban warfare. From a jet-black leather skin for Sims to a shuriken Weapon Charm, this pack will help bring out the modern-day assassin for your next infiltration. This pack includes:
Epic Sims "Penumbra" Operator Skin
Legendary "Dead Pharaoh" LMG Blueprint Weapon
Epic "Shuriken" Weapon Charm
Legendary "Killing Time" Watch
Legendary "Night Watch" Calling Card
Epic "Blood Moon" Emblem
60-Minute 2XP Token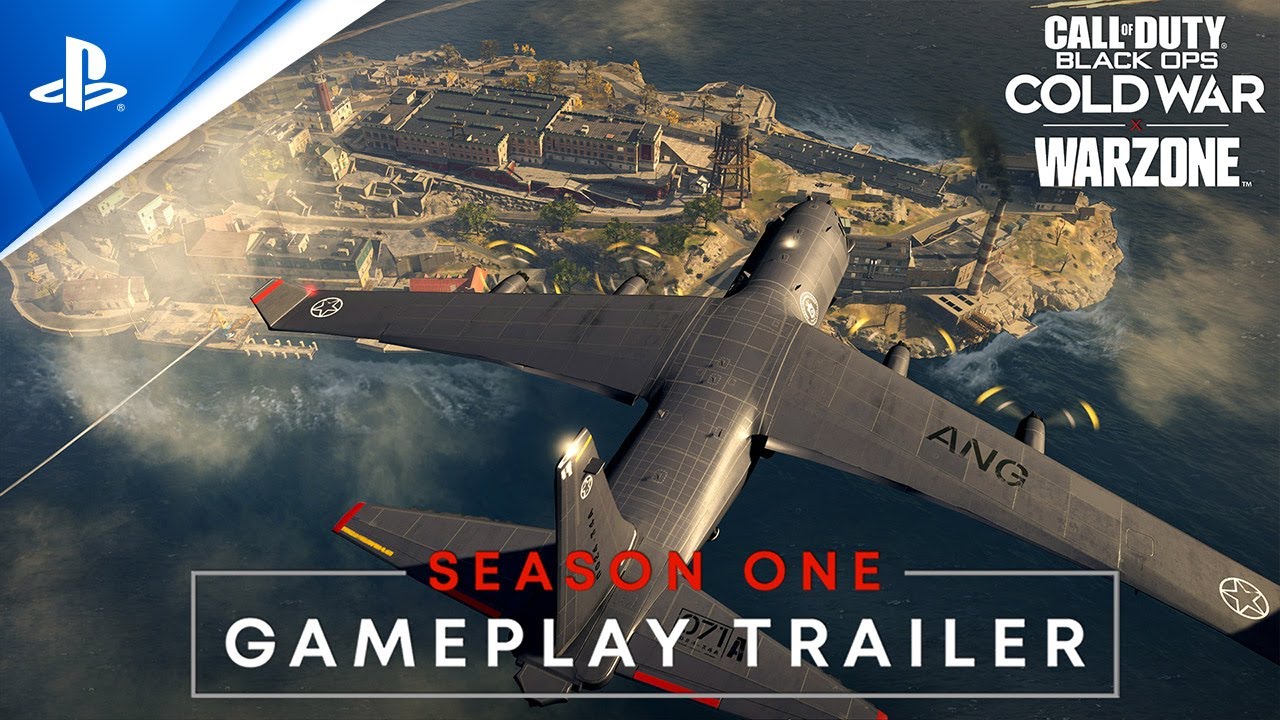 Survive Rebirth Island, Two New Gulags in Warzone
Vikhor "Stitch" Kuzmin, a dangerous enemy from Russell Adler's past, is back with a vengeance and enough Nova 6 nerve gas to shift the balance of the Cold War. In Season One of Call of Duty: Black Ops Cold War and Warzone, you'll not only fight back across numerous new Multiplayer maps, but also drop in on Rebirth Island, the very place that Adler cost Stitch his sanity and his left eye.
An entirely new battle royale experience comes to Warzone in the form of the experimental Soviet bioweapons site and prison known as Rebirth Island. To celebrate, dive into this new map and complete a limited-time event with over a dozen free rewards to discover, as well as more hidden, shocking secrets.
Defined by intense and frenetic close-quarters combat, Rebirth Island is an all-new, small-scale map that features a player count similar to a Mini BR match. Trios and Quads will brawl across dozens of new locales, and with the new Resurgence game mode, where respawns happen every 30 seconds, there won't be a shortage of epic moments and reinforcements until the last squad is left standing.
Along with Rebirth Island and the introduction of Black Ops Cold War weaponry, Warzone also has two new Gulags to explore: a scaled-down version of Nuketown for Verdansk, and a small arena featuring metal detectors for Rebirth Island.
Don't forget Season One is the start of integration between titles. Gain XP and level up in either game and get ready for a bigger Gunsmith table as the entire Black Ops Cold War arsenal becomes available within Warzone.
Eight Multiplayer Maps for Black Ops Cold War
The Pines and Raid
Two new maps primed for 6v6 combat will also be available at launch, including the return of the iconic Black Ops II locale Raid. As for The Pines, this New Jersey mall is filled with neon-lit shops that give way to close-quarters combat, with the main walkways between the stores open enough for mid-range play and sniping duels.
Gunfight Returns
The duo-based Multiplayer mode is back for Black Ops Cold War, complete with four new locales to prove mastery in with random loadouts every two rounds. At its launch, you'll descend into the underground tunnels of U-Bahn, circle around a massive missile in ICBM, play host to carnage in Game Show, and infiltrate a Soviet headquarters in KGB.
Nuketown '84 Holiday
One of the most iconic Black Ops maps has returned in the lead-up to Season One. Now, get ready to celebrate a festive take on this Nevada testing ground; there's a new glow coming to Nuketown '84 this holiday season.
Sanatorium Expands Fireteam In-Season
Fireteam will receive a brand-new map in Sanatorium later in January. This experimental Soviet health retreat features water combat via a lake that's overlooked by the sprawling complex. As you fight nine other squads within the wooded hills, on the large dock, or within the hotel, be on the lookout for documents that have to do with Project Golova.
Season One of Black Ops Cold War and Warzone is live on PlayStation on December 15 at 11 PM PST. Mark your calendars and prepare to infiltrate. It's time to take down Stitch…
… or help him and Perseus take over the world.