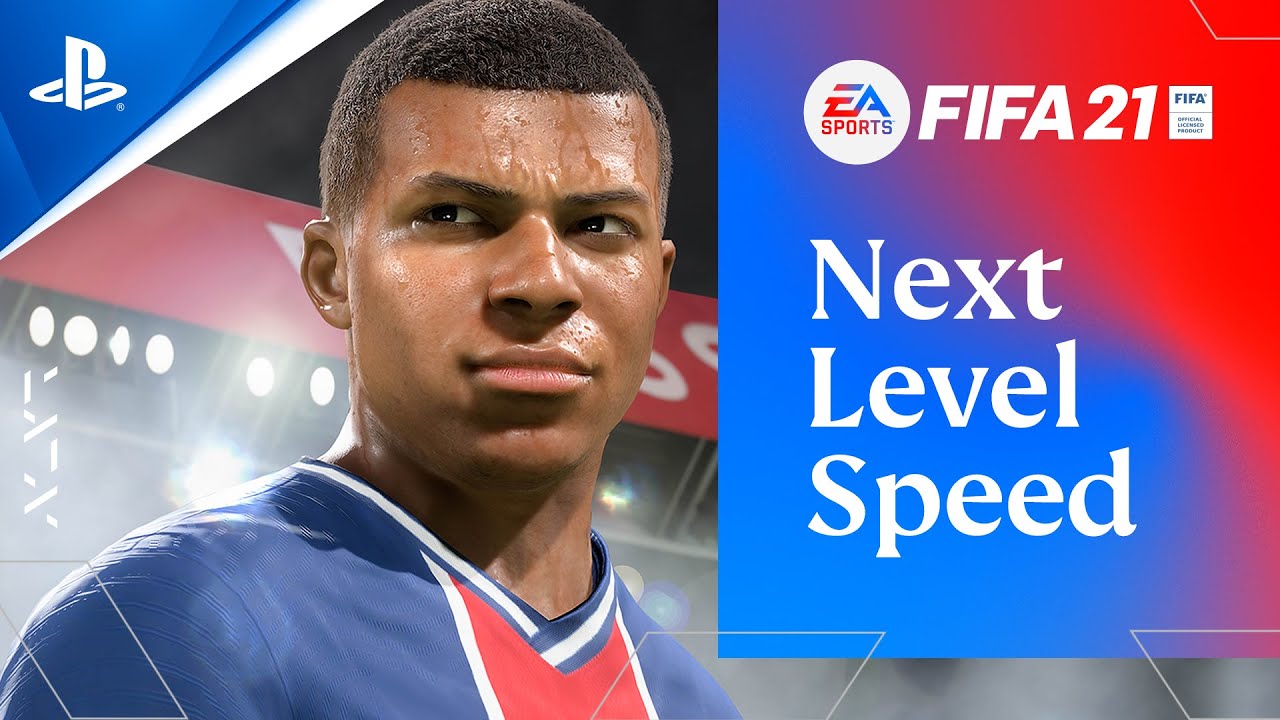 Haptic feedback and adaptive triggers on the DualSense wireless controller make every match feel even more real. Out December 4 on PS5.
Hi everyone! With under two weeks to go until the launch of FIFA 21 on PS5 on December 4, we wanted to take some time to give you a special in-depth look at next level EA Sports FIFA, as well as an exclusive early look at how we're using the incredible new DualSense wireless controller.
Welcome to FIFA 21 on PS5.
Next Level Gameplay
One of the things we're most excited for you to experience is the new PlayStation 5 DualSense wireless controller.
Whether you're making a last-ditch block to save a certain goal, or smashing one in off the bar from outside the box, the DualSense controller's haptic feedback responds to what happens on the pitch. With more control over both the intensity and the location of the haptic feedback, you'll now feel things like powerful left-footed shots with vibrations on the left side of the controller, and more intense feedback from crunching head-on tackles than when players jostle for position at corners or free-kicks.
The adaptive triggers on the DualSense controller also allow us to increase trigger resistance as stamina drains, meaning you'll feel the effects of players' tiredness as their fitness decreases throughout the game. This is only available on PS5, and we're excited for you to feel the difference the DualSense makes to FIFA 21, immersing you into the intensity of a match in ways that weren't possible before.
Also exclusive to PS5 players is Activity Cards which let you jump to your favourite mode directly from the PlayStation home screen. Combined with the lightning fast load times provided by the power of PS5 you'll be able to get into matches quicker than ever before. We're clocking in at under two seconds from the pre-game menu to a Kick-Off match. Sorry, pre-game practice arena fans!
Next Level Visuals
More power also means we can take a huge leap forward in visual quality to make players and stadiums look even better.
A new deferred lighting system called LiveLight Rendering creates ultra-realistic football environments. You'll see visually stunning recreations of the world's biggest stadiums like Anfield and the Parc des Princes that make them feel more alive than ever before.
LiveLight Rendering also combines with muscle flex and strand-based hair technology to take players to an incredible new level of detail and unlock our most detailed recreations of the world's biggest stars like Kylian Mbappé and Trent Alexander-Arnold to date!
A new gameplay camera gives you a fresh perspective on it too. The EA Sports GameCam is inspired by the look and feel of top-level football broadcasts, and makes a big difference to the game. We're excited for you to try it.
Next Level Atmosphere
While we're all missing being inside the stadium watching our favourite teams and players, we know the incredible scenes and sounds that home and away fans create that make football what it is.
In FIFA 21 we're dialing up the spectacle of football on the biggest stage to reflect the incredible atmospheres that crowds provide.
Firstly, PreMatch Live adds a series of new cinematics to increase your matchday immersion. You'll see fans streaming through the turnstiles and more as it sets the stage for the most authentic matchday experience we've ever been able to deliver.
Secondly, we're now able to better reflect the incredible scenes that go alongside a UEFA Champions League-winning goal, or relegation-saving equalizer. New Big Goal Moments mean you'll now see the absolute scenes in the stands and on the pitch after crucial goals.
Next Level Simulation
FIFA 21 on PS5 also allows us to create the most natural movement and behaviour to date.
Responsive Multi-Touch Animations take player movement to the next level of realism, enhancing the visual quality and responsiveness of linked animations on the ball, giving you more agility and control over the ball than ever before with over 700 new animation combinations.
We're even able to make players act even more realistically than in any previous EA Sports FIFA title thanks to Off-Ball Humanization, with players displaying more human behaviour like cleaning sweat from their face after a run, shouting for a pass, and regaining their breath after sprinting to make them feel truly alive in FIFA 21 on PS5.
Dual Entitlement
Finally, we're excited to be offering Dual Entitlement with FIFA 21 on PlayStation, meaning you can upgrade your copy of FIFA 21 from PlayStation 4 to PlayStation 5 at no additional cost* at any time from December 4 until the launch of FIFA 22! You'll also carry over all of the progress you've made and content you've acquired so far in FIFA Ultimate Team and Volta Football so you can keep building that dream squad and bossing it on the streets when you move to PS5.
From that jump in visual quality to getting you to matches faster and more besides, we're so excited about FIFA 21 on PS5 and hope you've enjoyed a look at just some of the features that make every matchday feel even more real.
We can't wait for you to Feel Next Level when FIFA 21 launches December 4 on PS5!
*Conditions apply: ea.com/dual-entitlement