Team Asobi's platformer comes pre-installed on every PS5 and is packed full of PlayStation Easter eggs.
Hi everybody! Hello from Team Asobi! We hope you are all doing well and are excited about the upcoming launch of PlayStation 5. Today, we are delighted to tell you more about Astro's Playroom, the game that comes pre-loaded in every PS5.
To recap, the game is an action platformer featuring intergalactic hero Astro taking you on an adventure inside the PlayStation 5 console. The game was created from the ground up as a showcase for the DualSense wireless controller, taking advantage of the haptic feedback, adaptive triggers, motion sensor, speaker, mic and touchpad.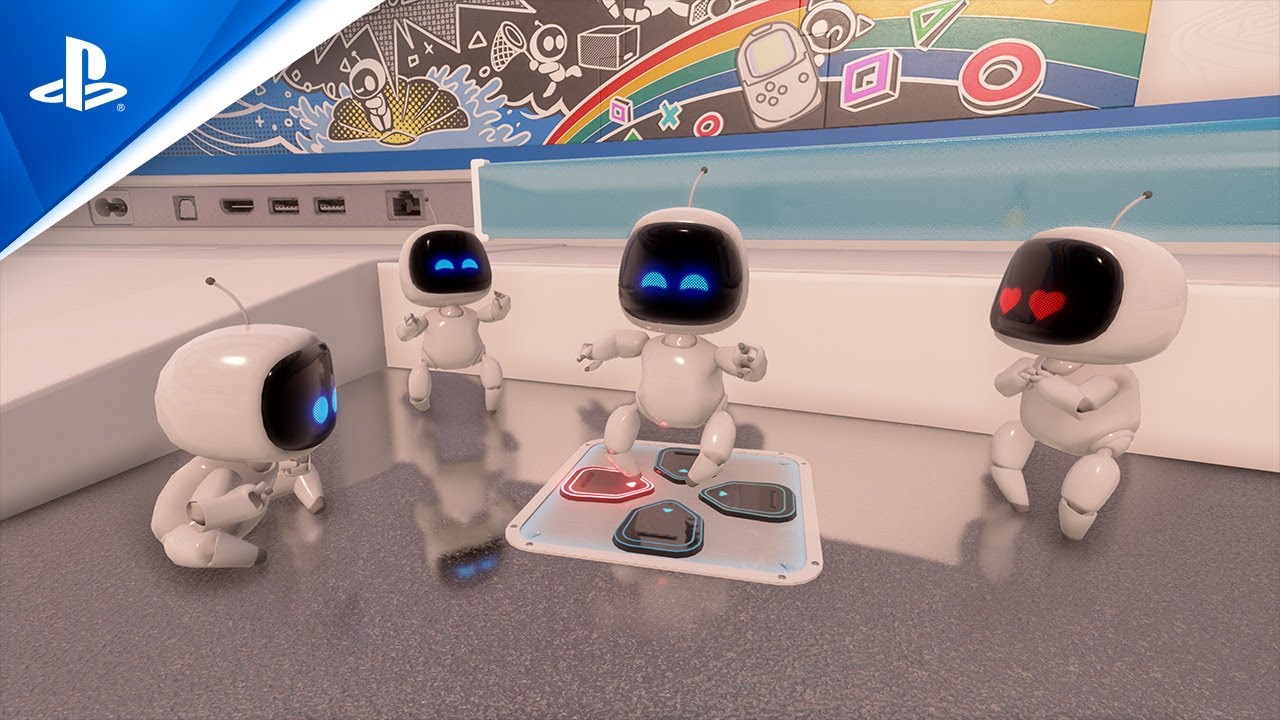 Using all of those neat features, the game lets you feel the world and every single interaction in ways that were never possible before. By combining what you see on the screen and what you feel and hear from the DualSense wireless controller, developers are now able to create a wide range of new expressions that truly lets you feel the world.
Back at Team Asobi, we spent a couple of years experimenting with the DualSense wireless controller and incorporated some of the best examples into Astro's Playroom for you to get a taste of what next generation feels like.
Throughout the 4 worlds and 16 stages that make up the main adventure of Astro's Playroom, Astro will come across power up suits that each give you distinct abilities. For example, the Monkey Suit lets you climb steep walls. Using the motion sensor and adaptive triggers, you can feel the tension as you clinch onto each rock to make your way to the top. Weaker handholds require a lighter pull of the adaptive triggers to make sure they don't shatter under your grip!
Another example: in the SSD Speedways stage, Astro boards a mini-rocket ship the left and right thrusters of which are controlled with the adaptive triggers. You can feel the force of each jet increase the more pressure you apply to its respective trigger. It is a truly new sensation!
There are many other power ups to play with, including a ball suit to roll around in (with the haptic feedback letting you feel the different surfaces you pass over) and a Spring suit to launch yourself around platforms, as you use the adaptive triggers to loosen or tighten its in-built spring. Astro is even packing a couple of weapons to help on his quest!
Finally, we are delighted to be able to talk about another feature that we are super passionate about. As well as making a showcase of the DualSense wireless controller, Astro's Playroom is also a huge celebration of 25 years of PlayStation history. The game is jam-packed with tributes and references to the PlayStation universe.
As you explore Astro's Playroom's levels, you'll be collecting various consoles, controllers and accessories that can be stored – and interacted with! – inside PlayStation Labo, the museum-like area contained within the game's hub world. These artifacts look glorious in 4K and packed with little details such as connectors, labels… you can even spot the original serial numbers! These were so fun to create and really bring back nostalgic memories. There are also 96 puzzle pieces to collect, which assemble to create a fresco of the PlayStation timeline all the way from 1994 to today. We included tons and tons of Easter eggs, so be sure to check them all out!
But what would a tribute to PlayStation be without the many games and heroes of our favorite franchise, right? The Bots certainly thought so and dressed up for the occasion! There are over 60 cameos hidden throughout the game which offer knowing winks to titles from across all four PlayStation generations. If you spot a Bot wielding a camera and wearing a blue PlayStation cap, be sure to look around nearby: you're sure to spot a famous moment being reenacted!
There are so many more secrets relating to the PlayStation universe but we think it's better we let you discover them by yourselves. Okay, one last hint: there's an extra special treat awaiting those who complete all four game worlds…
But that's not all! Once you are done collecting all artifacts and puzzle pieces in the main campaign, you'll unlock eight all-new speed run challenges based on the four game worlds. And these come will online leaderboards, so why not jump online and challenge the world?
Finally, we are super excited to confirm that the game comes with a full trophy set including a Platinum. And we hope some of the trophies we included will make you laugh!
There you have it! That was a brief overview of what Astro's Playroom has in store for you when you get your hands on PlayStation 5. We at Team Asobi had a blast making this game. It is pre-loaded in every PS5, meaning it is our gift to you, the amazing PlayStation community. We would not be here without you and we wanted to show you our most sincere appreciation. Astro will be back with news soon. Until then, have a great time with your PS5 and above all, stay warm and safe!
See you around, friends!