Uncover the icon's alternative skins, and learn about NetherRealm's experience working with Sylvester Stallone.
Fellow Fighters, at long last, Rambo joins fellow 1980s action movie icons RoboCop and the Terminator as part of Mortal Kombat 11 Ultimate and Kombat Pack 2. We at NetherRealm Studios couldn't be more excited about Rambo joining the fight.
Drawing inspiration from the first three films in the Rambo series – First Blood, Rambo: First Blood Part II, and Rambo III – our gameplay designers looked to distill the essence of his particular style of combat. That's why our Rambo, as he does in the films, relies more on stealth than he does on gunplay. He uses the environment itself as a weapon, deploying a variety of traps which use elements like tripwires, swinging logs and hidden mines. Of course, Rambo is also famous for his skill with a knife and compound bow. Both are a core part of his moveset and are used in very distinct ways.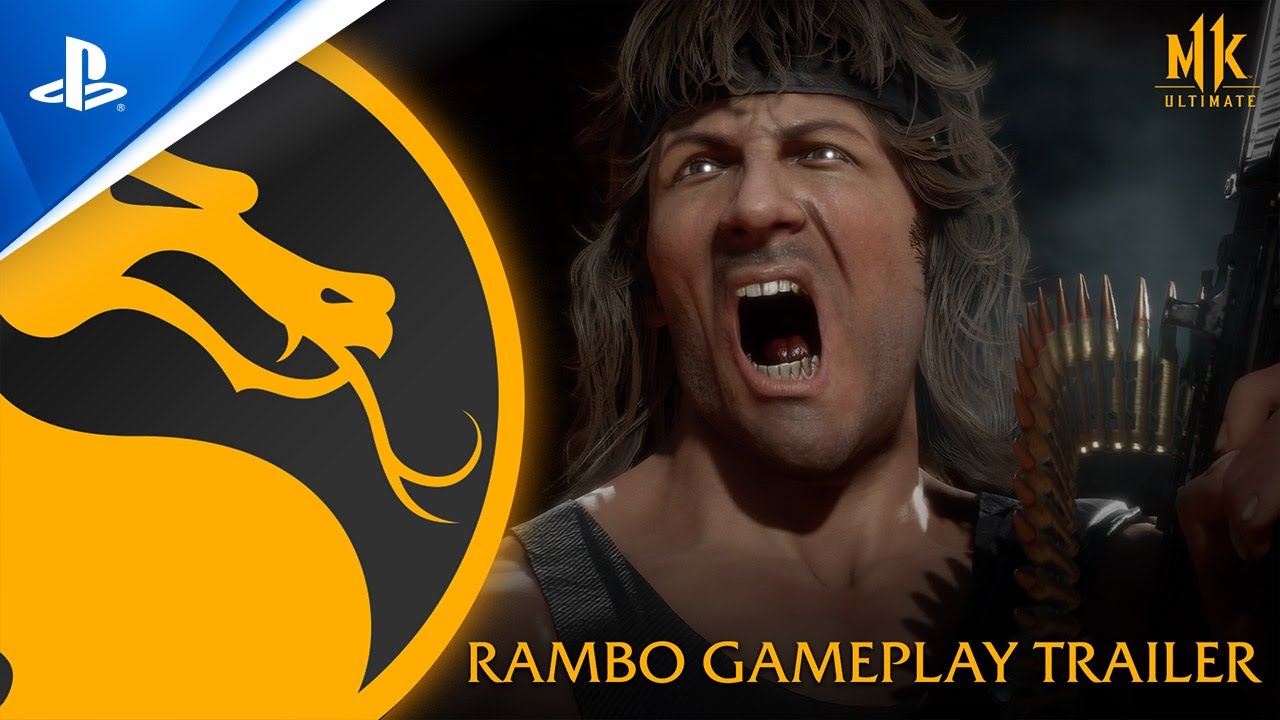 As with all of our guest fighters, our visual artists worked diligently to recreate Rambo's classic look and feel. They carefully studied the early films, going frame by frame to catalog the details of his wardrobe and weapons. As part of this work, our character team fully reproduced Rambo's two iconic looks from First Blood – his drifter look from the top of the film and his guerilla warfare look from the film's epic climax. The end result of their work is stunning. Rambo looks like he stepped right out of the original movies and into Mortal Kombat 11.
Knowing that Sylvester Stallone would return to voice the character made the stakes for getting the lines right very high. All of the hard work to perfect the script paid off when we finally got to record it. Stallone enthusiastically jumped into the performance, bringing the words to life in exactly the way we had hoped.
For me, getting to work with a legendary actor as he plays one his most iconic roles was a thrilling experience. As a Voiceover Director, it doesn't get any better. My favorite memory of the session was the sound of Stallone chuckling. As he performed the lines, he noticed the many references we had included, not only from the Rambo films, but also from the rest of his body of work. When you play, listen closely to the banter for references to The Expendables, Cliffhanger, Demolition Man and more. It was a real kick to see that he was so entertained. Hopefully, Rambo fans will have as much fun with the experience as did the man himself.
Rambo skins in order: First Blood, Flaming Dart, Airborne, Warfighter
Don't forget, Mortal Kombat 11 Ultimate and Kombat Pack 2 pre-orders on PlayStation 4 are available now via the PlayStation Store, as well as other retailers, giving players access to the Time Warriors Skin Pack at launch featuring a new character skin for Noob Saibot, Liu Kang and Skarlet. And if you pre-order Mortal Kombat 11 Ultimate, you get instant access to Mortal Kombat 11, Kombat Pack 1 and the Mortal Kombat 11: Aftermath Expansion when you purchase.
Also, Mortal Kombat 11 Ultimate is PS5 Upgrade Available, so current Mortal Kombat 11 and Mortal Kombat 11 Ultimate owners and new buyers on PS4 can access a free upgrade to the PS5 version of their game at no extra cost, in conjunction with the Mortal Kombat 11 Ultimate launch on Nov. 17.
Stay tuned for more details as we get closer to our launch!