Keep your blunders to a minimum with tips and tactics straight from Mediatonic.
Fall Guys: Ultimate Knockout has been bringing 'bumble royale' action to the masses, with millions of players taking the technicolour tumble to the Blunderdome! With today's release of Season 2, jelly bean fans can delight in a whole new (well… old?!) world of medieval magic, featuring a fresh selection of Rounds, whimsical costumes and a feudal fortress full of fun. Here's all you need to know, plus insider tips from the Mediatonic team on mastering this obstacle-strewn domain of witches and wizardry! Grab your lute, it's going to be wild.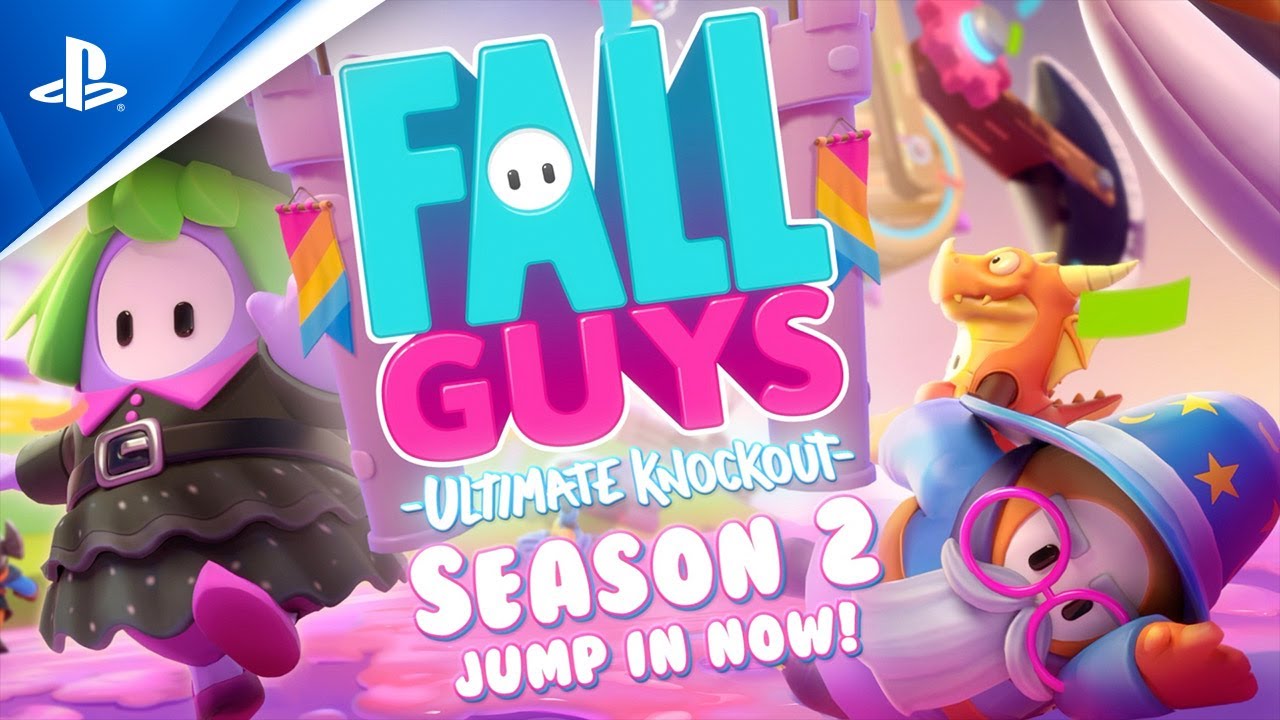 Let's introduce the Season 2 Rounds you'll encounter on your road to the coveted crown. Listen well, these tactical tidbits could be all the difference between glorious victory and slimy elimination…
Hoopsie Legend – Teamwork (sometimes) makes the dream work
This fiendishly fun solo take on Hoopsie Daisy may make you think that it's all about you. But with cooperation required to nab precious points, things are definitely not all they seem! Ben Nizan (Game Designer) explains…
"In Season 2 we've added objects that players can move around which is really cool! They create the sort of short-lived alliances you see in See Saw which we all know and love. What makes Hoopsie Legends special is that as players move blocks to reach the hoops, they'll cut off other paths in the process—so the landscape of the arena constantly changes in a way we've never seen before in Fall Guys."
Looks like some dizzying diplomacy could be the key to victory. Here's Ben's insider tips..
"Look out for the Golden Hoops! These are worth bonus points and will yeet you toward victory (in a sophisticated, numerical way). Also, be sure to work with others to reach platforms with many hoops. That way you'll get there quicker and then you can all share the points!"
Knight Fever – our most challenging gauntlet yet!
Balance, well-timed diving and having the heart of the bravest of knights all come into play in Knight Fever, a bean-busting stumble to the finish line. Building on the chaos of 'Slime Climb' and 'Fall Mountain', this Round takes players on our most treacherous race to date via the wildest of medieval obstacles. Fábio Martins (Game Service Engineer) gives us their take…
"The team were really keen to build on the excitement of our race Rounds. On the face of it, each bean is faced with a straightforward race to the end, but that simple concept gives us the space to really put our imaginations to work on some of the funniest obstacles we could think of!"
Intriguing! You may well have already spotted the humongous spiky roller. Fábio suggests caution.
"My biggest piece of advice for this Round is for players to try and remain calm when tackling the roller. Try to walk on at a diagonal angle, moving contrary to its movement as it spins. You'll still have to be mindful of those huge spikes, but getting your movement on-point is the most important part of avoiding the slime!"
Egg Siege – Tactical scrambling action
You'll be familiar with the joy and drama that comes from grabbing eggs from your fellow beans, but this new Round throws in a perilous castle full of moving parts, adding a whole new tactical layer to proceedings.
"At the start, players will see gameplay that may feel similar to Egg Scramble," explains Krisztina Toth-Vizer (Lead QA), "but they'll soon meet the numerous new elements that can be used to their advantage…or to disrupt the best laid plans of the other team!"
Moving drawbridges, a frankly ridiculously-sized axe and other outlandish fortifications make Egg Siege a Round to be reckoned with. Here's Krisztina's insider tips on sealing victory…
"If you run around carelessly, there's a big risk that you'll be hit by the giant axe, swinging your eggs right into enemy hands. But if you bide your time, it's possible to cross the drawbridge to reach the precious Golden Egg without anyone being able to follow you! Utilising the ramps to sneak out with your haul is a good early tactic—but over time, expect players to stay behind to defend the narrow passages, creating some tasty choke points".
Wall Guys – Build it up, tear it down!
Movable objects also play a pivotal role in Wall Guys – a new take on competitive stumbling where intrepid beans need to build their own route to victory! But with cooperation as important as nimble jumping, the real battle is figuring out whether to be a friend or foe. Alex Whaley (Client Engineer) tells us more…
"You'll need to work together to build a makeshift 'staircase' of blocks to clamber over the walls. However, it can pay to be lazy; you can even sit on top of blocks and let other players do the hard work of moving them into place to get ahead of the crowd!"
However (spoilers) it's probably not just your bean who's had that bright idea. Here's some of Alex's top tips…
"Always keep an eye on alternate paths! Players often bunch up on a path that's already been made, which may seem smart, but it makes it hard to climb on and, crucially, stay on a wall without getting pushed off. Sometimes it's faster to be brave and trailblaze your own way by building a new route!"
Beyond the latest Rounds to test your bean dexterity in Season 2, but there's plenty more medieval mayhem on offer!
Show Selector – Rounds for every bean's mood
Our all-new Show Selector lets you pick a carefully selected roster of 'shows', including some extra nifty limited-time events! Each show features a themed playlist of Rounds to suit different playstyles, such as Gauntlet and Survival Showdowns. Playing with pals and want to test your mettle against other squads? How about getting into some Fall Ball Frenzy? In a strictly race-only mood? The Show Selector has got you covered.
Costumes – The hottest Fall looks
It wouldn't be Fall Guys without oodles of highly desirable swag for fashionable beans, so you'll be pleased to know that Season 2 is fully stocked with costumes for every occasion. From adorable dragons and feisty knights to wondrous witches and mischievous wizards, our latest costumes are brimming with medieval mysticism. Plus, you can expect plenty of exclusive collaborations and crossovers to compete for your attention, kudos and well-earned crowns. All will be revealed super soon.
Fall together now!
There's plenty of small but mighty quality of life changes, making for smoother stumbles and an overall better Fall Guys experience.
A big one in terms of feedback from the community is party falling! You can now queue and descend together with your pals — never more will your bean have to fall alone.
Additional controller options for PS4 – including inverting the X/Y axis and the ability to tweak sensitivity to get you stumbling just right.
Random Outfit Generator – ever have those days where you just don't know what you want your bean to wear? Us too. Now can get random combos with every click.
Visual upgrades – you'll spot our original Season 1 levels have had a fresh lick of paint, including spicy new tile effects. Nice!
Nameplates and Banners – compliment your costume with customizable flair! All viewable in spectator mode for other beans to admire.
For all the latest updates and the full patch notes, be sure to follow the official Fall Guys Twitter account! And let us know how you're enjoying the new content via our community Discord server. We can't wait to see you all in the Blunderdome for Season 2!