A land of elemental magic awaits in Genshin Impact, out now on PS4.
Travelers, adventure beckons! Genshin Impact is available to play for free on PS4 starting today! So pack your bags and get ready to embark on an adventure through an elemental world, battling powerful enemies, uncovering long-lost secrets, and meeting a host of faithful companions along the way.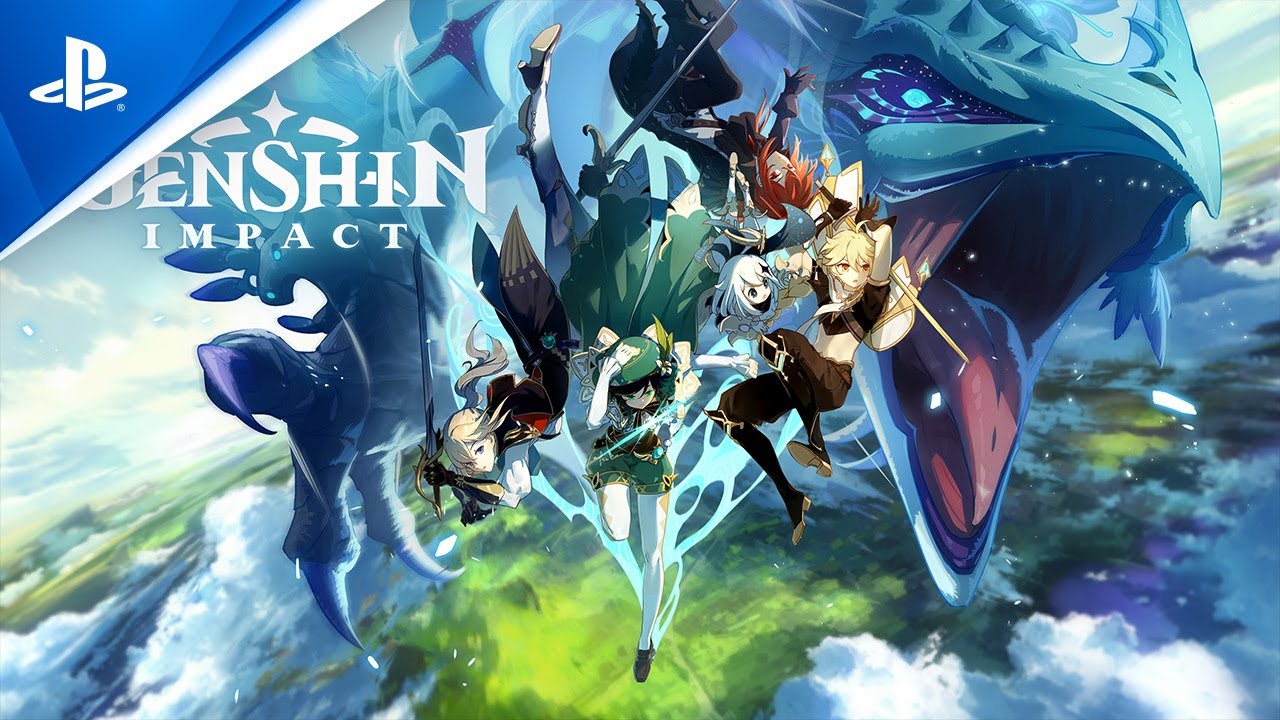 But before you rush out the door swinging your sword, perhaps we should take a moment to cover some of the adventuring basics to help ensure that your journey gets started on the right foot.
Adventuring 101: Basic controls
The controls in Genshin Impact were designed to give players intuitive control over their characters while navigating the world of Teyvat. The control scheme makes extensive use of DualShock 4's functionalities, so be sure to have a glance at the controls before jumping into the fray. After a little practice, you'll be climbing mountains, attacking monsters, and unleashing elemental magic in no time.
Your world to discover
Exploration is at the heart of every adventure. In Genshin Impact, you will find a vast open-world before you, full of cities and uncharted wilderness waiting to be explored.
A key concept to remember while exploring is your character's Stamina. Performing actions such as sprinting, climbing, and swimming will cause your character to consume Stamina. Be careful not to let your Stamina run out while performing these actions, as the consequences can be quite dire! But don't fret, you will soon find that there are ways to make your characters stronger, ready to climb to greater heights and soar over longer distances.
As you journey further into the heart of Teyvat, you will discover lofty statues protruding from the landscape, emitting rays of light towards the sky like beacons in the wilderness. These are the Statues of The Seven. Visiting these statues will not only help illuminate new areas of your trusty map but can heal your party and even grant your characters increased Stamina limits. And just like waypoints, unlocking Statues of The Seven will allow you to "fast travel" across the vast lands of Teyvat, making these statues key destinations along your journey.
But such blessings do not come freely. Statues of The Seven require offerings of elemental oculi in order to grant intrepid adventurers strength anew. Elemental oculi are scattered high and low across the lands and will appear on your mini-map as you draw near to them.
Completing quests, opening chests in the wild, and visiting Statues of The Seven will contribute towards increasing your Adventure Rank. The higher your Adventure Rank, the more quests you will be able to accept and more areas will become available to explore. Also, each time your Adventure Rank increases, there will be a variety of rewards for you to collect.
Of course, with greater strength comes a greater challenge, so be prepared to face even tougher opponents and more perilous realms as your Adventure Rank increases.
Speaking of tough opponents, let's talk a little bit about combat in Genshin Impact.
Wielding the elements: Combat basics
There will be many foes who will cross your path throughout your journey. It's best to be ready for a fight. Each character in Genshin Impact possesses unique fighting abilities, but there are some basics that will serve as a strong foundation for learning combat. All characters can perform Normal Attacks, which are common moves your character can use to attack an enemy. Though Normal Attacks may not be very powerful, they do not consume any Stamina, and can be performed in longer strings of attacks. Some characters, however, excel at using heavier Charged Attacks. These are attacks that consume Stamina, but hit with much more of a punch, often sending your opponents hurtling through the air.
But battles are not won by strength alone — you must harness the powers of the elements if you are to gain victory over powerful enemies. In addition to Normal and Charged Attacks, characters also possess unique Elemental Arts that can be used to create a variety of effects during battle, whether it be unleashing gale-force winds to blow away your opponents or spinning shards of ice that leave them frozen where they stand. Elemental Arts will quickly become the foundation upon which you select characters and determine your combat strategy.
Using your characters' skills will affect enemies with different elemental effects. The seven different elements are Anemo, Cryo, Dendro, Electro, Geo, Hydro, and Pyro. The effects of these elements can be combined to create powerful elemental reactions, resulting in devastating damage, weakened defenses, or various other effects that will prove indispensable in battle. With all these different elements at your disposal, it's vital to understand how they interact with each other. Here's a handy list of elemental reactions for reference:
Crystallize (Geo + Cryo/Electro/Hydro/Pyro)
Electro-Charged (Electro + Hydro)
Frozen (Cryo + Hydro)
Melt (Cryo + Pyro)
Overloaded (Electro + Pyro)
Superconduct (Cryo + Electro)
Swirl (Anemo + Cryo/Electro/Hydro/Pyro)
Vaporize (Hydro + Pyro)
Burning (Pyro + Dendro)
To identify if an opponent is affected by an element, simply look for any corresponding element icons appearing above the opponent. Some opponents you encounter may already be affected by a particular element by default.
One of the most useful elemental reactions you will discover at the outset of your journey is Swirl. This elemental reaction occurs when Anemo is combined with Cryo, Electro, Hydro, or Pyro and increases the area of the elemental effects, making it a versatile reaction that is easy to trigger against a variety of opponents.
A more "explosive" example would be the elemental reaction Overloaded. This reaction occurs when Electro is combined with Pyro, resulting in an intense explosion that deals Pyro damage to the unfortunate opponent.
Explore the other combinations of elements yourself to see what reactions and effects they create.
Welcome to the party
A key component of combat in Genshin Impact is deploying the unique team members that make up your party. By pressing a direction on the D-pad, you can quickly swap between different characters and unleash your arsenal of skills to create elemental reactions and efficiently defeat opponents. Combining the brute strength of Normal and Charged Attacks with elegantly timed Elemental Skills and Bursts is key to creating chains of attacks and elemental reactions that will sweep the battlefield clean.
You may experiment with different combinations of characters and skills to discover unique play styles and clever solutions to different challenges. There is no task too great for the elements to solve — you may find that the elements are useful for much more than just combat.
This is only the beginning
The official release of Genshin Impact is only the start of your adventure in Teyvat. New content will continue to be brought to the PlayStation platform in game updates to provide players with the best-possible gameplay experience.
Genshin Impact is available to download for free at PS Store today!
Of course, none of this exciting project would have been possible without the support of our fans and community. Once again, we would like to express our sincere gratitude towards those who have been supporting us throughout the development and testing of Genshin Impact. We hope that these next few days will be your first steps towards a memorable journey across Teyvat. May the wind guide you, Travelers!