Get Campaign Heroes Nikolai and Farah, two free weapons, and free War Tracks that include hip-hop and EDM hits in this season's Battle Pass system.
Reinforcements have arrived in Modern Warfare Season Six, following the collapse of the Armistice – Nikolai and Farah. The pair make a game-changing discovery in Verdansk: Al-Qatala and Mr. Z have been traveling discreetly in Verdansk via an underground Subway Station. With this new intel, the "Metro" opens up for all Operators in Warzone and the remnants of the Armistice become that much closer to ending the ongoing conflict in Verdansk.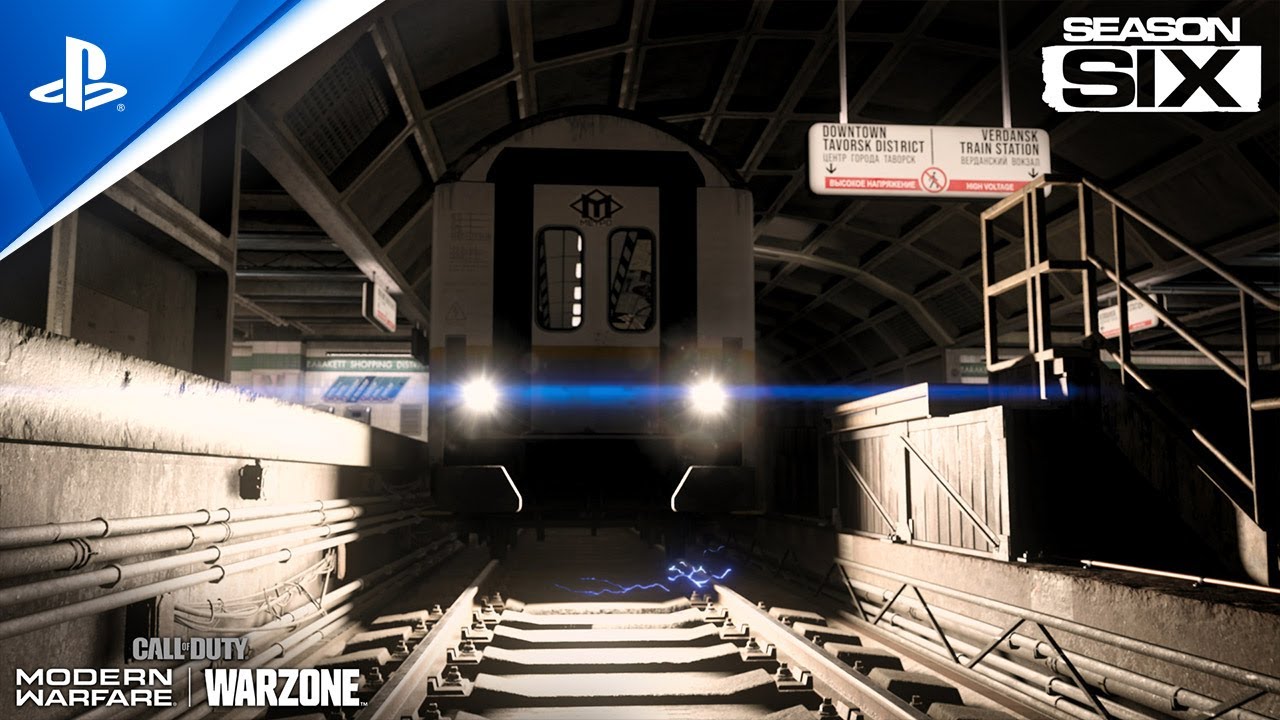 The Warzone Metro
Travel around Verdansk quicker than ever courtesy of the new subway system in Verdansk. Players can go underground to access seven stations throughout key areas on the map to quickly fast travel.
The train has seven stations (stops) all with identical layouts for easy exploration. Players will find loose items and Supply Boxes at the stations in addition to this new transportation system. Trains will arrive frequently at each station during their journey around the map in a clockwise or counterclockwise fashion through the following locales in order:
Verdansk International Airport
Lozoff Pass
Verdansk Center
Downtown Tavorsk District
Barakett Shopping District
Verdansk Train Station
Torsk Bloc
Players should note that the subway system boasts incredible safety standards. It will not travel to a station that falls outside the safe area during Battle Royale matches, nor move a single inch if there is any conflict aboard its cars. So, if you're in a fight with the enemy take them down, so you can move to the next station.
Four Multiplayer Battlegrounds
Station (Gunfight) – A tactical battlefield set at a Kastovian train station. Mantle on top the boxcars throughout the map to gain verticality over your opponent while you risk exposure or duck behind objects for covers and wait to strike.
Mialstor Tank Factory (6v6 and 10v10) – A large factory with interior and exterior spaces that's zone of combat changes in size depending on the number of players infiltrating. In 6v6, the tank factory and a warehouse can both become hot zones of combat as both are centrally located and feature accessible rooftops.
Verdansk Riverside (Ground War) – Mostly identical to the Warzone map section of suburbs adjacent to the Gora River across from the Verdansk International Airport. If you want to battle in both interior and exterior, consider carrying a shotgun as a secondary to quickly blast way foes "playing" in the house.
Broadcast (6v6) – Known to franchise newcomers as BCH TV Station, Broadcast is a large Multiplayer map first introduced in Call of Duty 4: Modern Warfare. This map will prove familiar territory for many players and is versatile to accommodate essential every weapon class in the Modern Warfare arsenal.
Tips for Broadcast:
1. Parts of the Broadcast map roof is accessible, allowing for unique verticality or a surprise drop down on an enemy below. If you make your way up here, make callouts to your teammates and reposition often as you'll likely become a target after you eliminate the first enemy player.
2. The central building is likely to become a hot bed for action in Deathmatch games. However, consider spending some time in objective modes to get to know all areas of map and the flow of combat. Then take that knowledge back to TDM and get to work.
3. The stairs connecting the hallway and lower roof are crammed in a small space, perfect for shotgun users to blast enemies at close range. In Domination, consider the route between the stairs to find foes and the C Flag, and try to avoid getting pulled into long-distance engagements in the main broadcasting room or the parking lot.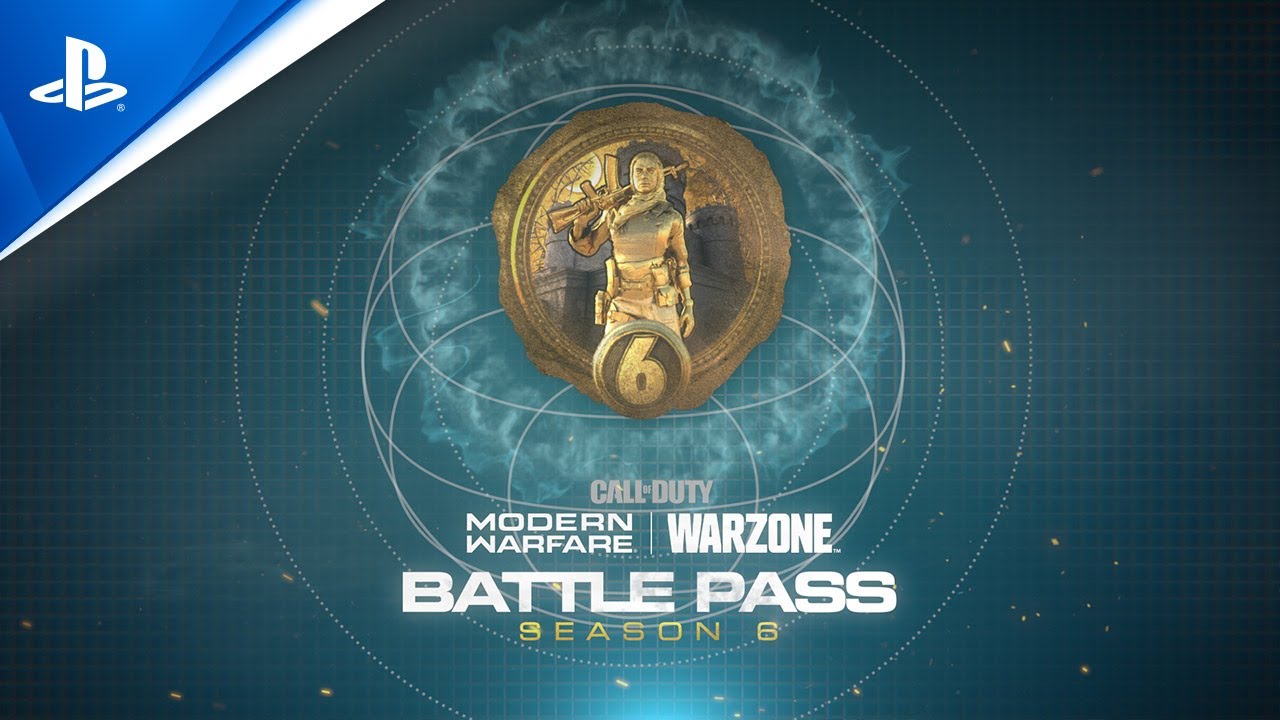 Free Weapons and War Tracks in the Season Six Battle Pass System
Season Six adds two new weapons, both free in the Battle Pass system, to Modern Warfare's already impressive arsenal the: SP-R208 marksman rifle and the AS-VAL assault rifle.
SP-R208(Tier 15) – a bolt action marksman rifle that's extremely accurate and can be lots of fun for sharpshooters. Explore its wide range of customization items in Gunsmith that include alternate ammo types and bolt assembly changes.
AS-VAL (Tier 31) – Built for accuracy and stealth with a native (pre-equipped) integral suppressor, the AS-VAL is a rare Soviet powerhouse. It also boasts a high rate of fire and subsonic 9x39mm ammunition.
Ride through Warzone with fresh tunes by earning new War Tracks, free in the Battle Pass system. This Season features four War Tracks bundles including past Modern Warfare hits, licensed EDM songs that may already be on your playlist, and some epic tunes from the Black Ops franchise. Here's the hits from the War Track Pack: Hip Hop Edition:
Jack Harlow's "Whats Poppin'"
DMX's "Ruff Ryders' Anthem"
Clipse's "Grindin'"
Players can purchase the Battle Pass to also unlock Operator Farah (instant unlocked at Tier 0); Edward, the pet bat Finishing Move, (Tier 20); Halloween-themed vehicle skins, like the "Flight of the Torment" helicopter; Operator Nikolai (Tier 100); and up to 1300 Call of Duty points.
PlayStation Season Six Content
Survival comes to Hovec Sawmill
This picturesque Eastern European town is now the latest Survival map, available *exclusively on PlayStation. While the focal point of the village is the Sawmill, in Survival discovering a safe haven on map will help you outlast the waves. Its multi-level barn, near the maps' center, offers long sightlines, contained entrances, and easy access to the roof if you need a quick exit.
Get Gulag Threads in the **Exclusive Warzone Season Six Combat Pack
Survive the Gulag in Warzone or fight to secure the victory in Multiplayer bundle that is free for all Playstation Plus subscribers. Download the Pack by going to the Franchise section of the Store and scroll down to the Miscellaneous section. The bundle includes the following:
Epic Rodion 'Red Death' skin (This skin unlocks the Operator, if not already owned)
Epic 'Shivvie' Melee Weapon
Epic 'Slipshod' Handgun Weapon Blueprint
Epic 'Ball and Chain' Charm
Epic 'Don't Back Down' Calling Card
Epic 'Gulag' Emblem
Epic 'Inside Job' Sticker
60 Minute Double XP Token
Turn the Tides and Earn the *Exclusive Tide Pool Blueprint
A sniper designed for players who lock down lanes in Multiplayer and can eliminate squads escaping the circle collapse in Warzone. The blueprint is earned in a five-step mission set, found in Missions, that requires use of multiple weapon classes and in-match skills. The weapon has a shorter barrel that other sniper rifles but can still go the distance thanks to a quality scope. Build a complete loadout with an agile and strong-secondary like the GS or Renetti and perks that help you withstand damage like Battle Hardened and EOD until the job is done.
Tips for Sony Exclusive Content
1. Sawmill Survival: If you've got a strong squad, creating two strongholds on the map divides the enemies and can relieve pressure. Consider the house overlooking the bridge a quality second basecamp to the central barn. Depending on your team's playstyle it may prove even better. Just keep in mind your exits in case you need to move shot quickly.
2. A Fighting Secondary: The Slipshod, available in the Season Six Warzone Combat Pack, is a highly mobile silenced sidearm. If you play stealthy, it could come in handy in Multiplayer matches when your primary runs dry and you need to finish up a job.
3. Rise with the Tide Pool: The Epic Tide Poll blueprint features fast reload to tackle an entire Warzone squad even if your clip runs out and a lighter stock to help you reposition in a long-range fight. Pair this with the Spotter Scope to identify enemies without the glint, then aim and fire.
Season Six Download Intel
Please note that the Season Six update will have a download size of 19.3 GB on PlayStation for owners of the full version of Modern Warfare and free-to-play Warzone, who are up-to-date with the latest update. The initial 19.3 GB update can be pre-downloaded, but not accessed prior to the Season Six update.
At Season Six launch players who wish to play Multiplayer or Special Ops must download a 7.8GB Compatibility Data Pack. To access Survival mode, players must download a 5.8GB Survival Data Pack.
Season Six of Modern Warfare is live on PlayStation on September 28 at 11 PM PST.
* Timed Exclusive content until Oct.1, 2020
**Warzone Season Six Combat Pack Timed Exclusive content until Dec. 1, 2020