Pre-order the game digitally and get access to the Crash Bandicoot 4 Demo, available beginning today.
Crash Bandicoot 4: It's About Time is coming on October 2, but you don't have to wait until then to wump into the action – pre-order the game digitally at PlayStation Store and you will be able to download and play the demo starting today*.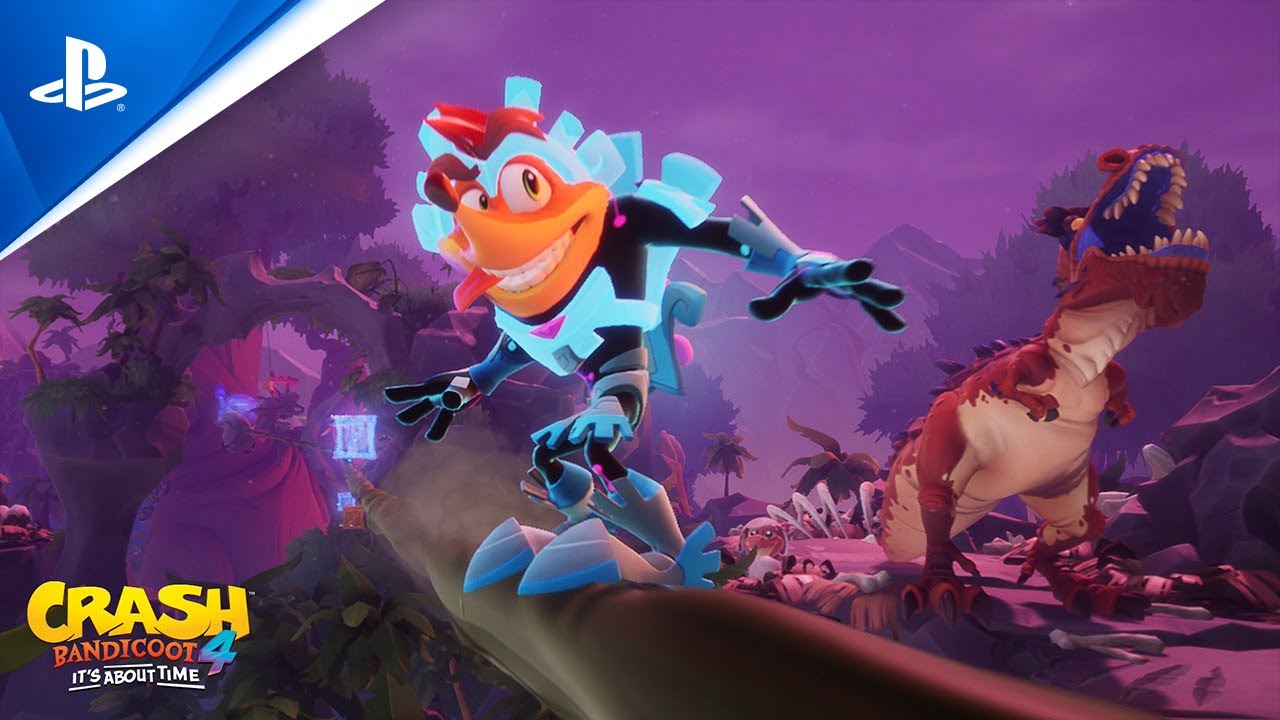 The demo includes three levels from the middle of the game – so make sure to brush off your platforming skills and get ready for some new mechanics. And while the full game will allow you to switch between Crash and Coco, the demo focuses on Crash in two levels and Dr. Neo Cortex in the other.
Snow Way Out
Miss those slippery Ice Levels from Crash? The Crash 4 Demo will help solve that and add in some new time bending madness to the mix. In this level Crash uses the Time Mask – Kupuna-Wa – to slow down ice blocks and temporary platforms for safe passage. The level also includes optional Bonus Path offering even more challenge for those looking to get their crate game on.
Snow Way Out (Cortex Timeline)
Snow Way Out also has an alternate timeline that will put you in the shoes of Dr. Neo Cortex himself, who has entirely different capabilities and moves. For example he can turn enemies into platforms or gelatinous cubes to bounce on. He can also dash on the ground or in mid-air to cross chasms that would otherwise send him to his doom.
If you make it all the way to the end of this section and you'll converge on the original timeline, and finish the rest of the level as Crash, encountering all new Crate types and updated Crate placements that provide a refreshed challenge.
Dino Dash
The other level in this demo is Dino Dash. Landing in 88 Million B.C.B, Crash will explore the Eggipus dimension that is littered with pre-historic enemies including, you guessed it, a T-Rex. It wouldn't be Crash without a good old fashioned chase sequence, right? With the help of Lani-Loli (the phase shift mask), Crash will have to phase objects in and out of existence to navigate hazards and make it through safely. There is another optional bonus path on this level if you really want to test your skills.
Pre-Order Plans: The Totally Tubular Skins
On top of demo access, purchase Crash Bandicoot 4: It's About Time digitally (whether a pre-order or after launch) to receive the Totally Tubular Skins (available upon completion of the second level), which show off Crash and Coco's radical 90s roots.
Crash Bandicoot 4: It's About Time is available at a suggested retail price of $59.99 / €69.99 / £59.99, and can be pre-ordered at PlayStation Store.
*Demo availability subject to change. Internet Connection Required for download. Available in participating territories.