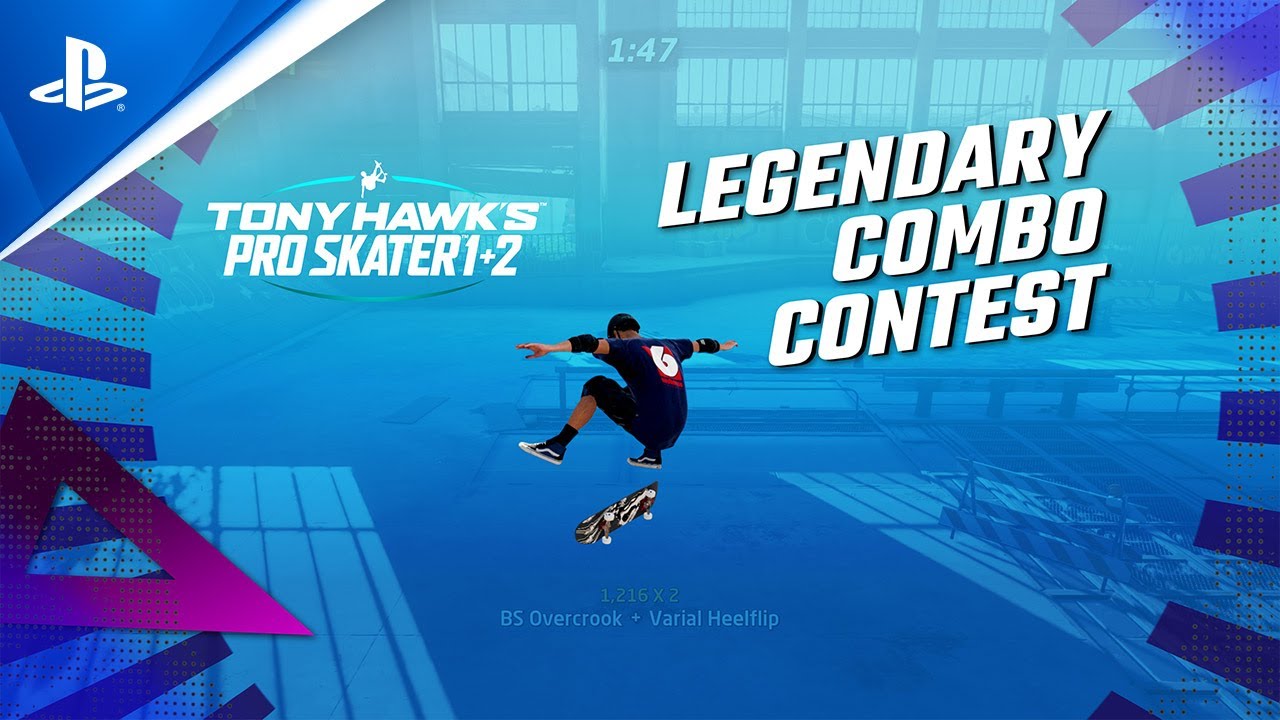 Win sick PlayStation swag by capturing your #THPSLegendaryCombo on PS4. Get the details, along with tips on nailing those epic combo lines, here.
Becoming the G.O.A.T. means being a legend first, and for PlayStation Skaters, the opportunity to become immortalized is now.
From September 10 to September 16, PlayStation wants you to land your most epic string of tricks as part of the Tony Hawk's Pro Skater 1 and 2 Legendary Combo Contest.
With 3D-printed statues and other PlayStation swag on the line, here's what you need to know:
Legendary Combo Contest Details
On September 10 through September 16, play Tony Hawk's Pro Skater 1 and 2 and go for your most innovative high scoring combo.
Whenever you're ready to share your legendary combo with the world, clip it through the PlayStation 4's Share feature, and post the clip on Instagram or Twitter with #THPSLegendaryCombo and #contest.
Submitting your clips will give you a chance to win personalized swag from PlayStation. Clips will be judged by Tony Hawk himself on a variety of factors including point total, trick variety, and difficulty.
The top player who nails the best combos will receive their own custom 3D-Printed statue to commemorate and immortalize their legendary trick.
Contest open to legal residents of the United States and Canada. Void where prohibited. For more info, please visit: http://playstation.com/thpslegendarycombo.
Top Five Tips for Nailing a Legendary Combo
Every skater has to start from somewhere. Million-point combos are rarely done by accident, and not knowing your Nollie from your Fakie could lead to a few unplanned and unfortunate bails.
Don't sweat not being the G.O.A.T. – you'll get there in time, especially with these five tips for creating some epic combos:
5. New Tricks Up Your Sleeve
Tony Hawk's Pro Skater 1 and 2 includes tricks that existed after the original two games, including the Revert, which allows a skater to pivot their board off a vert surface to keep a combo going, and Spine Transfers, which allows a skater to gap between two vertical surfaces that are back-to-back.
These, as well as a few others, add a new school spin to the classic THPS 1 and 2 formula, and could be crucial to landing that lengthy and ludicrous combo.
In short, do your best to learn, experiment, and eventually add these new moves to your bag of tricks as soon as possible.
4. Amp Up the Difficulty
The more difficult the trick, the more points it awards when it is landed.
Special Tricks obviously award the most points and are the most difficult tricks to land, but there's plenty of hard Air, Grind, Flip, Lip, and Manual tricks that award more score than simpler ones. These usually involve flicking the controls in a diagonal direction or by pressing a button multiple times.
Remember that there is a smaller margin for error when trying to land difficult air tricks, or keeping balance on harder Grinds, Lip and Flatland tricks, so practice them often before incorporating them into combos.
Trick Transitions and Flatland Tricks also fall under more difficult maneuvers, as throwing in a few button presses during a grind, lip, or manual trick can boost a combo multiplier or score significantly. Again, land these a few times in practice first before sprinkling them into your lines, or you might wind up bailing at the end of a potential legendary line.
3. Take a Tour of the Parks
Tours, the new Single Player experience that follows the original two games' Career modes, offers the opportunity to skate around every non-custom park in the game as you complete objectives and participate in competitions.
Outside of offering a fun and engaging challenge, Tours is essentially a crash course in mastering each park, with some goal-based objectives lined up in a way so that you can learn where Gaps and other combo starting areas are.
Plus, Tours are full of Stat Points which, when grabbed, can be used to boost your favorite skater's attributes. Which leads to our next tip…
2. Customization is Key
Both real and created skaters have fully customizable Stats, which are crucial to starting, maintaining, and finishing combos.
Each skater already has statistics that lean towards a specific combo style, but this preference can be furthered by fine-tuning and adding to their existing Stats.
When customizing a skater's Stats, it's best to max out specific attributes that are to your preferred combo style. For example, those who love grind-heavy lines should shoot for upping the Rail Balance attribute, while those looking to one-up the Birdman and pull off a 1080-degree spin should max out the Spin attribute.
Move sets can also be customized, allowing you to map difficult tricks to whatever button combinations are most comfortable to you, or give a skater more Special Moves to really ramp up their point-scoring potential.
1. Learn from the Pros Online*
The Tony Hawk Pro Skater 1 and 2 community rosters has plenty of innovative virtual skaters, and some of them can be seen skating around the public Multiplayer playlists.
With a variety of maps and modes on offer in these lobbies that hold up to eight players, you could gain some inspiration from those who string together incredible lines in order to win games.
Don't get discouraged by those awesome skaters if they wind up taking over the lobby; learn from their lines so that one day, you may be landing that Legendary Combo and getting your own statue for your epic skills.
What Are You Waiting For? Drop in Today!
Tony Hawk's Pro Skater 1 and 2 is available now for digital download on the PS Store in two versions: a regular edition, which retails for $39.99 (MSRP), and digital deluxe version, which has a suggested retail price of $49.99 (MSRP).
Have fun dropping into this nostalgia-packed experience on your journey towards becoming the G.O.A.T!
*Internet required for Online multiplayer (PlayStation Plus subscription sold separately) and other features.