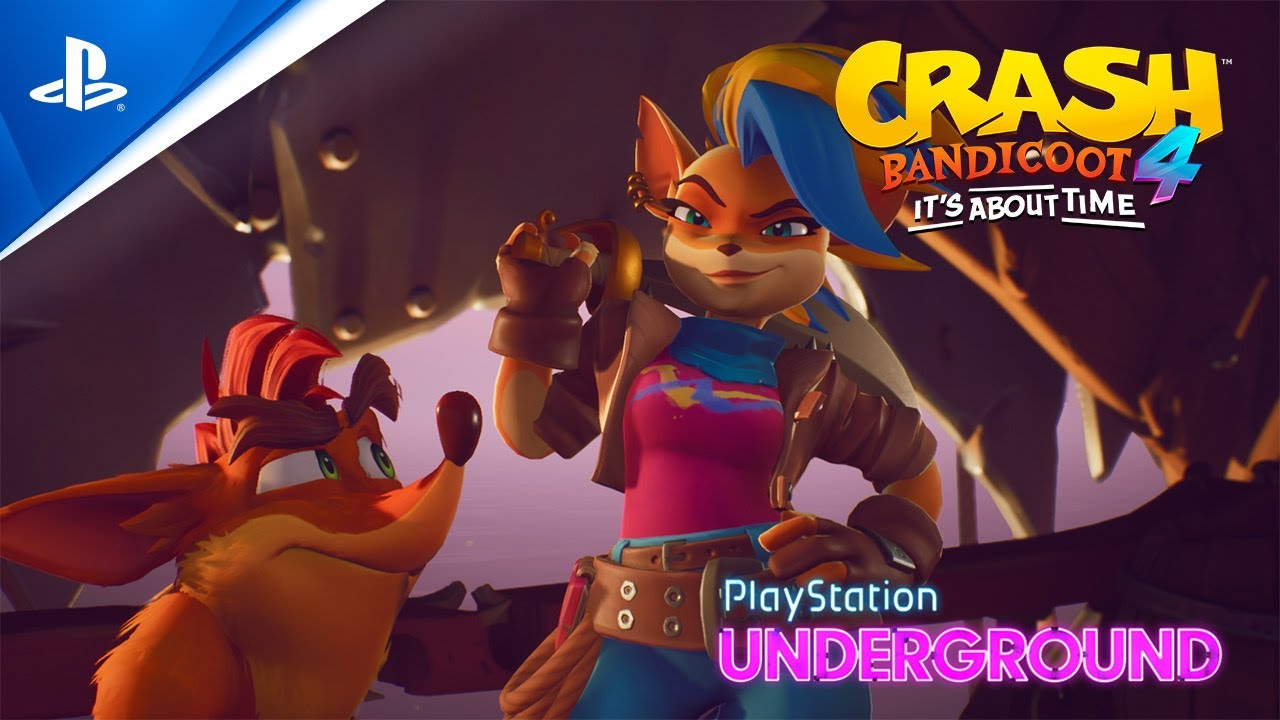 First details from Toys For Bob on the redesigned Tawna, plus pre-order demo info.
In Crash Bandicoot 4: It's About Time, our heroes Crash and Coco set off on an action-packed adventure across space and time where they encounter more than a few familiar faces from the classic N. Sane Trilogy. One character that we were really excited to shine the spotlight on in this new story was Tawna Bandicoot.
Appearing only in the first game of the trilogy as Crash's girlfriend, Tawna was the damsel in distress archetype and we never got to really learn much about her. Early on in Crash Bandicoot 4: It's About Time, Crash and Coco cross paths with a Tawna from what we at Toys For Bob have been calling the "Tawnaverse," an alternate dimension where she is the hero in her own story. This gave us the opportunity to rethink Tawna and establish a clear new voice for her in Crash 4.
Early concept designs for Tawna.
To make "Tawnaverse" Tawna a fully fleshed out character, we had to answer some core questions about her: How is this Tawna different from the one we already know? What happened to her that made her this way? What are her key personality traits? What does she sound like? If Tawna is the hero of her universe, how would she respond to different situations?
The answers to these questions, and many more, helped us to discover a strong, dynamic & multi-dimensional (literally) version of Tawna that's fierce and aspirational. What's even more exciting is that in Crash Bandicoot 4: It's About Time you will actually be able to swing into action as this new Tawna! Joining Neo Cortex and Dingodile as a playable character, Tawna has her own unique playstyle and an exciting new look as well…
A bold new look
As an alternate universe character, we had a tremendous amount of creative freedom to re-envision Tawna. This Tawna is an experienced adventurer, a daring, driven, and confident hero. She needed to exude strength and dexterity, so we looked towards powerful athletic bodies as inspiration for her physique. She is a lone wolf who likes to think that she doesn't need anyone's help, and we wanted that to come across in all aspects of her look, from her outfit to her range of expressions.
The many expressions of Tawna.
We iterated on her design for quite a while with early concepts ranging from an Australian outback adventurer, to a tough as nails rock climbing daredevil, before finally finding our Tawna. The quirky mix of her spiked leather jacket, punky half shaved, blue-dyed hairstyle. and bright pink leg warmers shows a woman who walks to the beat of her own drum. Everyone on the art team, from concept artists, to character modelers, to the amazing riggers and animators did an amazing job bringing her to life!
High-flying fun
While we're super excited about Tawna's cool new look and the pivotal role that she plays in the story, we've also designed an awesome new playstyle and move set for her. Each of the three new playable characters in Crash 4 has a unique way to move about and interact with the world. Dingodile uses his vacuum to give himself an extra floaty jump, Neo Cortex has a speedy forward dash move, and Tawna is no exception.
Equipped with a versatile hook-shot ability that allows her to quickly traverse levels and attack enemies and break crates from afar, Tawna feels as powerful and exciting as she looks. She also has a devastating ground-pound attack, spin kicks, and can reach new heights with her acrobatic wall jump. Playing as Tawna feels fast, fluid, and fresh, while still retaining the precision and intensity that makes Crash Bandicoot such a unique platforming experience.  
From the heart
The new Tawna holds a special place in our hearts at Toys for Bob. As game developers, we're passionate about telling stories and creating characters that delight and inspire. We seek to promote and expand upon the representation of female characters in games, and think that this new Tawna is a complex and aspirational hero that all players will fall in love with. We can't wait for everyone to experience Tawna when she leaps into action on PS4 in Crash Bandicoot 4: It's About Time when it's released on October 2.
Pre-order digitally and get access to the demo
Lastly, if you can't wait until October 2, we have some good news for you. Pre-order the game digitally from the PlayStation Store and get access to the Crash Bandicoot 4 Demo, available September 16. Members of the press have had such a great reaction to getting hands-on, and we are excited to be able to get these levels out to players. In the demo you'll be able play a couple levels from the middle of the game: Snow Way Out and Dino Dash. Fans will also experience things from a new perspective by playing as Dr. Neo Cortex himself in an alternate timeline of Snow Way Out.
*Demo availability subject to change. Internet Connection Required. Available in participating territories. See crashbandicoot.com/crash4 for details.