Get the 411 with a breakdown of the new Tours mode, a reimagining of Career mode.
PlayStation Skaters, it's your time to become the G.O.A.T. in Tony Hawk's Pro Skater 1 and 2. Developed by Vicarious Visions, this faithful remaster of the original two Tony Hawk's Pro Skater games is available tomorrow on PS4.
Before you check your griptape and start shredding, here's what you need to know:
The O.G. THPS 1 + 2 Experience Meets the New School of Skateboarding
Tony Hawk's Pro Skater 1 and 2 returns classic levels, pro skaters, and tricks alongside new skaters, customization features, and much more, all brought to life in detailed 4K*.
Skate your dream park at vintage spots first discovered in 1999 and 2000, or craft a dream skatepark with Create-a-Park, totally revamped from ramp to rail.
Here, expect to find a robust editor that allows for park customization like never before, the ability to share creations with friends, and the ability to download "Remixable" parks on the public Park Browser to then mold into your own skating paradise.**
Carve up these parks with your own custom skater through Create-a-Skater, as skateboarding's current stars, including Leo Baker, Aori Nishimura, Riley Hawk, and Tyshawn Jones, or as a member of the O.G. roster.
Like this mix of old and new skaters, this game's soundtrack stacks songs from the original games on top of three dozen fresh hits, which come from across decades and around the music world.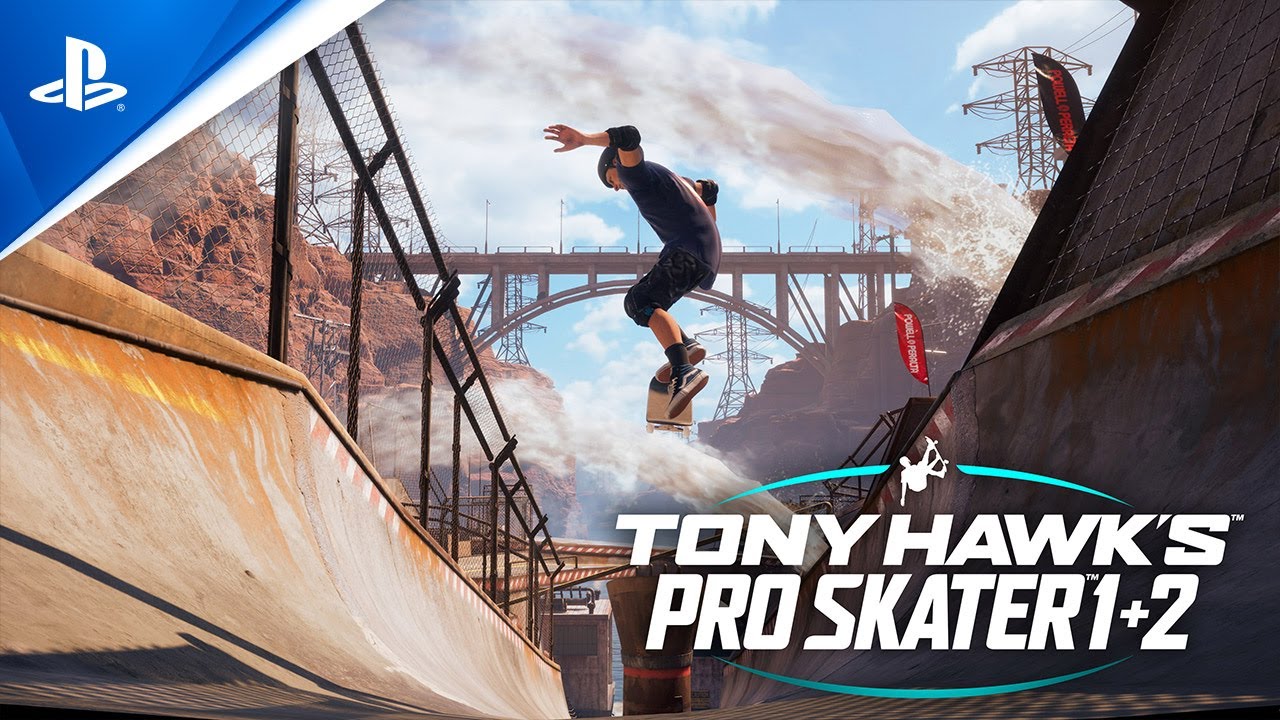 Tours – Career Mode Remixed
No matter what your soundtrack and skater is, get ready to conquer every skate park from the first two games through Tours.
This primary single-player experience is akin to a reimagined Career mode from THPS 1 and 2, as you will go through goal-oriented levels, where you complete various objectives such as collecting the letters "S-K-A-T-E" around the skate park or hit a High Score, and competition-based levels, where you must earn Medals by beating other skaters via virtual judge's scores.
There are two Tours to choose from: the THPS Tour and the THPS 2 Tour. Each is based on each game's original Career mode and will bring you through the following locales:
The THPS Tour:
Warehouse – Goals
School – Goals
Mall – Goals
Skate Park – Competition
Downtown – Goals
Downhill Jam – Goals
Burnside – Competition
Streets – Goals
Roswell – Competition
The THPS 2 Tour:
Hangar – Goals
School II – Goals
Marseille – Competition
NYC – Goals
Venice – Goals
Skate Street – Competition
Philadelphia – Goals
Bullring – Competition
Two Secret Levels – ???
On top of revisiting these hallowed stomping grounds, expect to find a few other surprises within these tours that add some modern challenges to the old school experience.
Other single-player modes are also available, like Free Skate and Single Session, as well as the next chapter in the franchise's signature Multiplayer mode.
Multiplayer – Jams and Competitive Playlists
Outside of local couch play, you can hop online to skate alongside – and against – up to seven other players on two distinct playlists that host vintage THPS Multiplayer game modes on a variety of skate parks.
In the Competitive Quick Playlist, only the best skater will win each session. If you top this playlist's leaderboard, then feel free to call yourself a G.O.A.T. in Tony Hawk Pro Skater 1 + 2 Multiplayer.
Jams is the more casual Quick Playlist; the top-four skaters will be counted as winners, and its own leaderboard is separate from Competitive. This makes Jams the place to warm up before Competitive matches, or to just hang with friends through the game's party feature.
Get Ready to Drop in
Tony Hawk's Pro Skater 1 and 2 is available tomorrow for digital download on the PS Store in two versions: a regular edition, which retails for $39.99 (MSRP), and digital deluxe version, which has a suggested retail price of $49.99 (MSRP).
Have fun dropping into this nostalgia-packed experience on your journey towards becoming the G.O.A.T!
*4K Available on PS4 Pro.
**Internet required for online multiplayer (PlayStation Plus subscription sold separately) and other features.