Set sail with Kara as she braves the storm.
Creating Windbound has been an unforgettable experience for us at 5 Lives Studios – through both calm winds and turbulent seas. We're thrilled for players to finally embark on their journey alongside Kara and explore the mysteries of the archipelago. These are just the first steps into the world of Windbound, and there are many more exciting things on the path ahead!
To coincide with the launch, we are releasing a six-minute dev diary-style trailer, which features gameplay and interviews from the team, giving you the inside scoop on how Windbound came to be.
Watch the developer diary launch trailer here: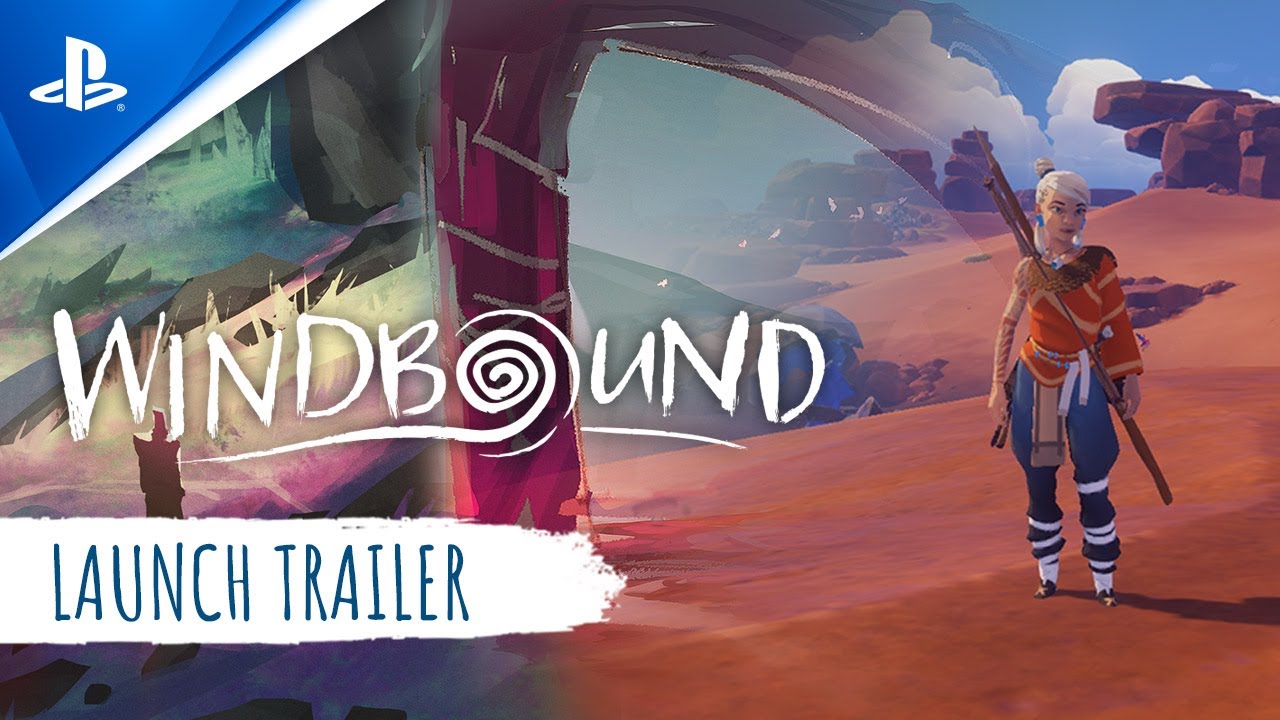 This launch video kicks off a three-part Dev Diary video series.
What makes this world so special?
Who is Kara?
What inspired the whimsical soundtrack?
The Dev Diary series explores all of that and more, directly from us, after spending over three years lovingly crafting every pixel of the game. Visit @WindboundGame every Friday as we share how Windbound was brought to life, from the first sketch on a piece of paper, to the game that it is today.
Sailing and Boat Building
Your boat is your greatest companion in Windbound. Boat building is modular and full of options towards how you want to construct your ideal vessel. Your choices will impact the way you sail and survive at sea, so favouring speed or durability, for example will come with its own benefits and downsides. It's up to you to decide what materials you make it from and what peripheries you add to it to create the perfect boat.
You'll face harsh fauna and rock formations while at sea so you'll be rewarded for crafting your vessel with some TLC, otherwise you may be faced with the perils of losing your boat in the depths of the waters. Spoiler Alert – you probably won't survive if you do!
You can upgrade your boat at any time, even while you're travelling, provided you have enough materials on you, such as adding masts, additional hulls or perhaps some storage or a small fire to keep you warm at night. However, some construction will change the way you sail more than others.
Let's say you add your first mast to your boat. This will fundamentally change the way your boat travels by following the wind direction, instead of paddling with an oar. You'll have to learn quickly how to direct your boat and align your sails, to ensure you stay on course.
You might find the wind isn't blowing in your favour for your intended destination. You'll learn how to tack – a manoeuvre allowing you to sail upwind by zig-zagging and when to tighten and loosen your sails to find a comfortable speed, taking full advantage of the current wind direction, without capsizing. All this while navigating rocky formations, storms and dangerous sea creature's intent on taking a bite out of you and your precious boat!
Crafting
We wanted Kara to be a character that was able to survive in the situation she finds herself in, she's not completely out of her depth, so when she washes up on shore, she knows what she needs to do to hunt and gather food to survive. She knows the resources she needs to start crafting her initial canoe, to improve upon what she's already built and then eventually get off that first island and on to the next set in the archipelago chain, until she can eventually make her way back to her family.
Kara's innate knowledge of crafting and her survival skills are essential for her to move forward in Windbound. The moment you're washed ashore, you'll need to know where to look for food to ensure Kara doesn't starve and learn how to craft various weapons and tools, allowing her to hunt the fauna of The Forbidden Islands more effectively and gather more advanced materials to craft stronger equipment, higher quality boat-building materials, clothes, potions, ammunition and storage.
Exploration
There are five chapters to explore within the game, each with their own group of procedurally generated islands, which affects everything from the look and feel of the islands, the creatures and challenges, to the in-game music which is also generated procedurally to compliment the unique experience players will have each time they play. Exploration at first is quite intentionally very friendly, but then as you progress through the game you'll start getting introduced to more obstacles within the environment.
It's both the environment itself and the creatures that make things feel more hostile, so as the player advances, they'll make their way through forests, deserts, swamps and savannah landscapes that every player will see differently, going deeper into the belly of the beast as they progress through the game.
Unlike most survival games that have settlements, your 'base' and indispensable partner is your boat that you bring with you throughout the game. Your custom-crafted vessel enables you to explore and progress through the islands, surrounded by sea and a mysterious storm. As you discover more on these islands, you'll come across remnants of the people/beings that once lived there before Kara arrives. These remnants must be explored, and mystical items gathered to upgrade Kara's skills, health, and power, through the tower system to complete the game.
---
As an extra, PS4 players will receive Kara's Ancestral Gear bonus items if they purchase the game within the first two weeks of launch until September 10.
To Kara's tribe, the exploits of her ancestors are legendary. Hunters, fishers, warriors, poets and philosophers, their stories tell of a people who lived in perfect harmony with the natural world and swam the deep waters in the company of gods. Though the tale of their downfall has been lost to time, their legacy lives on in these artefacts that have endured to this day.
Here are full details on the Ancestral items:
Ancestral Attire
This treasured garment – fit for either a warrior or a priest – has been handed down from generation to generation, and now the time has come for Kara to honour her past.
Ancestral Oar
The Oceanic Gyre was revered in times past, though its true significance is enigmatic to Kara's people today. Nevertheless, this salt-treated wooden oar remains sturdy and functional, despite its age.
Ancestral Knife
How or where the ancestors acquired these Sea Shards remains a mystery, but few would deny their efficacy. Luminous, durable, and impossibly sharp, this blade cuts as well today as it did a hundred years ago.