Follow a whimsical adventure crafted entirely from works of Renaissance art.
Ahoy peasants! My name is Joe Richardson and I'm a solo developer based in the UK. I've been making games for six years and I'm delighted to share the news that my most recent game, The Procession to Calvary, is making its way to PS4.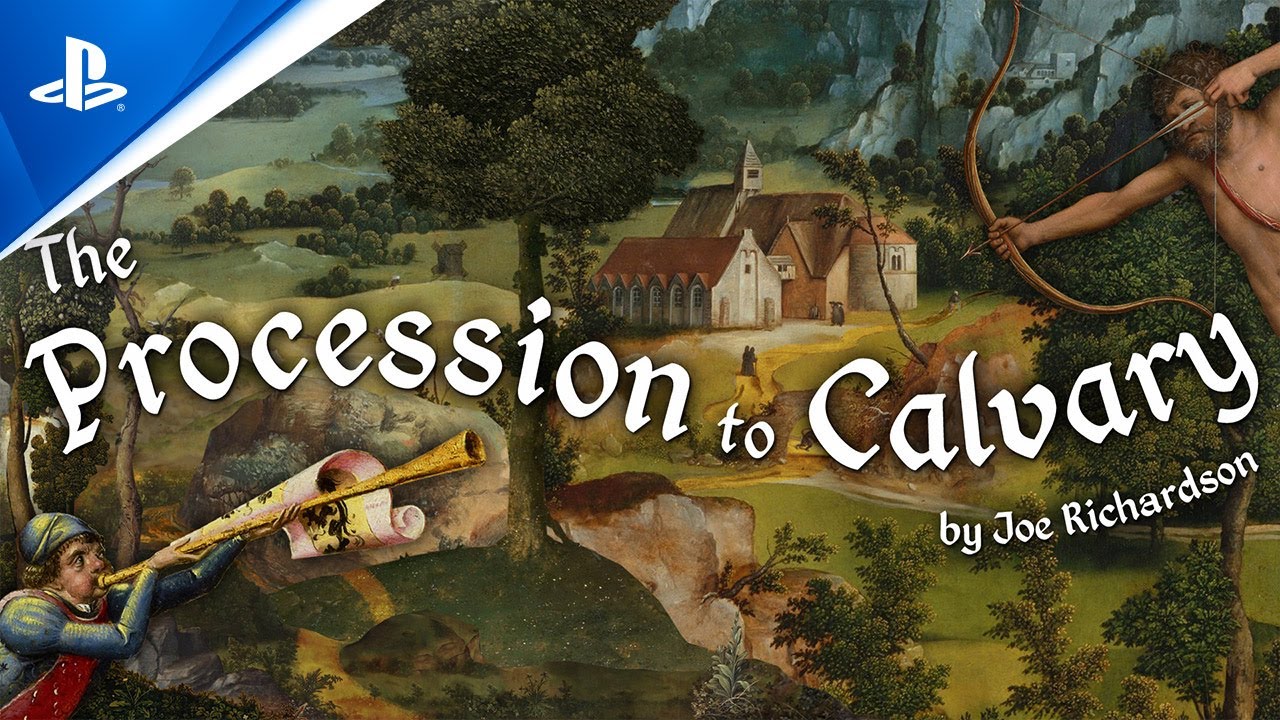 The Procession to Calvary is an adventure game composed entirely from Renaissance art. It features beautiful artwork, classical music and irreverent humour, and it strives to be intelligent and ridiculous in equal measure. Check out the trailer above for a taste of the action.
In The Procession to Calvary you will point-and-click your way through a self-appointed mission to track down the tyrant Heavenly Peter. On your journey you will encounter a bizarre cast of characters, including a woefully depressed composer, a cave full of mischievous daemons, and an incompetent street magician bearing a striking resemblance to the son of God.
And of course, there are puzzles to solve. You will compete in a talent contest, appease a cantankerous devil, hunt for treasure, manipulate a skunk, and bribe some unscrupulous bishops.
But never fear! If puzzles prove too perplexing our unnamed protagonist has a trick up her sleeve – a 3-foot broadsword with which you can murder anyone who stands in your way! Be careful how you use this questionable skill, however, as unsanctioned murders have… consequences.
As you probably spotted in the trailer, every scene in The Procession to Calvary is comprised entirely of Renaissance paintings. From Bosch to Bruegel, Rubens to Rembrandt, Vermeer to Velazquez, I lovingly cut, pasted, and repurposed hundreds of artworks to make the game. From a collection of over a thousand paintings I selected scenes and settings that would fit together, objects and items that could form interesting interactions and characters that looked like they had a story to tell, and I stitched them all together into a single cohesive world.
The influence of Renaissance art doesn't end with the visuals. The entire game was made backwards – artwork first, then puzzles, then story. In this way every aspect of the game is informed by the art. From the diegetic classical music, played by musicians visible in each scene, to the in-game gallery where players can peruse a selection of the game's source material, every aspect of the world is interwoven with the themes of Renaissance art.
There are also jokes about butts.
Thanks for reading and I hope you enjoy playing The Procession to Calvary on PS4 when it arrives in the coming months.