Sega builds upon the perfect puzzle match of two video game legends.
Hi everyone! I'm overjoyed to talk about Puyo Puyo Tetris 2, the latest installment of the hybrid lovechild (one might call it the best … match … made in history) of two of the video game world's most beloved puzzle franchises. First with the fun news: Puyo Puyo Tetris 2 comes to PlayStation 4 on December 8, and PlayStation 5 during Holiday 2020!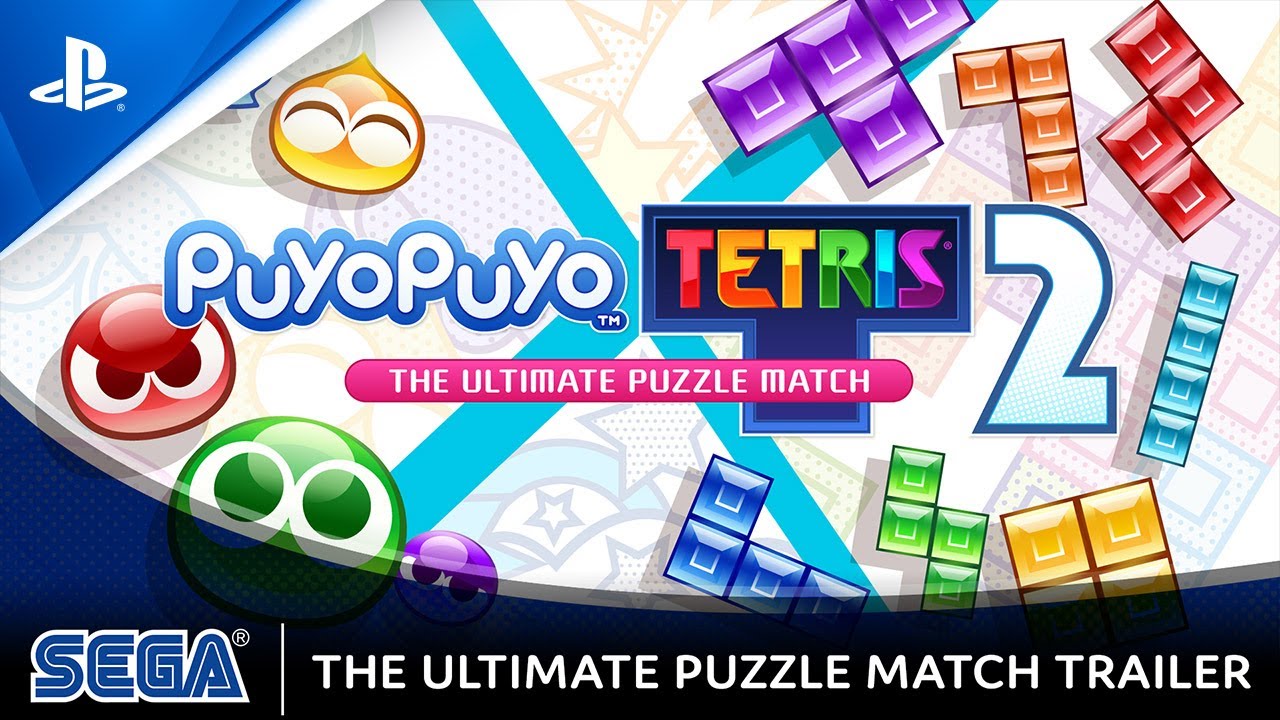 What's New
Players will experience a brand-new delightful story filled with an eclectic cast of characters in Adventure mode and develop new strategies for play utilizing special item cards in Skill Battle.
This thrilling new adventure continues the legacies of these two iconic titles: Puyo Puyo, one of Japan's biggest and most enduring puzzle games, and Tetris, one of the most well-known video game franchises in the world. By incorporating core elements of both, we landed on a combination that we think is as fantastic as peanut butter and chocolate!
From Tetris to Puyo Puyo, a Tale of Two Legendary Series
Tetris was created in 1984 by Russian computer programmer Alexey Pajitnov and became an instant hit among his colleagues and friends. In 1989, the handheld release helped cement the series as one of the greatest and most successful games of all time.
Over the years, The Tetris Company has overseen the licensing of the Tetris IP, ensuring that every version follows a set of tested guidelines to guarantee consistency and fluidity across every iteration and platform. We stood on the shoulders of giants when we decided to build the Puyo Puyo Tetris series atop the template that Mr. Pajitnov set back in 1984. Some call Tetris one of the greatest games of all time, and we don't disagree. We just had to add something new to one of the most revered and popular pieces of entertainment ever made. No pressure, right?
Puyo Puyo might not be as known in the West as Tetris, but it has a cool history and legacy of its own! Originally created by developer Compile in 1991 on the MSX2 in Japan, Puyo Puyo was a puzzle game spinoff of the Madou Monogatari (which translates to "Sorcery Saga" in English) RPG series, adopting the game's super cute characters and colorful aesthetic. The puzzle game spinoff soon overtook the original series' popularity and spawned a ton of unique iterations of its own.
Different variations of the Puyo Puyo series made its way to the U.S., taking on different IPs and monikers in the process, including Dr. Robotnik's Mean Bean Machine (1993) and Puyo Pop (2003). The series finally got its original name (and its groove) back and has gone by "Puyo Puyo" since Puyo Puyo Tetris in 2017. Across the decades, under other names, Puyo Puyo has charmed its way into the grizzled hearts of gamers everywhere.
The Perfect Match
The addictive nature of these iconic puzzlers will have you bouncing around with as much enthusiasm as the Puyos you'll be popping — and what's even better, you and up to three of your friends can play together!
Puyo Puyo Tetris 2 embraces both the similarities and differences of the two franchises, molding them together in a way that reinvigorates your gaming experience. Both franchises require quick reaction time, agile maneuvers and strategic play. Both require thoughtful planning and quick thinking, but strategy varies. In a Tetris game, patterns and shape matter most, whereas in Puyo Puyo, color matching is key. Each of the seven distinct Tetriminos must be carefully organized, regardless of their specific color, to completely fill a horizontal line, whereas Puyo groupings can be separated and color-matching matters. This means you'll need to adjust your strategy depending on which drop puzzle you are playing.
As drop puzzles, they rely on similar mechanics, but ask players to plan and react in different ways. Putting the two games together means exercising every part of your brain and thumbs. You set the stage with each new board, working to anticipate best placements and the smartest moves to score big against your pals. It's combos galore out here with myriad gameplay modes bringing opportunities to earn points and gain special skills.
In a constant balancing act between speed and strategy, Puyo Puyo Tetris 2 will give players both new ways to play and a chance to revive memorable modes from the previous installment in the franchise. With dynamic character-based skills in the brand-new Skill Battle mode, the ability to journey into the worlds of Puyo Puyo and Tetris with a new story and quirky cast of characters in Adventure mode, and improved online gameplay, we can't wait to see what the community can achieve in Puyo Puyo Tetris 2.
Now that you're up to speed on Puyo Puyo Tetris history, we can't wait for the next chapter of its history to unfold. We're looking forward to seeing what kinds of strategies you'll come up with for launch. Start training your reflexes now so you can make an explosive entrance once this holiday season rolls around!