Enjoy two PS4 themes today and get details on the eChampionsLeague Invitational event.
European football's showpiece competition has returned with a straight knockout tournament in Lisbon, Portugal. Now that we are in the final stages of this year's competition, who will be crowned the winner of this year's UEFA Champions League on August 23?
In preparation for the big finale, we've released two free-to-download UEFA Champions League themes*. Based on the iconic UEFA Champions League starball design, these themes will give your on-screen display a completely new look, changing the background, icons and colours.
Check out how the UEFA Champions League dynamic theme works in action below. For European and Asian players, download it here. For US players, download it here.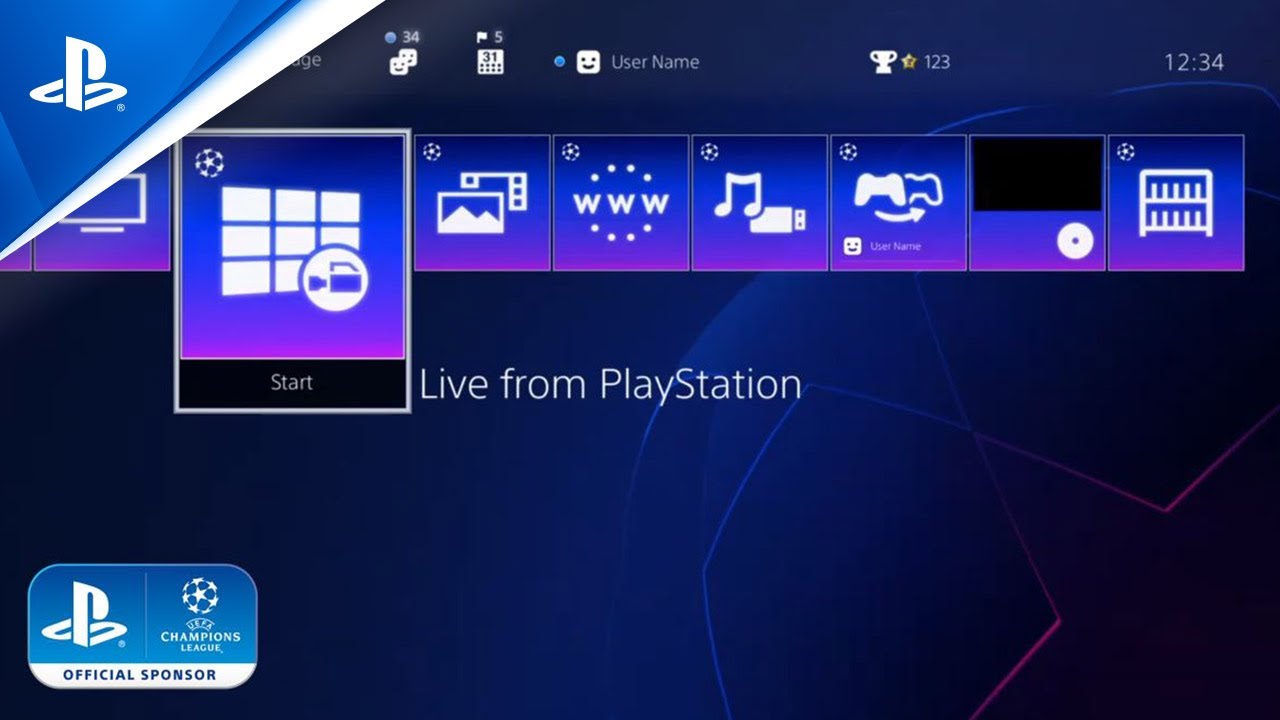 Prefer a static theme? No problem, you can also download a static UEFA Champions League theme for your PS4. For European and Asian players, download it here. For US players, download it here.
eChampionsLeague Invitational
Taking place ahead of the UEFA Champions League Final, tune in for the special eChampionsLeague Invitational event to find out which FIFA20 player will become the champion of Europe. Across the three-day spectacular, the eight competitors will compete on PS4 for a slice of the $100,000 prize pool.
The eChampionsLeague Invitational will broadcast on EASPORTSFIFA Twitch and UEFA's YouTube. Set a reminder for the following times:
Thursday August 20 | 6pm – 11.40pm CEST / 10am – 3.40pm PST
Friday August 21 | 2pm – 7.40pm CEST / 6am – 11.40am PST
Saturday August: 22 | 6pm – 11pm CEST / 10am – 3pm PST
Don't forget, the below regions can also watch the UEFA Champions League Final in TV & Video on your PS4**!
UK: BT Sport app
France: RMC app
Italy: Now TV app
Germany, Austria, Canada, Japan: DAZN app
Nordics (excluding Finland): Viaplay app
*Internet connection an account for PlayStation Network required. PS4 Themes are available in Hong Kong, Indonesia, Japan, Malaysia, Singapore, South Korea, Taiwan, Thailand, Australia, Austria, Bahrain, Belgium, Bulgaria, Croatia, Cyprus, Czech Republic, Denmark, Finland, France, Germany, Greece, Hungary, Iceland, India, Ireland, Israel, Italy, Kuwait, Lebanon, Luxembourg, Malta, Netherlands, New Zealand, Norway, Oman, Poland, Portugal, Qatar, Romania, Russian Federation, Saudi Arabia, Slovakia, Slovenia, South Africa, Spain, Sweden, Switzerland, Turkey, Ukraine, United Arab Emirates, United Kingdom, Argentina, Bolivia, Brazil, Canada, Chile, Columbia, Costa Rica, Ecuador, El Salvador, Guatemala, Honduras, Mexico, Nicaragua, Panama, Paraguay, Peru, United States of America, Uruguay.
**Subscription service may be required.