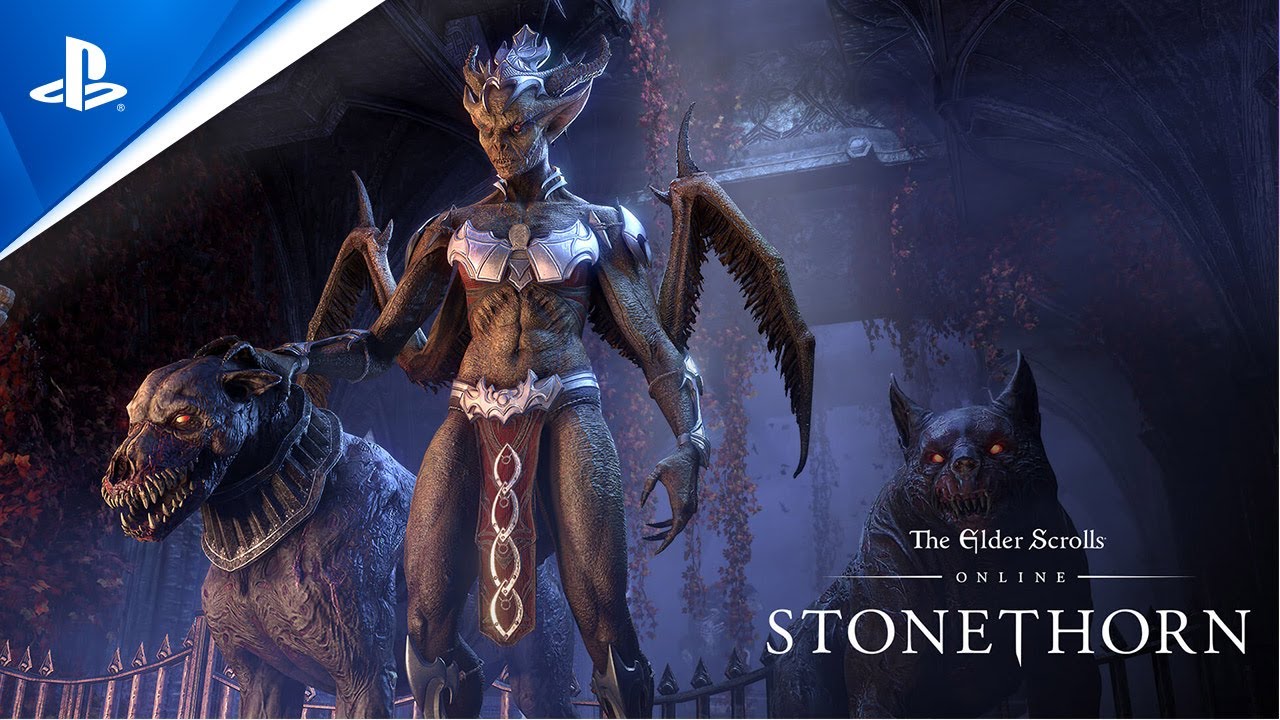 Uncover the next adventure in the Dark Heart of Skyrim year-long saga, coming to PS4 September 1.
Stonethorn, The Elder Scrolls Online's upcoming DLC dungeon pack, continues and builds upon the Dark Heart of Skyrim storyline with two challenging new dungeons: Stone Garden and Castle Thorn.
"These dungeons explore different aspects of the Greymoor Chapter," explains Mike Finnigan, ZeniMax Online Studio's Encounter Lead. "Castle Thorn features a foreboding keep where a Vampire Lord secretly builds a dark army, while Stone Garden is set within the laboratory of a mad alchemist, dedicated to perfecting his monstrous creations."
Both of these dungeons tie into the year-long adventure, building upon the stories you might have already experienced in the earlier Greymoor Chapter or Harrowstorm DLC.
"The Dark Heart of Skyrim deals with some of the vilest creatures in the Elder Scrolls mythos and shines a light on the Gray Host, an ancient army composed of Werewolves and Vampires," explains Finnigan. "With these dungeons, we wanted to explore darker themes and highlight those two aspects of the Gray Host's army."
All of this carries over to the dungeons' narratives, too, and while these monsters have always been a part of ESO and Tamriel, this year-long storyline has allowed the team to craft some truly horrific tales and tell a darker story.
"Werewolves, Vampires, mad scientists and their abominable creations are all the stuff of nightmares, and now you get to explore more of these classic horror elements in Tamriel, too."
Of course, these dungeons are more than dark tales of monsters and heroes, they're also challenging PvE experiences in their own right, sure to put you and your group to the test.
"We always try and challenge players to use familiar aspects of the game in new and different ways and infuse more exploration moments into our designs," says Finnigan. "These two areas have culminated in some unique mechanics within Stone Garden in particular, where players can utilize alchemy in ways they haven't before."
Using the tools available, you might even discover a way to fight monsters with monsters! Even better, should you complete these dungeons, you'll earn unique rewards including powerful new item sets, collectibles, and Achievements.
In addition to the Stonethorn DLC, this release also includes the Update 27 base-game patch. While it will include performance improvements in addition to the usual bug fixes and balance changes, it also features a brand new update to the Homestead system: Character Pathing.
"Previously, pets, mounts, and assistants were all stationary when placed in a home," explains Cullen Lee, one of Zenimax Online Studios' System Designers. "With Character Pathing, you can now build specific paths for each of these characters to follow, adding new creative ways to make your home feel more alive than ever before."
With Character Pathing, the goal for the team was to help players express themselves creatively within their homes, while keeping it as accessible as possible.
"We wanted the system to give as much creative freedom to players as possible, while still keeping it accessible and fun," says Lee. "For us, this meant allowing people to place path nodes anywhere in 3-D space and doing our best to ensure that the resulting path works as well as it can."
With this focus on the first-time experience, the team has made it easy for you to build a basic path while still allowing you to learn some more of the complex aspects of this new tool at your own pace — have fun!
Thanks to two exciting new dungeons and a major addition to the Homestead system, Stonethorn and Update 27 bring challenging new adventures and creative new tools for you to experience in The Elder Scrolls Online.
Even better, both The Elder Scrolls Online Standard Edition and The Elder Scrolls Online: Greymoor are on sale at PlayStation Store now, making this the perfect opportunity for you to begin your Dark Heart of Skyrim adventure in time for Stonethorn.
For more on the Dark Heart of Skyrim, visit elderscrollsonline.com, and don't forget, Stonethorn arrives September 1 for PlayStation 4 — see you in Tamriel!