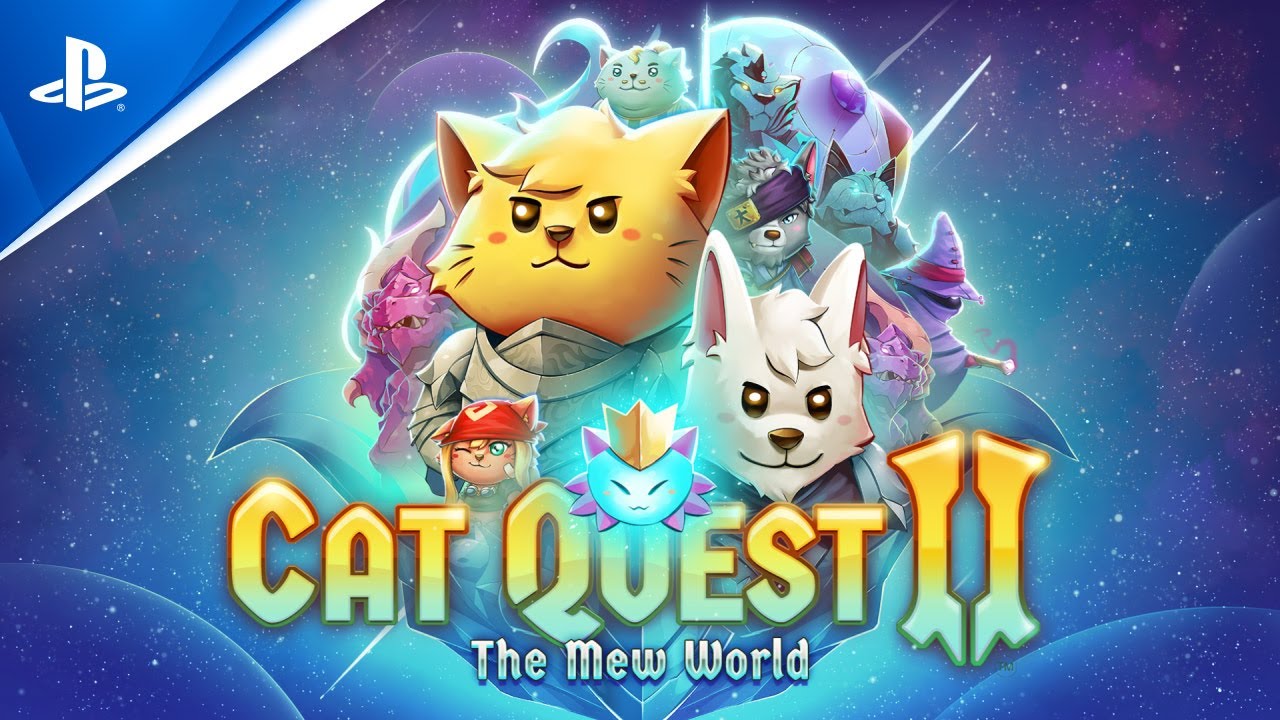 Get your paws on brand new content arriving on International Cat Day.
Hey Catventurers! I am Anne-Lou, the Product Manager for the game and I will be your guide to the Mew World Update.
First things first, in case you're not familiar with Cat Quest – it's an open-world RPG adventure in the world of cats. In Cat Quest II, you can play with both a cat and a dog in local co-op, and explore the Lupus Empire to bring peace to the kingdoms.
Cat Quest II released last year, but developers The Gentlebros have been working tirelessly to bring out this update that will appeal to everyone:
"We wanted to make these changes as a huge thank you to all our fans who've supported us since day 1. We never thought our games would be played by so many people! We read every single review, and every message sent to us, and these improvements and tweaks are what we feel would make the game a lot more enjoyable for everyone!"
For this momentous occasion, they've also designed majestic new art for the game:
Now onto the meat of the update itself, which includes a ton of quality of life changes. Some will take effect whether or not it's your first playthrough, others will require you to have completed the story at least once to unlock the Mew Game modes.
The patch is free (isn't that beautiful?) for everyone, and will be live tomorrow – August 8, also known as International Cat Day (what a happy coincidence) – and it's also the third anniversary of the release of the original Cat Quest!
Top Features
Here are some of the top features to discover:
The Mew Game
After finishing the story, you will now be able to challenge yourself with no less than eight new game modes with some really diverse meowdifiers, such as Fast Furrwards, where everything, including yourself, moves at twice the speed, or Naked Paws, where you cannot equip any armor or weapon for the entire playthrough.

Top tip: After finishing the Mew Game, you will get a new armor set. The more you play, the better the gear!
Reworked inventory
As requested by the fans, the sorting of the inventory is vastly improved and also includes a color code for rarity.
Sprinting
After running for a few seconds, your kitty and your doggo will now speed up and travel everywhere even faster!
Elemental damage
Weapons that do elemental damage are now better displayed in the game – and the numbers now change color depending on the elemental damage you do.
New Royal Arts
The Pawer Smash has been revamped! Each weapon now has a unique and devastating new attack that triggers when you roll and attack right after.
New enemies
Water enemies are now ready to challenge your crossing of the Pawcific Ocean. These new monsters will be a source of gold or experience for the seasoned players!
Defense
The Defense stat has also been rehauled – it now works closer to the original Cat Quest (if you've been on a catventure before). With the right armor equipped, you will now have a defense bar that will absorb damage before your HP – until it is depleted that is. The bar will slowly recharge when you're not under attack, so it's a very useful feature for those of us who prefer a defensive stance.
Quality of Life
On top of many small tweaks to make the game smoother, you now have a way to delete your save files, the Kingsmaker (the fast travel system of the game) will display the general direction of your teleport, and the map shows what level the quests and dungeons are before you enter them, and you also have Arcane Temples scattered across the land rather than in one place!
So catventurers, are you ready to pounce into Felingard and discover the clawsome changes that are coming? We hope you'll enjoy them and continue to play Cat Quest II with your friends and family!