Uncover uncanny plots in a neon-drenched, 2D/3D hybrid adventure.
We are ThinkingStars and in our game Anno: Mutationem we're all about that mix. The game is a combination of 2D & 3D modes, action and adventure gameplay, sprites and polygons, while throwing in some RPG-elements and letting the whole thing come alive amid a bustling cyberpunk world. So how does this 2D and 3D fusion actually work?
First, you take control of main character Ann, a lone wolf one-woman army who is supported by her hacker friend Ayane. When you start the game, you will be in what we call Exploration Mode, meaning you can play the game as if it's your favorite an action RPG: you move around in 3D, talk to NPCs, and interact with the environment. No rush, it's your world.
As you proceed to the next section it will seamlessly switch to the 2D Battle Mode, which is where Ann busts out the broad swords, hand cannons, and that fast, lethal rhythm of battle. Combat is all about double-jumps, dodging, and well-timed ground-pounds. It plays like your favorite 2D action games, along with exciting platforming and huge boss fights.
This dynamic looks cool and we hope you think so, too. Beyond stylish aesthetics, the gameplay works functionally, too.
The pixel-graphics and 2D sprites are a love letter to the games we grew up playing. Today's tech allows us to create huge cities and environments in a modern style that holds on to a hybrid vibe we feel is very fitting for cyberpunk.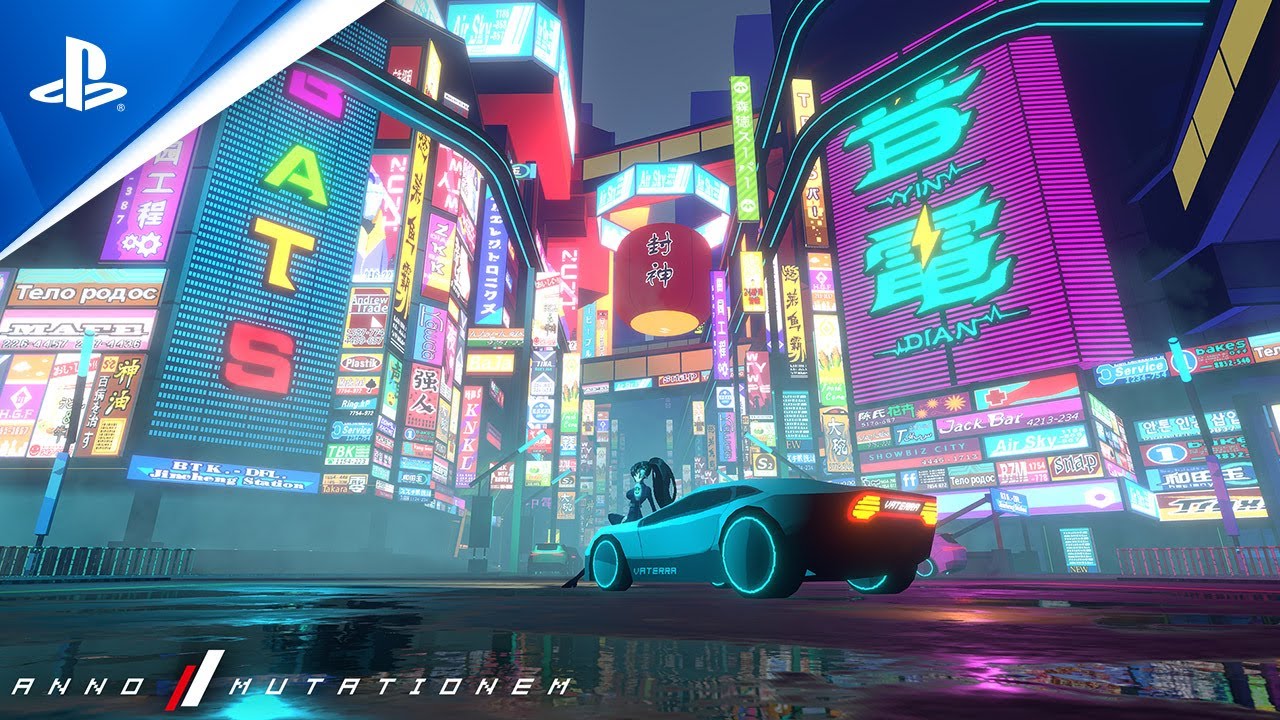 In the trailer you can see one of the major cities players can explore as they wish. They can roam the night streets thru throngs of people, choose to return to Ann's apartment to take a rest and check her email, or go to one of the local stores for supplies. As with many ARPGs, you can buy, sell, and craft new gear or upgrade old favorites. Well-rested and supplied, you and Ann are ready for the next mission.
Anno: Mutationem's setting is decidedly cyberpunk, with all the familiar sights and neon lights you'd expect. However, our trailer showcases a hideous reptilian beast and a nightmarish scene with a blood-red sea and eldritch statues in the background. Our world reaches for something else too.  Something the eerie and bizarre.
The storyline conveys this surreal feeling, too, but we don't want to spoil anything. Trust that the plot will be intricate, twisted, freaky, cause an occasional "OMG, OMG,OMG!"
We hope that our players will enter this cyberpunk-world of ours and dig it. We want it to feel as if the world is your own., To remember the sights, situations, and characters you meet We want you to feel the thrill of battle during the action segments and immerse yourself in the unravelling story..
 In short, we welcome all to the world of Anno: Mutationem. Bring a gun and a cybernetically enhanced arm.