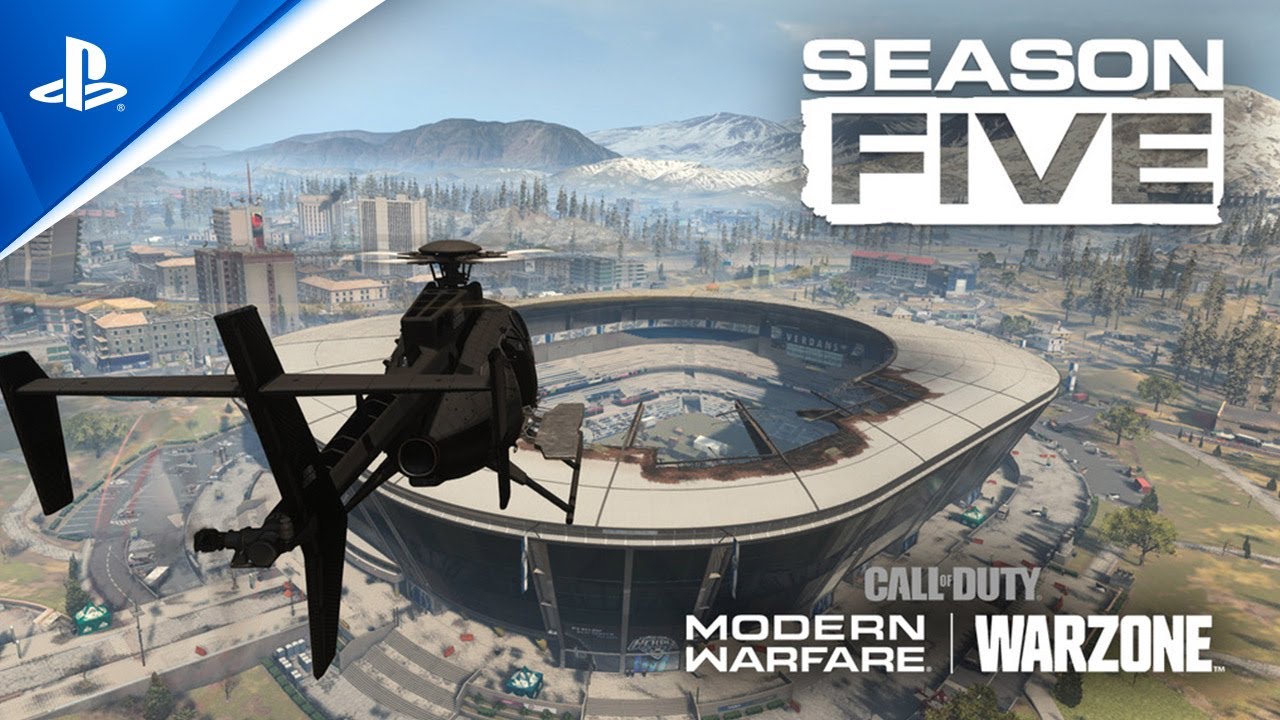 Season 5 is live with four Multiplayer maps, three Warzone map additions, two free weapons, and exclusive PlayStation content.
* Timed Exclusive content until Oct. 1, 2020 The Shadow Company, an elite PMC group within the Allegiance faction, has arisen to take the ongoing conflict into their own hands. Fight alongside them in Season Five of Modern Warfare featuring four new Multiplayer maps and new additions to Warzone like an opened Stadium and Transit Station, plus a moving freight train that travels across the map.
The Free-to-Play Warzone Map Gets Bigger
The already massive free-to-play map of Verdansk just got some updates. The Shadow Company's explosive arrival has cracked open the Stadium and inside the match is on. Want to battle on the go? Hop aboard a moving freight train to get around the map and fight while you ride. Don't forget to grab your tickets at the expanded Train Station.
Stadium – Don't land on the roof; go through it. More than just a pitch, move through rows of seating, discover the underground parking structure, and rethink your strategy for a match at Stadium. Don't get distracted at the concession stands.
Train Station – Get a ticket and explore this expanded area near Promenade. With new rooms, interior spaces, and more opportunities for gunplay and gear, expect the fight at Train Station to be different than you remember.
Moving Freight Train – All Aboard. Travel with your squad and pick off enemies as you go on the moving freight train. Use the track to escape the gas, take a load off, or get to a new location stealthier, without the noise of a vehicle engine.
Warzone Map Tip: The Three S's of Interior Combat. Shotguns, SMGs, and sidearms are all built to excel in CQB scenarios, which will be commonplace in both Stadium and Train Station. While the other weapon categories can find their place here, it may be worth carrying a close-quarters option in your loadout, if only to be prepared when trekking through these new areas or other interior spaces.
More Multiplayer Battlefields
Four new Multiplayer maps join the rotation across Gunfight, 6v6 Multiplayer, and Ground War. Read a brief overview of all, plus tips for Suldal Harbor.
Livestock (Gunfight) – Small pastoral map features a central barn for fast and frenetic tactical opportunities in Gunfight.
Verdansk International Airport (Ground War) – Don't let this tarmac be your final resting place as this popular Warzone destination makes it way to Ground War. Utilize both the interior and exterior spaces to find success. Mind the tanks.
Petrov Oil Rig (6v6) – Fight aboard an operational oilrig featuring five distinct sections within a versatile map design where all playstyles can shine.
Suldal Harbor (6v6) – Likely not the safest place to dock your vessel, this bustling harbor will see players weaving between fish markets, shipping areas, and weather-beaten administrative areas.
Tips for Suldal Harbor
Chokepoint Ambushes. The long lanes between the fish market and the shipping village could be ideal for CQB players, or for those that want to set lethal equipment traps.
On the Flank. Especially in objective game modes where key areas have multiple points of entry, those using weapons for close-quarters play could use cover and longer flanking routes to potentially surprise their enemies.
Shadow Company Rises in the Season Five Battle Pass System
This Season's Battle Pass system is themed to fit the explosive and dark tone of the elite PMC, Shadow Company. Instantly unlock Shadow Company's leader, Marcus "Lerch" Ortega at Tier 0 with purchase. Also at Tier 0 players can unlock three War Tracks – a new customization item allowing you to listen to specific songs while you drive a vehicle.
Earn Two Free Weapons in the Battle Pass System
Play and progress through the tiers to add a new SMG and assault rifle to your arsenal.
ISO SMG (Tier 15) – Lightweight and reliable, the ISO is a precision crafted, fast-firing SMG.
AN-94 Assault Rifle (Tier 31) – Featuring a unique hyperburst where the first round is followed by an instantaneous second with little to no recoil, master this unique mechanism to deal efficient and deadly damage in every match.
Purchase the Battle Pass to unlock up to 100 tiers of content including 10 Operator skins and Missions, Legendary weapon blueprints, the raven 'Nevermore' Finishing Move, up to 1300 Call of Duty points, and more. Advance through the Battle Pass system just by playing the game.
Get More on PlayStation: Sony *Exclusive Modern Warfare Content
Survival Crash
A familiar Crash site is the locale for the newest map playable in the PlayStation *exclusive Survival mode. Take advantage of long sightlines or head to the rooftops and lock down a building to outlast waves of enemies. Get Killstreaks, freshen your loadout, and restock your ammo between rounds to equip your foursome with the tools to survive on Crash.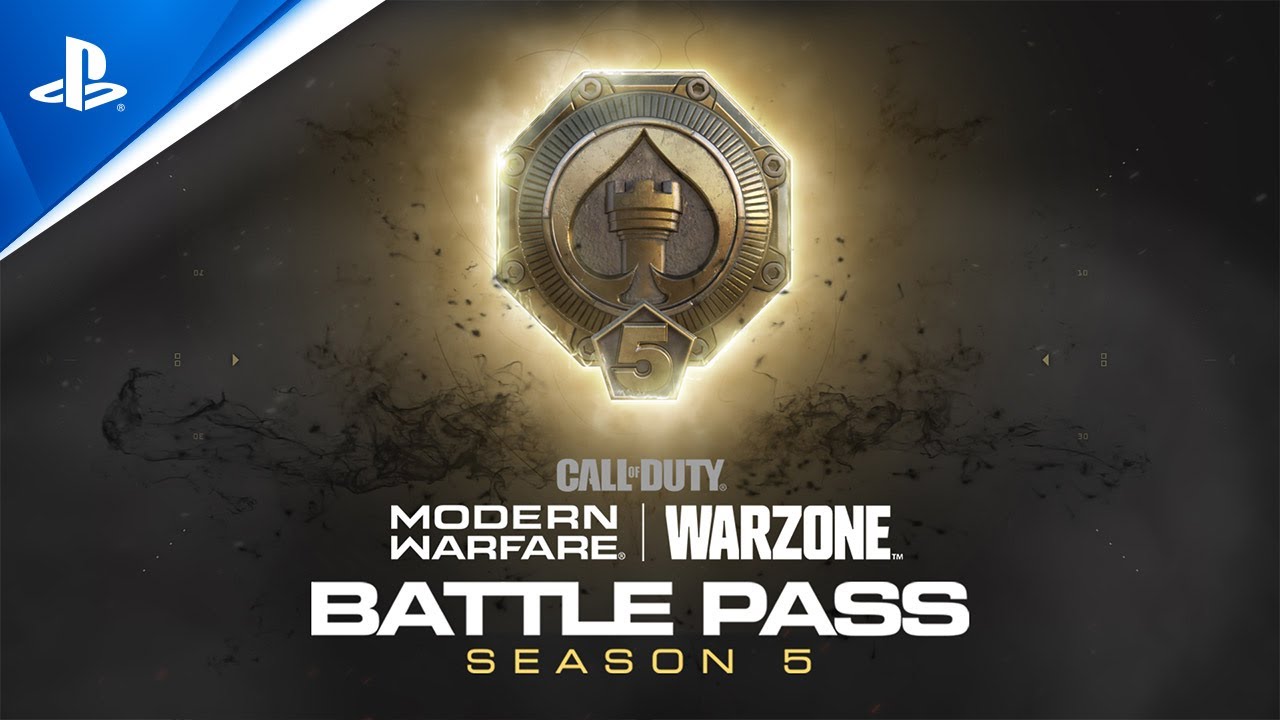 Call of Duty: Warzone Combat Pack – Season Five
Complete your gooaaallll of placing first in a Warzone match or earning the Juggernaut in Multiplayer while you rock this jersey skin for Zane in a soccer-themed bundle that is free for all PlayStation Plus subscribers. Download the Pack by going to the Franchise section of the Store and scroll down to the Miscellaneous section. The bundle includes the following:
Epic Zane 'The Footballer' skin (This skin unlocks the Operator, if not already owned)
Epic 'On the Volley' Weapon Blueprint
Epic 'Injury Time' Watch
Epic 'The Sparks' Charm
Epic 'Stunning Strike' Calling Card
Epic 'Sparks Pride' Emblem
60 Minute Double XP Token
The Combat Pack will be available to download on PlayStation starting August 5.
Earn An *Exclusive Weapon Blueprint and More in Missions
The Grand Rapids weapon blueprint is available to earn in Missions. View your Missions in the Challenges tab and complete each task in the multi-step objective to earn the Grand Rapids. The blueprint has a metallic frosty blue shine with multiple attachments including No Stock for a mobile and agile playstyle. Pick up XP and other rewards as you complete the objectives on your way to earning the Grand Rapids.
Tips for Conquering the Battlefield with Sony *Exclusive Content
1. Crash in the Restaurant. For the benefit of your Survival, you may want to take solace in the Restaurant towards Crash's center. The sightlines from here can lead to waves of enemies rushing towards you, only to fall at the hands of your long-range weaponry. Just be wary of enemy helicopters who will come prepared to chop you down from the high ground with heavy fire.
2. Squad Goals. On the Volley, the blueprint included in the Combat Pack, is an SMG kitted for more mid-range engagements. If you would like to specialize in this type of fighting, don't hesitate to use this and an assault rifle or LMG in your Loadout Drops, as the SMG and AR/LMG ammo pools are separate within Warzone.
3. Rolling on the River. The Grand Rapids blueprint, part of the Sony *Exclusive Challenge, is configured for closer medium-range engagements, so feel confident with it when challenging others with CQB weapons. The hybrid optic also allows you to compete at longer ranges, but should you do so, it may be wise to mount this weapon in order to control its recoil.
Season Five Download Intel
PlayStation Owners of the full version of Modern Warfare and free-to-play Warzone will have a decrease in overall footprint. Please note that the Season Five update will have a download size of 33.9 GB on PlayStation for owners of the full version of Modern Warfare and free-to-play Warzone, who are up-to-date with the latest update.
Once the new Season of content has been integrated into your game, and provided you had the update prior to Season Five installed, there will be a decrease in overall footprint.
A reminder: players can also choose to uninstall/remove other data packs if no longer needed for a smaller overall file size.
Season Five of Modern Warfare is live on PlayStation on August 4 at 11 PM PST!