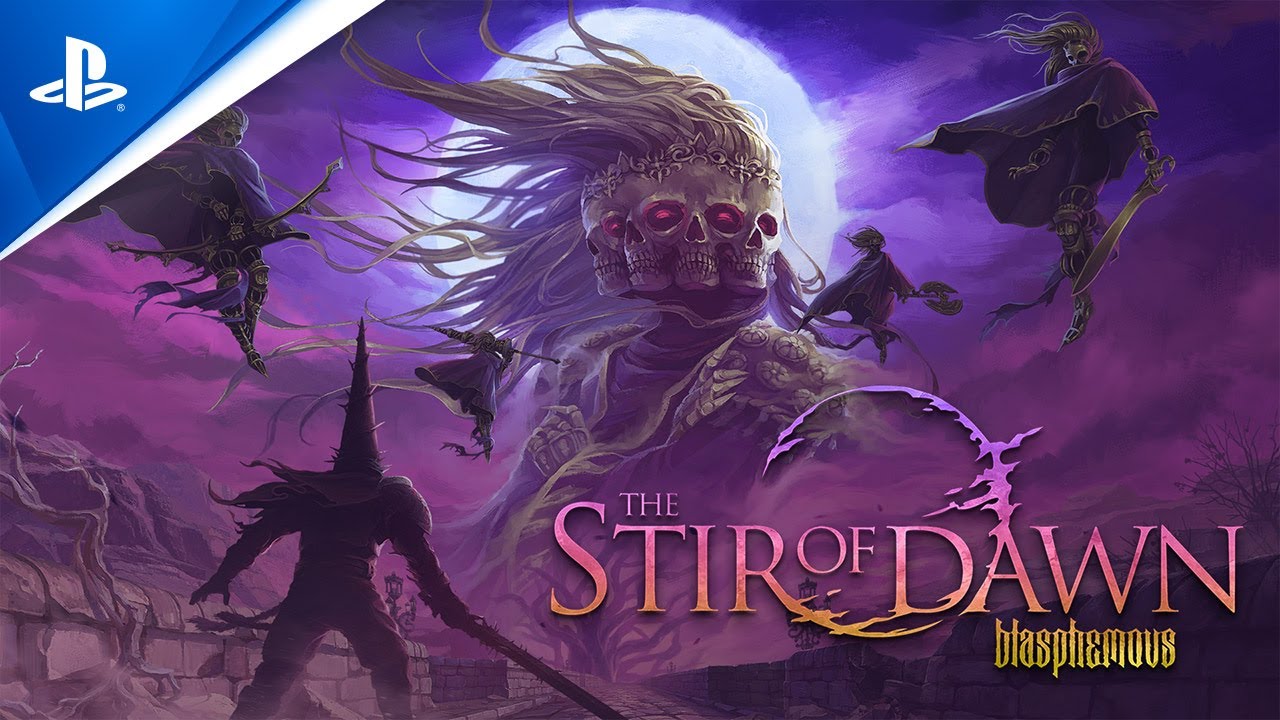 Take down the Amanecidas in this new free DLC, out tomorrow.
Hi, fellow pilgrims! I'm Maikel Ortega, and I work as a game designer on Blasphemous. Our team is beyond excited after this launch, and I wanted to take this chance to explain some bits about our first DLC, a huge free update called The Stir of Dawn.
The Stir of Dawn adds new content, game modes, world areas, NPCs, bosses, quality of life changes, balance changes, and a lot more! Many reasons to start a new pilgrimage or continue your travels through the barren lands of Cvstodia.
Challenge Yourself to True Torment Mode
After finishing the main game, you will now be able to Ascend into our New Game+ mode: True Torment. This means starting a new playthrough from the beginning, keeping all your unlocked skills, and equippable items such as Rosary Beads, Sword Hearts and Prayers. And you will need them! The difficulty has been carefully rebalanced to offer a greater challenge. Enemies will be tougher and much more deadly, so making full use of your arsenal is a must if you want to survive the True Torment.
Choose your Penitence!
A new altar can be found at the very beginning of a True Torment run, allowing veteran players to further challenge themselves with our Penitence System. They will force you to play the game with different strategies, but completing these will unlock permanent rewards:
The Penitence of the Bleeding Heart is our homage to classic 8-bit titles like Castlevania where we have replaced the Penitent One's lifebar with Health Orbs. Every hit you take will deplete one orb, and to keep things interesting, all enemies will respawn every time you come back to an area. So you will really need to learn their patterns if you want to stay alive!
The Penitence of the Unwavering Faith severely weakens your normal attacks with Mea Culpa, but adds constant Fervour regeneration! Prayers and abilities will be your main source of damage, so plan your build accordingly, and choose appropriate Rosary Beads and Sword Hearts!
And the final is the Penitence of the True Guilt — by far the most punishing of the three. Choosing this Penitence will change your Bile Flasks into Azure Flasks where they will no longer replenish your health, but your fervour instead. And keeping yourself out of harm's way is a must in this run, as you will lose all your Guilt Fragments and Tears of Atonement with a single death! Find a Confessor Statue, or retrieve your Fragment, or you will lose all those hard-earned tears too! Only true masters of Blasphemous' combat will be able to rise to this challenge.
The Amanecidas Rise Again
Ancient creatures, born and forgotten centuries ago, will wake up from the innards of Cvstodia and try to stop The Penitent One. Find Jibrael, their harbinger, during a True Torment run, and follow his instructions to challenge these gilded wardens of the Miracle. This new storyline includes five completely new boss fights, harder than any other you've faced before in Blasphemous.
Changes to the Core Game
Playing in True Torment is not required to enjoy all the new content though! We redesigned the map screen, improving the experience of exploring the dark corners of Cvstodia. And well, we added quite a few more of those dark corners too! New shortcuts, new areas, additional warp points and NPCs have been added throughout the world, and we improved the level art in many of the existing areas. And, as requested by many of our players from all around the world, we have added full Spanish VO, recorded by top notch voice actors and actresses. Our game is heavily inspired by our culture, so this was a no-brainer!
Concept art
Balance Revisited
As a game designer, fine tuning the experience you players will face in our game is always our main priority. This is why we took our time to create a satisfying True Torment mode, but also revisited the base game! Lots of Prayers, Rosary Beads, and even player skills have been revisited, tweaked, and, in some cases, made some pretty big changes. Summon an army of Cherubs with the improved Campanilleros Prayer, or stun your foes with a perfectly timed Sacred Onslaught to the face, leaving them open for a gruesome execution. And yes, we also added a bunch more of those too!
If you're new to Blasphemous, or a veteran pilgrim, I'm sure you will deeply enjoy your travels to the updated world of Cvstodia. Sorrowful be the heart.