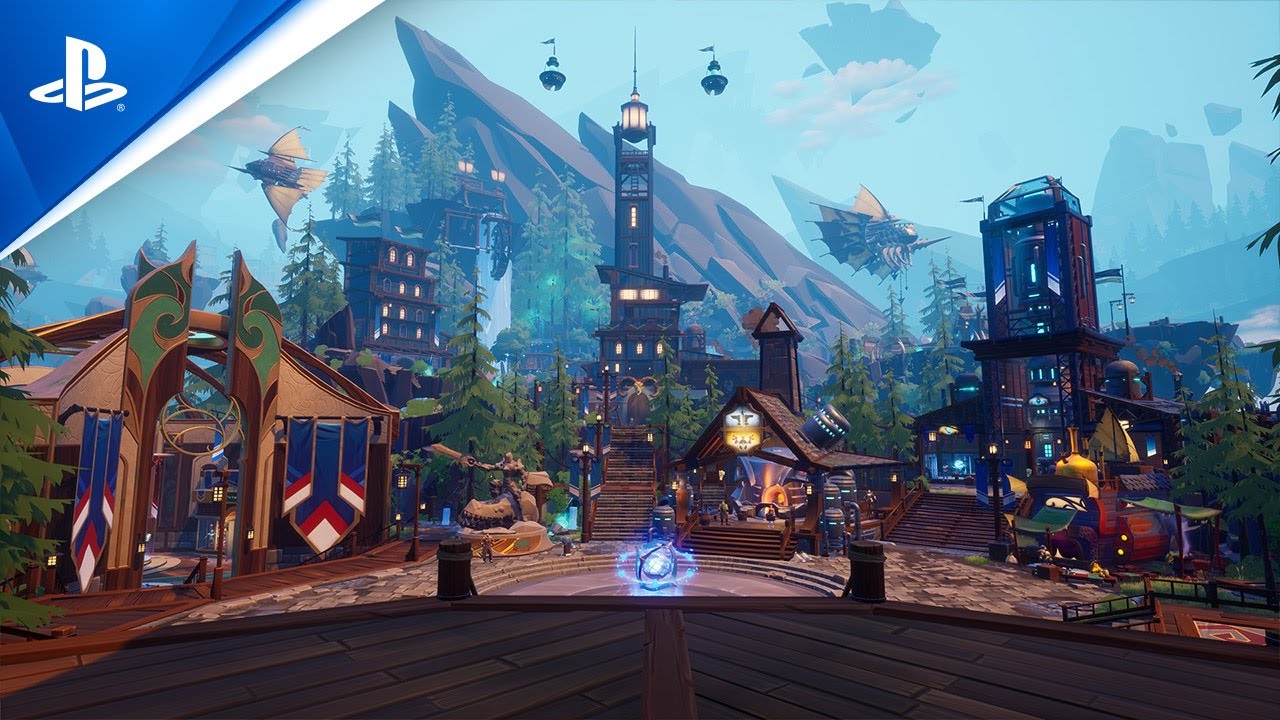 Stunning vistas, activities, vendors, and more await Slayers in the Clear Skies content update.
Greetings, PlayStation Slayers! For the uninitiated, Dauntless is a free-to-play co-op action RPG that's all about feeling like a badass while taking down boss-sized Behemoths with your friends in the world of the Shattered Isles. We've released over a dozen content updates since we launched on PlayStation 4 last May, and with our latest, we're introducing a complete redesign of our hub city of Ramsgate.
New Horizons
Ramsgate is near and dear to our hearts, and we took a great deal of time thinking about how a new Ramsgate could best serve you, designing it in a way that is fun to navigate and makes sense for the actions you take when you aren't off fighting Behemoths. It's also been integral for our team to see how we could incorporate Ramsgate community feedback over the past months (and years).
We can't wait for you to check it out for yourselves. Let's take a look around, shall we?
A Living City
In addition to reworking the general layout of Ramsgate and adding more height and depth to the city itself, we wanted to offer you more ways to interact with the world and learn about Ramsgate and its inhabitants. The animation you see above is one of several vista shots you can interact with to see the city from different angles, and perhaps catch something you would've missed exploring on foot. You can also collect lore about Ramsgate and the Shattered Isles by interacting with objects strewn about the city. These will populate in your Journal, which can be accessed within the Quests and Progression section of the main menu.
We've also given each vendor area a stronger theme, both visually and aurally – you'll notice the music change depending on where you are in the city and who you're talking to.
We've added a number of new landmarks to our city, including the bazaar where Gregario has opened up shop for all store and Hunt Pass needs, along with the eclectic tent-by-way-of-crashed-airship for our new tonic vendor, Granny Strega.
You can also now easily and quickly navigate Ramsgate using the aether jets scattered throughout the city, which makes getting to where you want to go a breeze.
Take a tour of the city yourself, and let us know what you think in the comments!
Clear Skies, Sharp Swords
The Clear Skies update launching today also introduces the rework of our sword class, which was the first weapon we created in Dauntless. The sword is the first thing you wield against a Behemoth in Dauntless, and our initial design was meant to ease newer players into our combat and teach them the ropes.
Over time, this design began to feel outdated compared to our newer weapons, so we completely redesigned the sword combat system from the ground up, developing new combos, new mods, and general tactics for you to learn.
Escalation, our latest hunt type that pits you against a gauntlet of Behemoths with random modifiers and amps, is the perfect proving ground to try out the new sword once you get a feel for its playstyle. We hope it feels like a brand-new weapon, so check it out and let us know what you think!
Join The Fight
Now is the perfect time to jump into Dauntless and check out all our new additions, along with a number of Umbral Escalation modifiers and amps that arrive with this update. If you have any questions or comments, feel free to get in touch with us on Twitter, Discord, or Reddit.
See you in the Shattered Isles soon, Slayers!