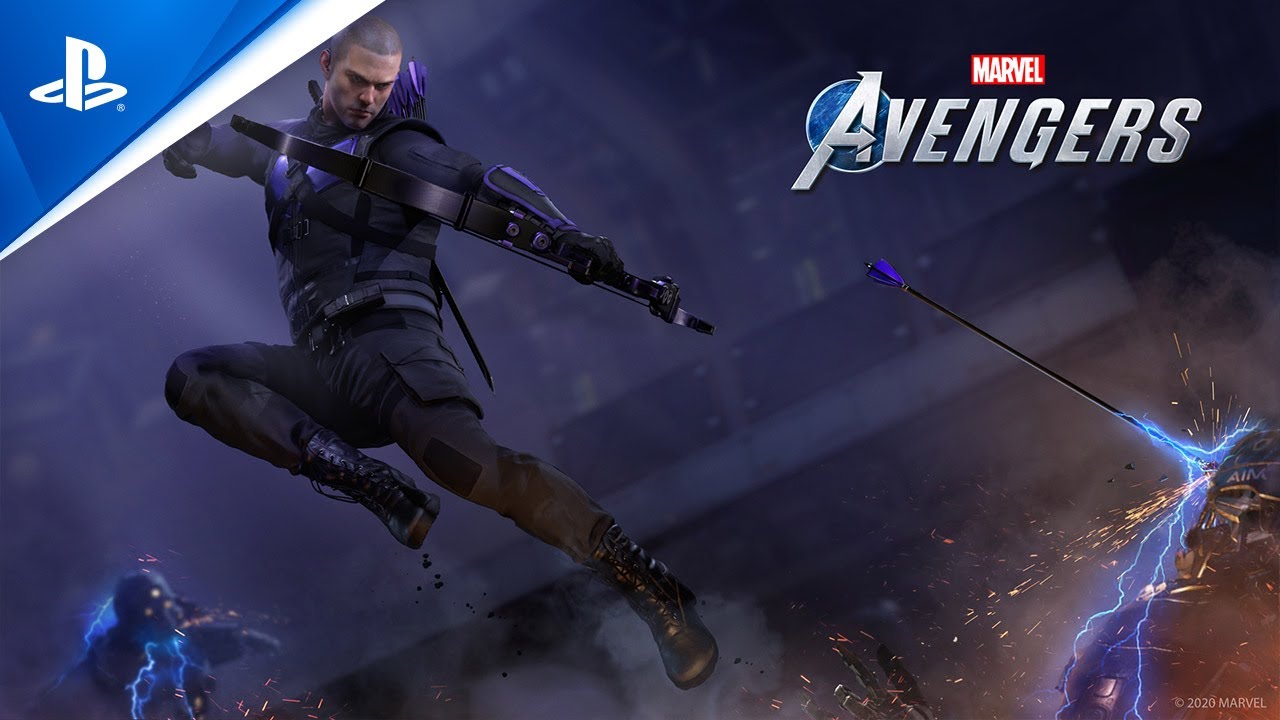 Clint Barton strings up his bow and prepares to reassemble as a post-launch Hero.
Hello PlayStation Nation! Our second Marvel's Avengers War Table dropped today, loaded with Beta goodness and a tease of one of our first post-launch heroes. Read on for all the key info!
But first, we want to say a massive thank-you to fans around the world that tuned into our first two Marvel's Avengers War Table streams and provided great feedback on both the format and the content. Keep it coming!
Okay, on to the big news from today.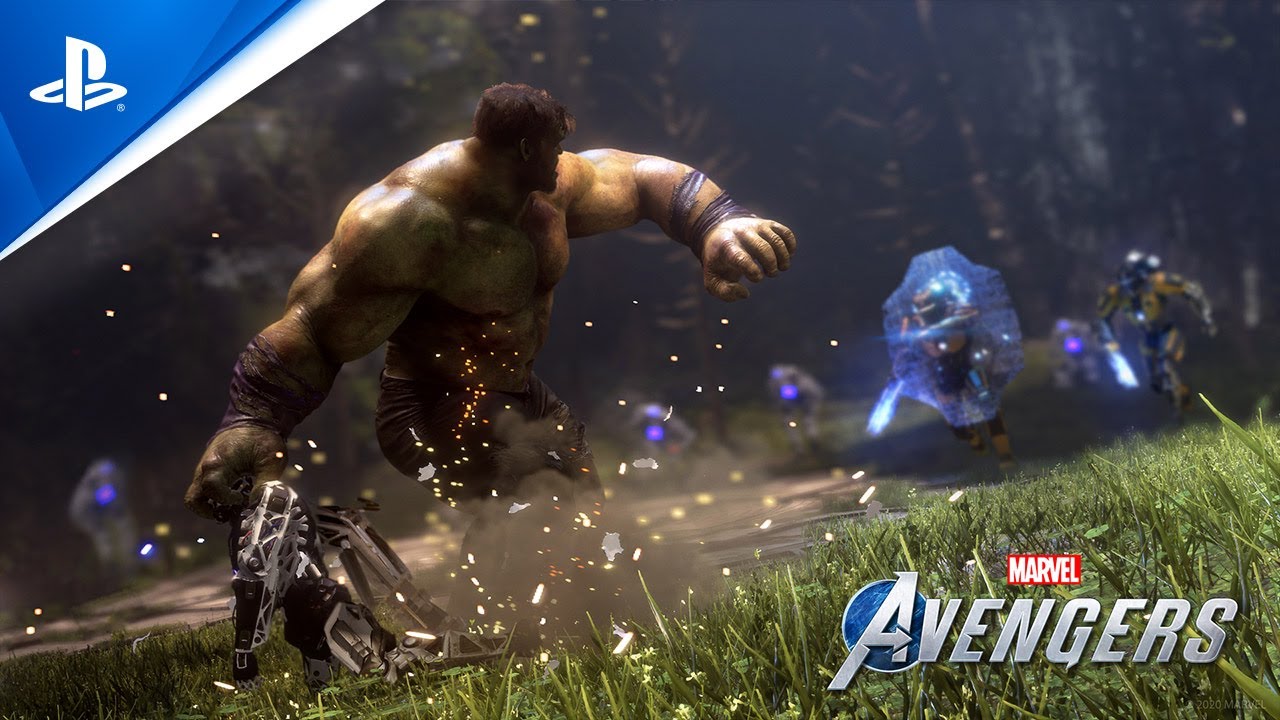 Beta Breakdown
Beta Dates
So when can you get your hands on the Marvel's Avengers Beta? The answer is next week!
August 7 – PlayStation Advantage Pre-order Beta: As part of our PlayStation Advantage, those of you who have preordered Marvel's Avengers will be the first in the world to get your hands on Earth's Mightiest Heroes the weekend of August 7-9. Pre-load: August 6.

August 14 – Open Beta: The second Beta weekend will be open to the entire PS4 community as part of our PlayStation Advantage partnership. Pre-load: August 13.

August 21 – Open Beta: Same as the above — our final weekend is also an Open Beta for all PlayStation players. Pre-load: August 20.
Want to ensure you're ready to go as soon as the Marvel's Avengers Beta drops? You'll need a Square Enix Member's account to participate, which we use to validate pre-order codes and content, as well as to deliver post-launch goodies, like new heroes, new missions, and new regions at no cost.
Beta Content
What will you be playing come Beta day? We built the Marvel's Avengers Beta to give you a slice of the full game experience: single-player content from the original campaign, co-op War Zone missions, hero and world progress, and even more! Here's a brief overview of the Beta content.
Golden Gate Bridge Demo: The Golden Gate Bridge sequence of A-Day is a roller-coaster that gives you a chance to try out the unique combat and traversal style of Thor, Iron Man, Captain America, Hulk, and Black Widow. We've even included a boss battle against longtime Natasha nemesis Taskmaster. After completing A-Day, the Beta will give you access to new story Hero Missions, and eventually War Zones, where you can play as Iron Man, Hulk, Kamala, or Black Widow.
To Find Olympia: In this Hero Mission, you'll play as Kamala and Hulk in search of the last known location of JARVIS, exploring the beautiful forests of the American Pacific Northwest. We've thrown in another boss fight for good measure, which will test your resolve against a fellow big green guy.
Missing Links: After finishing the Olympia Archive, Kamala and Hulk will take the Quinjet to the frozen Russian Tundra on a mission called "Missing Links" with the goal of uncovering SHIELD secrets.
HARM Challenge Rooms: Next up, the Beta will test your grit through Marvel's Avengers' Holographic Augmented Reality Machine rooms, also known as HARM Rooms. These virtual training simulators let you take on increasingly difficult waves of enemies with other players, or with companion AI. In the Beta, you'll unlock three HARM challenge rooms, which are called Excursions when chained together in the full game. Once you best the three rooms, you'll earn a Nameplate that carries over to the full retail version of the game.
WAR ZONES: Once you've unlocked an operational War Table in the Beta, you'll have the option to tackle a series of War Zone and Drop Zone missions with friends or your AI team. We broke down War Zones extensively in a past PlayStation blog, which we highly recommend you check out. There will be five Beta War Zones to play, filled to the brim with human and robotic AIM baddies to beat. In the full game, War Zone missions can range in duration from as short as 10 minutes to around two hours in length. Drop Zones are a smaller, more focused version of War Zones, and they almost always have just one Objective, and are great for earning gear or leveling heroes. The Beta will include five Drop Zones.
Beta Progression
As we described earlier, we've built the Beta to let you sample many of the different types of gameplay and systems that you'll find in the final game. The Beta includes missions built for different players and power levels. As you build your Heroes, you will take on increasingly ambitious missions.
Hero progression is one of Marvel's Avengers main systems, and the Beta gives a taste of earning experience to level up your unique Hero. In the Beta, you'll have access to the starting Skill page for each hero. As you earn experience you level up, and each level will grant you a Skill Point. You can then spend these to unlock Skills and shape what each of your Avengers can do. You can reach up to a Hero Level of 15 and a Power Level of 45 in the Beta.
There are dozens of cosmetics to acquire and show off during the Beta. Cosmetics are available to acquire as part of progression with a gifted amount of in-game currency. No store transactions can be made with real money during the Beta.
In addition to the HARM Challenge Room nameplate, you'll unlock a second exclusive nameplate for participating in the Beta, which will be carried over to launch. Other progress – such as story progress, gear, and character leveling, will not be carried over to the final game.
However, your progress will carry over between weekends; if you played the Beta on August 7, your progression carries over to August 14 and August 21. This gives you a chance to try and hit those level caps!
Our Post-Launch Plan
Our second Marvel's Avengers War Table looked beyond the Beta though. We gave a quick glimpse of what the future holds by revealing that fan-favorite Clint Barton, aka Hawkeye, is coming to the post-launch campaign.
In Marvel's Avengers, the "Reassemble" campaign follows Kamala Khan reuniting the Avengers and taking on the current AIM threat led by MODOK. Following that, players will enter the ever-present Avengers Initiative. Through the renovated helicarrier, you'll expand your team to protect Earth from an array of threats, and in doing so, gain access to new heroes, new missions, and new regions.
A ton of work goes into new heroes, as we've designed them from the ground up to ensure each delivers a unique experience that honors their comic book legacy. Like the core six heroes, all future characters will have custom move sets and combos, Skills, Gear, Heroics, outfits, emotes, and name plates. From a gameplay and cosmetic standpoint, we've drawn on 80 years of Marvel history.
Hawkeye is no exception. Our team revisited their favorite comic arc at the beginning of any hero concept process, including Writer Matt Fraction and Artist David Aja's "My Life as A Weapon." Hawkeye has his own in-depth story mission chain, and it's unique from the main campaign because it can be played either co-op or solo, whichever you prefer. He'll also bring a new villain with him, which you'll learn about in the future along with other surprises! Below you can see concept art from one of his alternative outfits, drawn from the aforementioned My Life as A Weapon comic.
We've got big plans for Marvel's Avengers. The fight against AIM is only just beginning, and reassembling the Avengers is just the start. There is much more story and heroes on the horizon.
Marvel's Avengers Fortnite Collab
Before wrapping up the second Marvels' Avengers War Table, we had one last surprise in store! We're excited to reveal that we're teaming up with the Fortnite team for some awesome in-game rewards. Players who complete the Beta's three HARM-room challenges will earn the Hulk Smashers Pickaxe with a bonus Hulkbuster style in Fortnite. You can visit Fortnite.com for more info!
The Bigger Picture
We revealed a lot during the July Marvel's Avengers War Table. The Beta is BIG, but it's only a fraction of what our passionate team has carefully crafted.
Marvel's Avengers will feature a full-length campaign, over 80 War Zones/Drop Zones, more than 50 enemy types, regularly updated configurations of HARM rooms and challenges, and even more later game mission types.
On top of that, you get six heroes with the game at launch, each with more than 50 skills to upgrade, and gear and outfits to earn and unlock. The longer you play the game, the more it grows and evolves as we add new characters like Hawkeye, and new story content and regions – all at no additional cost. We're pretty excited about what the future holds for Marvel's Avengers.
---
Keep an eye on the PlayStation blog next week for some Beta tips and tricks from our Dev team. We can't wait to see you on the Quinjet!