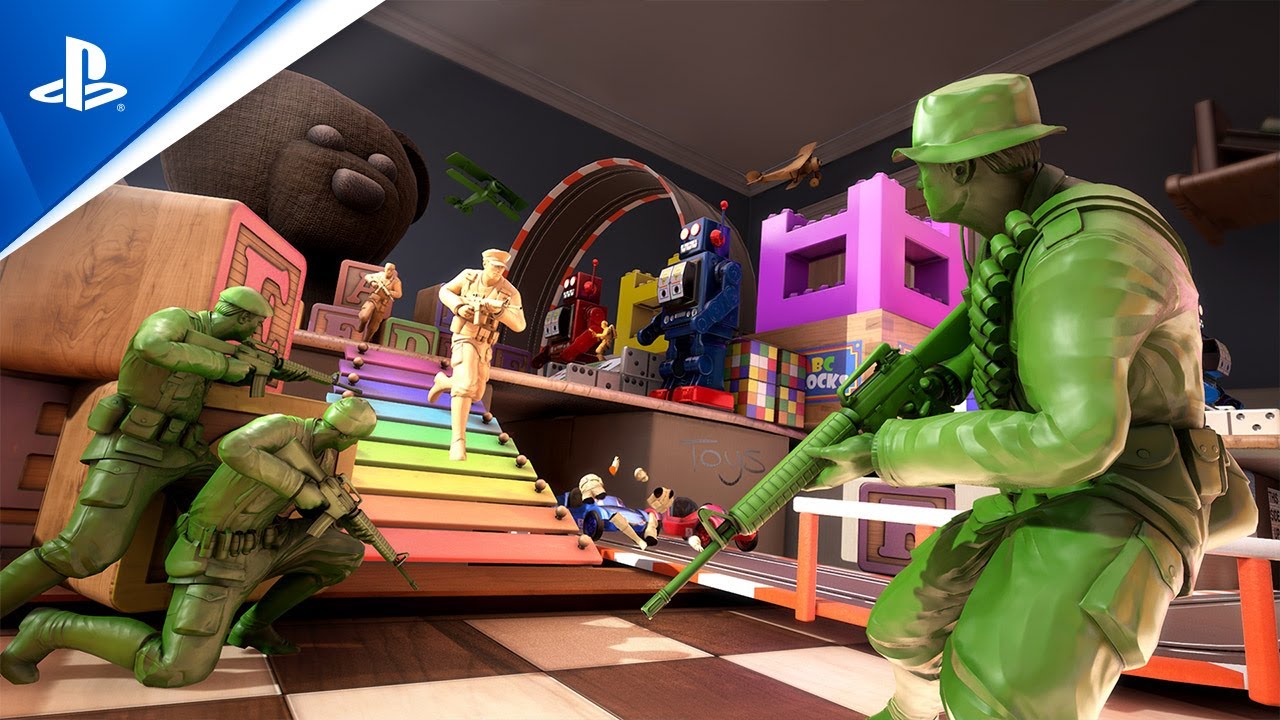 Small soldiers, big world.
Hi, Jamie here and I'm excited to announce that The Mean Greens: Plastic Warfare will be coming to PlayStation 4 on August 5! I'm so proud of the teams at Virtual Basement and Code Headquarters for all the hard work that's led up to this exciting event.
I can't wait for PlayStation players to finally be able to get their hands on this wonderful online third person shooter that we've been supporting and updating for almost five years now. Over the years the team has really put together something amazing and the PlayStation release sees even more improvements in frame rate and level upgrades.
So what is The Mean Greens?
The Mean Greens is a colorful action-packed online third person shooter from the perspective of toy soldiers! Join matches of up to 10 players to jump, shoot, and roll your way into victory. The game features 21 unique map layouts set in 15 locations throughout a full scale home. Fight in close quarters inside a freezer or jump into a buggy and cruise along sand dunes in a sandbox.
Each map has a different game mode such as:
Racing to light candles on a giant birthday cake
Trying to thaw a frozen dinosaur inside a freezer
Capturing points on a moving train
Pushing a giant soccer ball into a goal on a foosball table
Oh, and did I mention there's even a map that lets you play as a toy raptor?
With this game, we really tried to capture that old school action gaming experience. Players start out with a full arsenal of weapons including a rifle, shotgun, sniper rifle, rocket launcher and a grenade! Use up all the bullets in one weapon, simply switch to another one while the original cools down and keep the action going.
Development
I thought I'd take a moment to talk a little bit about The Mean Green's development. When we started developing the game we wanted to make something that was small in scale, but big at heart. We tried to approach each level as if it were a battle taking place in the mind of a child playing with their plastic toy soldiers.
Battles would take place in seemingly ordinary places throughout the household but the child's imagination would bring a sense of wonder to the location. Suddenly the soldiers were fighting inside a fish tank, slowly falling back to the ground with each jump due to being underwater. Or an ordinary birthday party could turn into a fantastic arena where soldiers could leap off a giant birthday cake and bounce from dessert trays!
A Little Something
One of my favorite things we've been able to do with this game is how we've been able to incorporate little easter eggs throughout the levels. Such as putting our names on the stockings in Off the Rails, putting pictures of our actual pets on the refrigerator in Kitchen Run. Even the dog in Lazy Hamster is modeled after the artist's actual dog Remmy! Be sure to look around as we've put lots of little details into packaging and other areas that are sure to give everyone a smile.
It really has been quite an amazing adventure building The Mean Greens over the years, with an incredibly talented and very small team we've been able to take a very small idea and make it larger than life. The best part is we're not even done! Because each map has its own game mode the possibilities are truly endless! We've got lots of ideas for new maps and modes that we can add in after launch, and with our new character select system we can add all kinds of new character models to choose from.
Community
Being a small development team has other benefits as well. We are able to communicate directly with the players and get feedback instantly! Our official Discord channel is a great place where we can answer questions or carry on a conversation. We are also very active on Twitter so be sure to give us a follow.
One other benefit of having such a close relationship with our world wide playerbase is we've been able to translate The Mean Greens into multiple languages such as:
Spanish
French
German
Italian
Portuguese
Korean
Japanese
Chinese
Russian
I hope you've enjoyed this look into The Mean Greens and we look forward to seeing you melt some plastic in game!

Thanks for playing,
Jamie