Learn about every new song joining your old favorites and listen to them now
PlayStation skaters: get ready to shred to some new songs coming to Tony Hawk's Pro Skater 1 + 2 on September 4.
Thirty-seven new songs that represent the ever-growing and diverse soundtrack of skateboarding culture will be added on top of those nostalgic hits from 1999 and 2000.
Here's the drop on these new tracks:
Don't Just Read – Tune In
When the new songs were announced, Noisey presented a concert with some of the artists – both returning and new – from the Tony Hawk's Pro Skater 1+2 soundtrack.
Watch and listen here:
For a longer, more in-depth look – or listen – at some of the new songs, check out the updated Official Tony Hawk's Pro Skater 1 + 2 Playlist on Spotify:
If you can't rock out and listen to this now, don't worry, we have you covered:
A Breakdown of the 37 New Tracks for Tony Hawk's Pro Skater 1 + 2
For Tony Hawk's Pro Skater 1 + 2, here's how five decades of skating – from the 80's all the way to the hits of today – is further represented through songs from over a half dozen countries and genres:
A Tribe Called Quest – Can I Kick It?
A. Swayze & the Ghosts – Connect to Consume
Alex Lahey – Misery Guts
All Talk – Let's Do It
American Nightmare – Life Support
Backchat – Step It Up
Baker Boy – In Control
Billy Talent – Afraid of Heights
Black Prez ft. Kid Something – The Struggle
CHAII – South
Charlie Brown Jr. – Confisco
Cherry Kola – Something To Say
Chick Norris – Made Me Do
Craig Craig ft. Icy Black – Stomp
Crush Effect ft. KARRA – Coming Through
Destroy Boys – Duck Eat Duck World
DZ Deathrays – IN-TO-IT
FIDLAR – West Coast
JunkBunny – Sedona
Less Than Jake – Bomb Drop
Machine Gun Kelly – Bloody Valentine
Merkules – Bass (feat. Tech N9ne & Hopsin)
MxPx – Let's Ride
Pkew Pkew Pkew – Mid 20's Skateboarder
Reel Big Fish – She's Famous Now
Rough Francis– Deathwire
Screaming Females – Let Me In
Skepta – Shutdown
Spilt Milk – Run It Up Pt II
Strung Out – Firecracker
Sublime – Same In The End
The Ataris – All Soul's Day
The Super Best Frens Club – Like This
Token – Flamingo
Tyrone Briggs – Lose Control
Viagra Boys – Slow Learner
Zebrahead – All My Friends Are Nobodies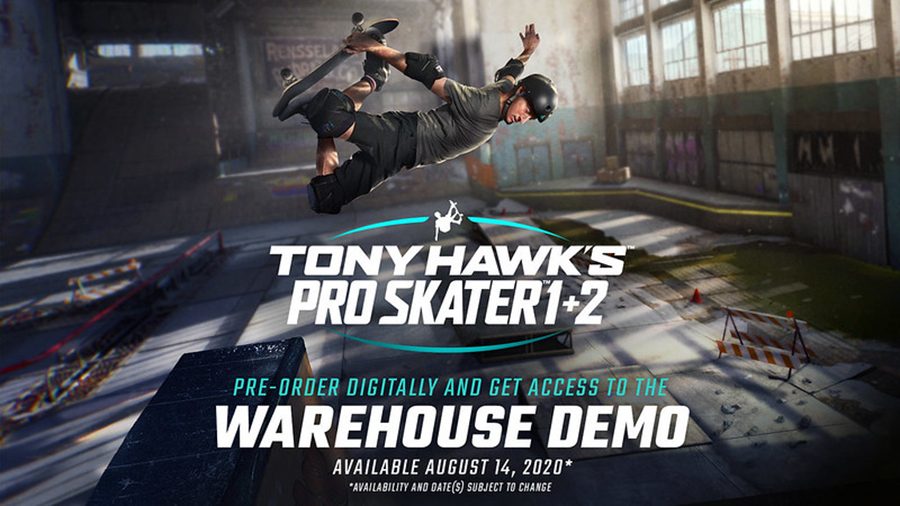 Pre-Order Now for the Warehouse Demo
There is still time to pre-order Tony Hawk's Pro Skater 1 + 2 digitally and access the Warehouse Demo, available on August 14 for PlayStation 4, which serves as a warm-up to the full experience coming out on September 4.
This warm-up to the full experience will have you skating as Tony Hawk in the iconic opening level to THPS 1, allowing you to try pulling off The 900 over the halfpipe just like back in the day, or to find some new combos around this classic skatepark.
Stay tuned for more information on the Warehouse Demo as we roll closer to August 14, and pre-order the game now through PlayStation Store here.