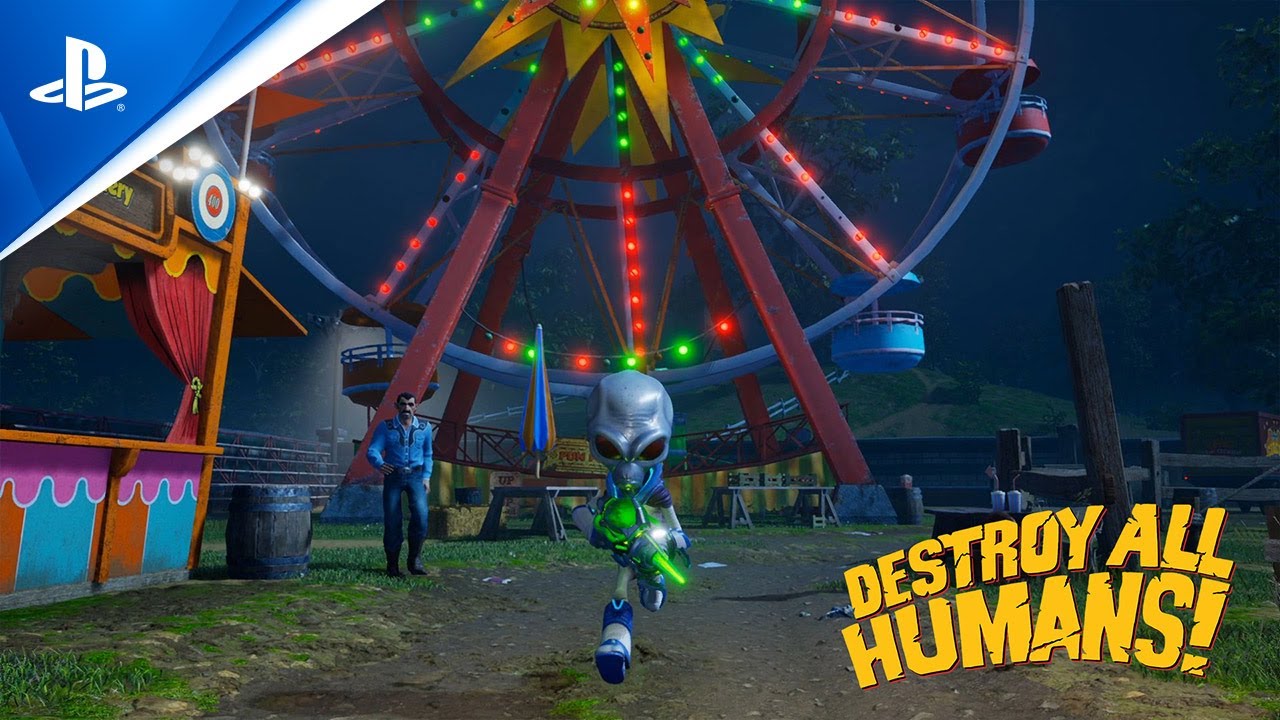 Crypto's original adventure returns with new features, enhanced visuals, and more.
Fifteen years have now passed since Destroy All Humans! made its franchise debut on PlayStation 2, yet the witty banter and observational humor somehow ring even truer today. Or maybe we simple humans are all just ripe for a good laugh!
When Tom Abernathy set out to write a buddy-comedy-style, action-adventure game about a gruffy alien with violent tendencies named Crypto descending on Earth to harvest human DNA, even his writer's imagination couldn't predict what it would be like to be human in 2020. Creating a straight-man strategist in Crypto's alien-boss Pox to balance the violent urges (and one-liners) of the overzealous Crypto were steps one and two in developing one of the funniest, most timeless videogames ever written.
Destroy All Humans! offers a satirical presentation 1950's McCarthyism and the predominant red-scare, while paying homage to the pulp movies and tv-shows of that era. A confused Commander in Chief, commie-hating lawmen, grandstanding mayors, bored housewives in housecoats, and seemingly strait-laced businessmen are all fair game. Crypto's observations of these inhabitants of Earth, replete with human folly, feel delightfully familiar to the world we know today. A small comfort but a comfort, nonetheless.
Transporting such a classic game to the year 2020, while maintaining the humor, was no trivial task. Most of the dialogue in the Destroy All Humans! remake is original but modernizing gameplay and tutorials made it necessary to expand the narrative with new dialogue and texts. The narrative team at Black Forest Games approached this task hands-on and we brought in seasoned writer Rhianna Pratchett (Overlord, Tomb Raider) to help polish the tone and humor.
The manner in which Crypto and Pox are thinking and talking is very iconic and gave us a clear base on which to write new lines. It was all about adopting the chemistry between the two aliens. The rest, as Crypto would say, was "easy pickins." The writing team ultimately had a great time contrasting humanity with the ignorance of the Furon alien invaders, as well as exploiting the social expectations of a 1950's America with the hidden desires of individual members of the community.
Another key element in carrying Abernathy's humor into the year 2020 was creating a distinctive art-style for the remake. In a transition from the more realistic style of the original game, the art team at Black Forest Games decided on a more caricatural approach that supports the shrewd humor of the 2005 Destroy All Humans! game. Of course, graphic enhancements were also made to ensure the best-possible quality relative to today's visual realm.
When defining the art style of the Destroy All Humans! remake, we had to make a choice regarding the visual upgrade of the humans we depicted. We wanted to treat them as the "pathetic monkeys" that Crypto sees them as. Using caricature beautifully supported our hero's dismissive view on mankind in addition to the all-important role comedy plays in the franchise. Caricature also enabled us to add our own jokes in the environment, cutscenes and wherever else it made sense to express our passion.
I must say the caricature approach opened the door to a lot of amusing options when it came time to explore special skin designs for Crypto.
We truly hope Destroy All Humans! will provide as many laughs to the players as we had while recreating this irreverent gem!