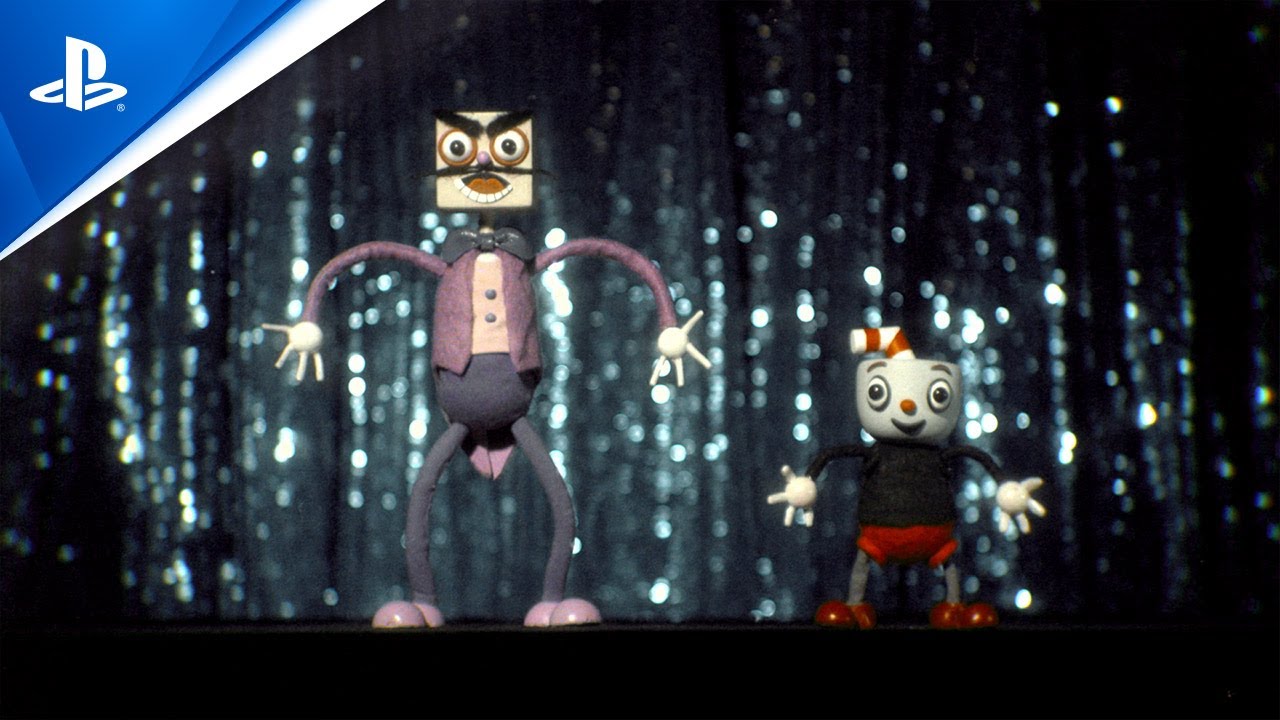 Studio MDHR shares behind-the-scenes info on its stop-motion reveal trailer.
Hey, this is Chad from Studio MDHR, and I'm extremely excited to announce that Cuphead is headed to PlayStation 4! And you won't have to wait to get your hands on it, because the game is available today. Like so many of you, we grew exploring the worlds of classic PlayStation titles, from Resident Evil to Vandal Hearts. So it's surreal to think about players adventuring through Cuphead today with a PlayStation controller in hand.
Cuphead is a run and gun action game set in the fantastical land of the Inkwell Isles. In either single player or local co-op, you play as Cuphead and Mugman as they seek to save themselves from The Devil by collecting the souls of massive, screen-filling bosses. While the game was heavily inspired by the arcade action titles of the '80s and '90s, something that we think makes Cuphead unique is that its visual style is inspired by the classic animated movies and cartoon shorts of the 1930s.
In fact, we went as far as to use many of the same techniques of animation studios of the era. All of the game's 50,000+ frames of animation were drawn on paper and inked by hand to capture the texture and imperfections that were a hallmark of classic cartoons; each level's background is an authentic watercolor painting; and Cuphead's soundtrack is made up of over 3 hours of orchestral, big band jazz music recorded in-studio by live musicians.
To celebrate the launch on PS4, we worked with Toronto-based studio Stop Motion Department to create a brand new animated short.
When we brought them the idea of announcing our PlayStation 4 launch with a "stop mo" trailer, we were thrilled that animators Philip Eddolls and Evan DeRushie were on board. But more than that, we were blown away by how similar our approaches to animation were.
Inspired by our love for the eerie, off-kilter style of 1933 experimental short The Peanut Vendor, Stop Motion Department went the extra mile to ensure that they were holding themselves to many of the same techniques as stop motion animators of the era. Puppet Fabricators Karen Valleau and Lauren Craig built the King Dice and Cuphead puppets with wooden heads, leather hands, and lots of primary shapes to reflect the children's toys of the 1930s, which were made with simple manufacturing like drill presses and saws.
Meanwhile, the film itself was animated without the assistance of the computer programs that allow modern stop motion animators to preview their shots and correct errors. Instead, Philip and Evan limited themselves to drawn-out charts and metal gauges to record the position of each puppet, before lining them up to their next position. This mimicked the "try your best and see what happens" limitations of the early stop motion productions.
Finally, the whole thing was filmed using real lenses from 1930s known as "C Mount" lenses, which blow out the footage and give it a deliberately vintage look. Each shot was used as-is, with no corrective editing or compositing, meaning that if you look closely enough, you will see supports and other animation implements in the background.
The whole process was designed top to bottom to feel like the cheery, slightly creepy films and toy advertisements of the 1930s, and we couldn't be happier with how it turned out.
To all the impassioned PlayStation community that has sent us so many heartfelt messages over the years: we can't wait for you to experience this swell battle.