How to stage and capture dazzling images with the game's detailed Photo Mode
Greetings, fellow samurai-to-be. The launch of Sucker Punch's open-world epic Ghost of Tsushima lies just ahead, and with it comes a robust new Photo Mode that I predict many aesthetically minded players will get lost in for hours.
A few members of the PlayStation.Blog team have been lucky enough to begin our journey early, and we've taken that time to put Ghost's Photo Mode through its paces. We've collaborated on a series of photos that we think capture some brilliant moments from the first act of Ghost of Tsushima, which you can find interspersed throughout this post.
Read on for a few quick tips to help you make the most of your time behind the camera, enjoy our photos, and prepare to capture your own once Ghost of Tsushima launches later this week.
Keep the wind at your back — or your front
Ghost's Photo Mode lets you change the direction and speed of the wind. Use this to get shots of Jin's cape flowing majestically behind him, the grass swaying at his feet, or leaves cascading through the frame while you capture a short video clip.
If you want to capture a photo, remember to toggle the animated environment option to "off" first. While you may want to have this on as an artistic choice in your snaps, certain objects like flowers blowing in a strong wind or fast-flowing water can look blurred.
Manipulating light and shadow
Like taking photos in any other game — or in real life — paying attention to light and how it interacts with your subject is crucial to capturing a compelling shot. Rotate the camera to see how shadows fall at different angles, and make use of the adjustable time of day and weather options to get the mood of your shot just where you want it.
Using the right "lens" for the occasion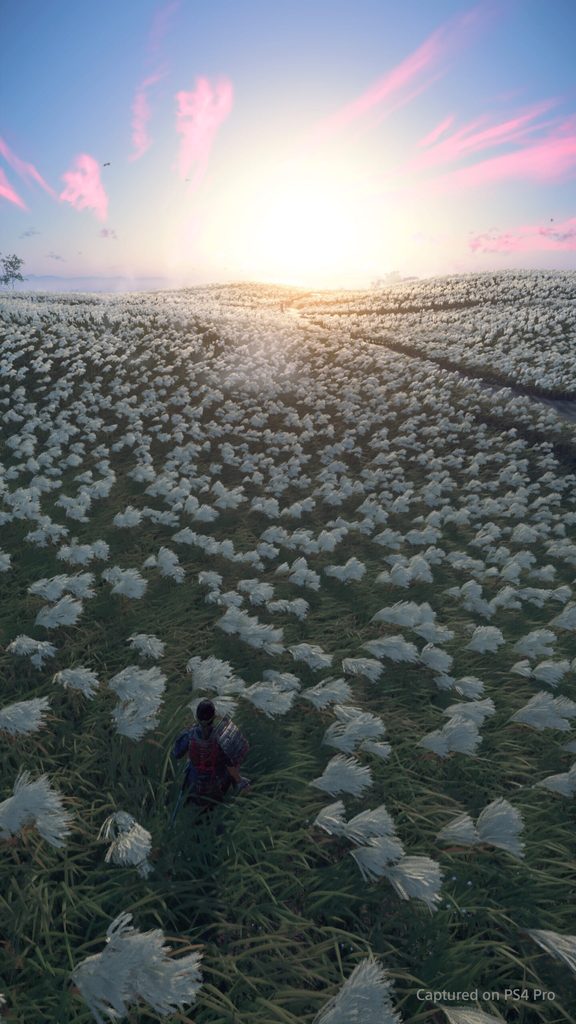 Focal length is one of the most important factors to consider when lining up a photo. Want a grand, sweeping landscape shot? Zoom out to get the full picture.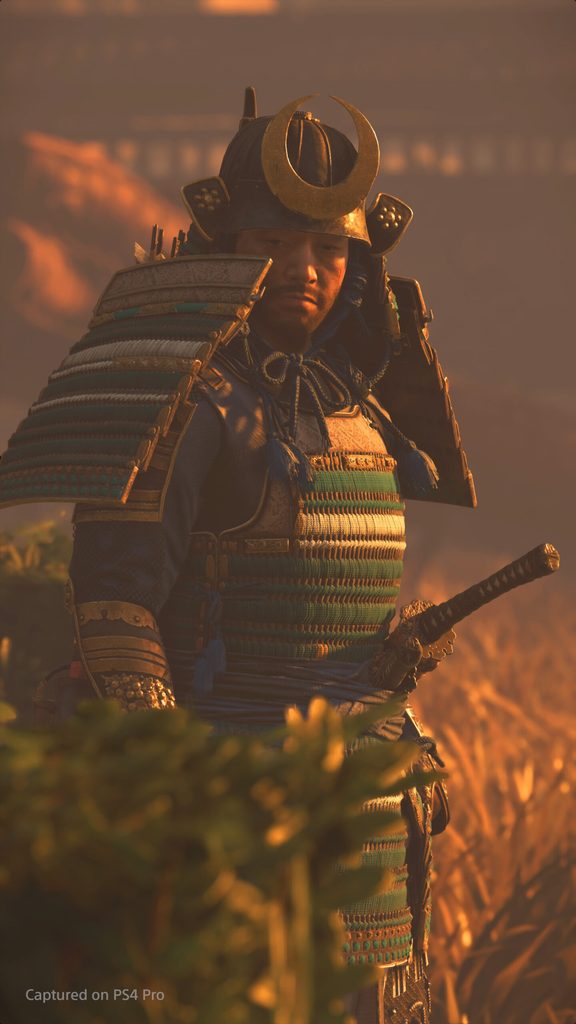 Going for a more intense or intimate portrait? Zoom way in and focus on details like Jin's expression (which you can change within Photo Mode), the textures of his outfits, or the hilt of his katana.
Capturing movement
As mentioned, pausing the game for Photo Mode doesn't freeze the animation of objects like trees and leaves. A quick video capture will create stunning cinemagraph-style images. Keeping the shot still is good enough: but why not experiment? Use the right stick to slow pan the camera around and create sweeping shots of Ghost's gorgeous environments.  
Want to challenge yourself with something even more dramatic? Photo Mode also has a Tracking Shot option. Move the camera anywhere and tap X to set that location, move the camera anywhere else, and repeat. You can do this up to 16 (!) times. Hit Triangle and the camera will smoothly sweep between those marked positions.
With practice, you can create some awesomely stylish moments. It's worth noting that certain settings (camera focal length for example) will be saved when you set the camera's position, letting you transition between wide vistas and close-ups in one fluid move.
Appreciating the world around you
While the camera is locked to Jin, you can create a lot of distance between it and Ghost's hero and instead focus on the world around him. And given how fascinating that world is, you'll find a lot to photograph: wildlife, character NPCs, landscape shots… getting creative will reward you with some surprising images.
The power of color, and the lack thereof
One Photo Mode option lets you switch between different color grade presets. Some of these presets will remove all but a small band of colors from your on-screen action. The Ginkgo option, for example, singles out yellow hues, letting you highlight gold trim on armor or letting a forest of yellow trees pop on screen.
Of course, like the classic samurai films that inspired Ghost of Tsushima, capturing certain photos in black and white can lend an aura of drama to your composition that may not have been there in the full-color shot. Experiment with these options and find the right one for each photo.
Ghost of Tsushima launches this Friday on PS4. Jin's journey is an important one, but do take the occasional moment to stop, enjoy the scenery, and snap a photo or two along the way.