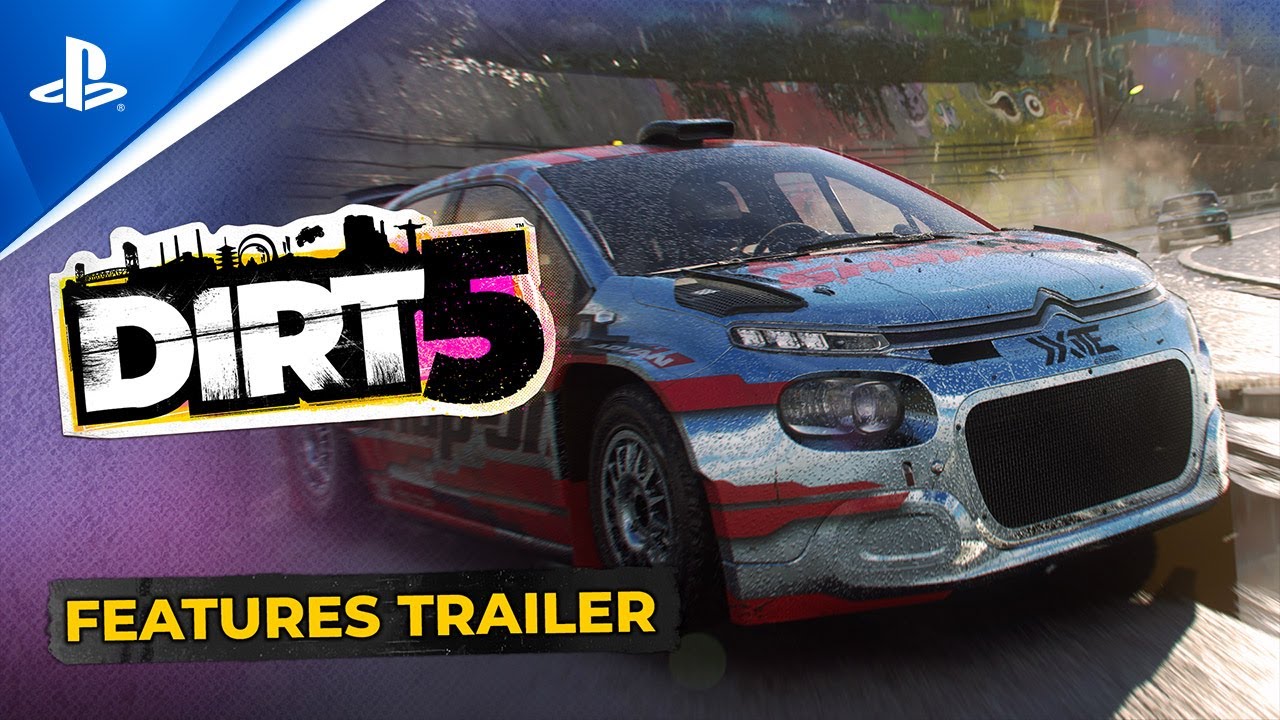 Get the scoop on fresh cars, locations and modes for Dirt 5, coming to PS4 and PS5 from October 9.
Hey there! Chris from the Codemasters team here, quickly stepping out of the Dirt 5 garage to share some major game goodness with you.
We're incredibly excited to share the official features trailer for Dirt 5, launching on October 9 for PlayStation 4, then racing on PlayStation 5 later this year. I know you hear stuff like that a lot from games studios, but seriously – we are so excited to share this trailer with you, showing off brand new content, big features and plenty more that we've been tuning up in recent weeks and months.
On top of that, we're stoked to confirm that Dirt 5 includes a FREE next-gen upgrade option to the PlayStation community. That means if you pick up the game on PS4, digitally or physically, you'll get the PS5 version, free of charge, when you choose to switch to the new console. Pretty sweet, right?
There's a lot to take in from our latest trailer, so we thought we'd take you under the hood and give you some exclusive details on what the new Dirt 5 trailer is packing…
Tear up brand new global locations
Dirt 5's action takes place across 10 brand new locations, built from the ground up and designed for all manner of epic racing. In the trailer, we focus on three locations:
Morocco – a rocky and dusty setting for some extreme and challenging races, where you'll speed through barren open land and wind through villages.
Brazil – exotic and full of surprises, you'll find lush forest routes, tight routes through favelas and much more, all under the shadow of the iconic Christ the Redeemer.
Arizona – between the iconic buttes, turn canyons and crevasses into racetracks, and find a purpose-build oval for some insane Sprint events.
Nepal, Roosevelt Island, Norway, China, Greece, Italy and South Africa are the seven other brand new locations, all hosting multiple events, all with their own bold design and colour palette. Combine all this with Dirt 5's dynamic extreme weather, with blizzards, sandstorms, lightning strikes and more transforming any race, and you've got a tantalising world tour of extreme racing waiting for you. Time to clock up those air miles… 
New driving experiences
Variety is something we've focused on for Dirt 5, and we wanted to make sure that comes across in the new trailer with an array of vehicles and classes. No Dirt game would be complete without some iconic rally and rallycross from the likes of Subaru, Mitsubishi and Ford, which are dotted throughout the video. We love 'em. On top of that, though, we rolled in some machines you've never been behind the wheel of before…
Overcome all obstacles in our huge Rock Bouncer and Formula Off-Road classes. Feel the raw power of the Super Lites – off-road buggies with mad power and no excess weight. On the other end of the scale (literally), climb into racing trucks and converted SUVs to plough through the opposition. All sporting the 'easy to learn, hard to master' feel and handling that the Codemasters team is known for, you'll have a blast getting to know these machines in our events.
Speaking of which…
Off road-racing variety
Dirt 5 is designed to be your one-stop shop for any kind of off-road racing experience you desire. The locations and car classes reflect that, but so do the event types we're bringing you – an amplified mix of classic races, new events, and some returning favourites.
In the features trailer we show plenty of these, including Ultra Cross and Landrush; circuit-based races for some exhilarating pack racing. There's also point-to-point racing in Rally Raid events, then the likes of Stampede and Path Finder challenge you to overcome boulders, huge hill climbs and serious obstacles.
The trailer ends by revealing the return of a Dirt staple: Gymkhana! To the uninitiated, these are timed events where you're dropped into an arena full of jumps, drift zones, donut spots and other spots for automotive antics. Pull off tricks in these zones and string them together to push up your overall score within the time limit, with the highest score winning the event. We're over the moon to bring Gymkhana back to the series, with a fresh Dirt 5 twist. 
Be part of the vibe
These locations, cars and events shape the action in Dirt 5, whether you're engrossed in our Career mode story starring Troy Baker and Nolan North, playing other offline modes with split-screen available up to four players, or heading online to throw down against the world in races and more innovative events that we'll reveal in September.
Everything we've covered here is all tied together by something we mentioned on the PS Blog in May – the vibe of Dirt 5. The art style, overall feel and look of the game has a vibe of fun, self-expression and confidence that invites you to express yourself.
We still have a lot of new goodies to show you between now and October 9, including a huge feature never seen before from Dirt, and it'll all carry that same vibe. Consider this your invitation. 😉