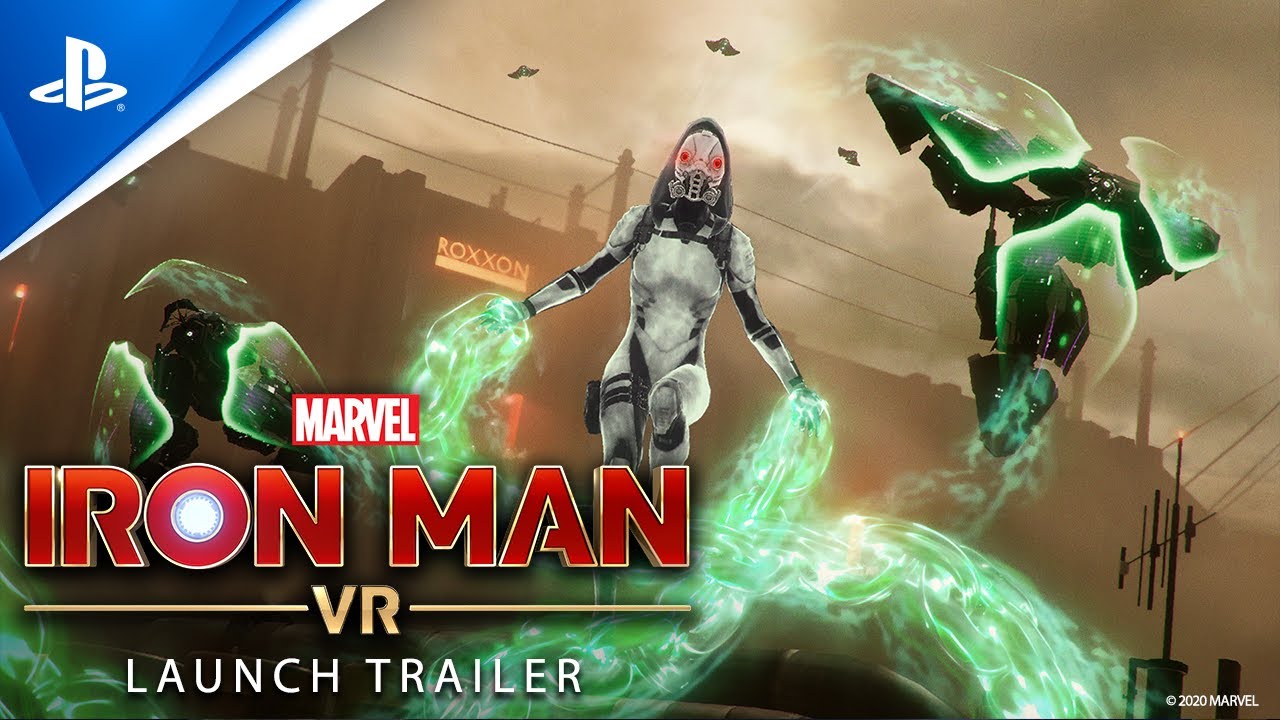 Here's your pre-flight briefing from Camouflaj.
Hello hello. The day is nearly upon us!
What is Marvel's Iron Man VR
We set out to build the ultimate Iron Man game by leveraging all the best things about virtual reality by pairing the amazing aspects of Iron Man — the flying, the shooting, the HUD — with the great features of PlayStation VR. But that's only one side of the coin… Marvel's Iron Man VR is very much about Tony Stark, and we've leveraged VR technology to put you in the shoes of this iconic inventor/Super Hero like never before.
I personally believe this game is an important statement about virtual reality. VR is technology that's been around for decades, yet only now is something that lives in the homes of not only millions of people around the globe, but in the living rooms of millions of PlayStation 4 users. We built this game for you all — a PS VR-exclusive game where nearly every major aspect of the game was designed to best utilize the PlayStation VR headset and PlayStation Move motion controllers. I truly hope you find Marvel's Iron Man VR to be the kind of big, ambitious, VR-only game you've been wanting.
If you're ready to become a PS VR owner, I can't think of a better value than to purchase the hardware bundle for Marvel's Iron Man VR.
And if you already own PS VR and two PS Move controllers, here are a few things to know about before you suit up on July 3.
Flying Like Iron Man
From its first week of development, flying in Marvel's Iron Man VR felt awesome, but it can take some getting used to*. Heck, even on the big screen, there is that classic moment when Tony learns how to fly. This is why you may notice that the game's first hour or two is designed to help you ease into flying at high speeds as Iron Man, so don't feel compelled to quickly progress the game's story-based campaign if you think you would benefit from a little more practice. I recommend trying to beat your previous times in some of the early challenges.
Dodge Like a Boss
One of the joys of combat in Marvel's Iron Man VR is the ability to dodge out of the way of enemy fire and then blast them from behind. (Pro tip: This is key to defeating one of Ghost's toughest combatants — the "Revenant".)
Similar to how you can double tap your thrusters to burst forward, try boosting from side-to-side to quickly maneuver around an enemy for a tactical advantage. Just beware of the short cooldown time between boosts…
Punch Your Way to Victory
Sure, you are genius inventor Tony Stark, but he's not above solving problems with his fists. You will gain the ability to Rocket Punch within the first few minutes of the game, which is executed by holding either the X or O buttons on the PS Move controller and then physically punching forward.
Once you get comfortable with Rocket Punch, it unlocks a whole new dimension to the game's combat. To quote Matt Munroe from our test team, "I've been playing Marvel's Iron Man VR for years and I still love rocket punching bad guys every day of the week."
Experiment with Your Perfect Loadout
Tinkering around in the garage is a key component to truly embodying Tony Stark, which is why we designed the garage's Armor Station to allow direct modifications to the Impulse Armor between missions. Unlock additional weapons and augments via Research Points earned throughout the game, and customize multiple loadouts before you venture out to do your Super Hero work.
If you want my advice, watch the short videos that appear along with each weapon at the Armor Station. Once you see something you like, unlock it with Research Points, equip it to one or both gauntlets, and test it out via optional Combat Challenges.
And if you want the advice of one of the best players of the game I know, James Clinton Howell, equip the short-range Scattershot to one gauntlet and the long-range Anti-Armor Missiles to your other. Ghost and her army won't know what hit 'em!
Take Your Time
Sure, the world may need saving, but perhaps the best tip I have for you is to enjoy the journey and give your brain some time to catch up. Unlike my colleagues at Camouflaj, I will spare you my long dissertation on how the brain works when presented with new things (like VR), and how a good night's rest allows the brain to strengthen its understanding of new concepts. This is why I recommend playing Marvel's Iron Man VR and take breaks in between — you'll be amazed at how much more in-tune you become with Iron Man's core mechanics with each new day.
This is also why the moments where you play as Tony Stark are important to the game's story and pacing. When the armor comes off and you play as Tony, it's nice to be able to catch your breath and just be Tony for a while. Take the time to explore Tony's mansion, give Pepper Potts a call, listen to an episode of Morgan's "Stark Raving" podcast, or blow some steam off in Tony's gym.
A Surprise Bonus for All You Early Adopters
As a reward for playing our game on launch weekend — and Independence Day in America, no less — you can unlock the Iron Patriot custom deco. All you need to do is play the game during the first three days and you'll find the special custom deco unlocked once you reach the Armor Station in Tony's garage.
Marvel's Iron Man VR is Available This Friday
Writing those words is surreal. It's been a true honor working on this game for the past few years, and it was only made possible by a number of quiet heroes who believed in Camouflaj to deliver on our promise to make the best Iron Man virtual reality game we possibly could.
Thank you, from the bottom of my heart, for your interest in playing Marvel's Iron Man VR. I hope you pick it up, play it, and love it.
And heck, if you end up streaming your playthrough of the game, don't hesitate to ping us at @Camouflaj on Twitter. I know we're all eager to watch you all suit up and become Iron Man from July 3, exclusively on PS VR.
Now, as Nick Fury would say, get to it!
*Please review and follow all safety guidelines for use of PlayStation®VR. PlayStation®VR is not for use by children under age 12. PlayStation®4 system, PlayStation®VR and PlayStation®Camera are required to experience VR functionality.
Two PlayStation®Move motion controllers required (sold separately).