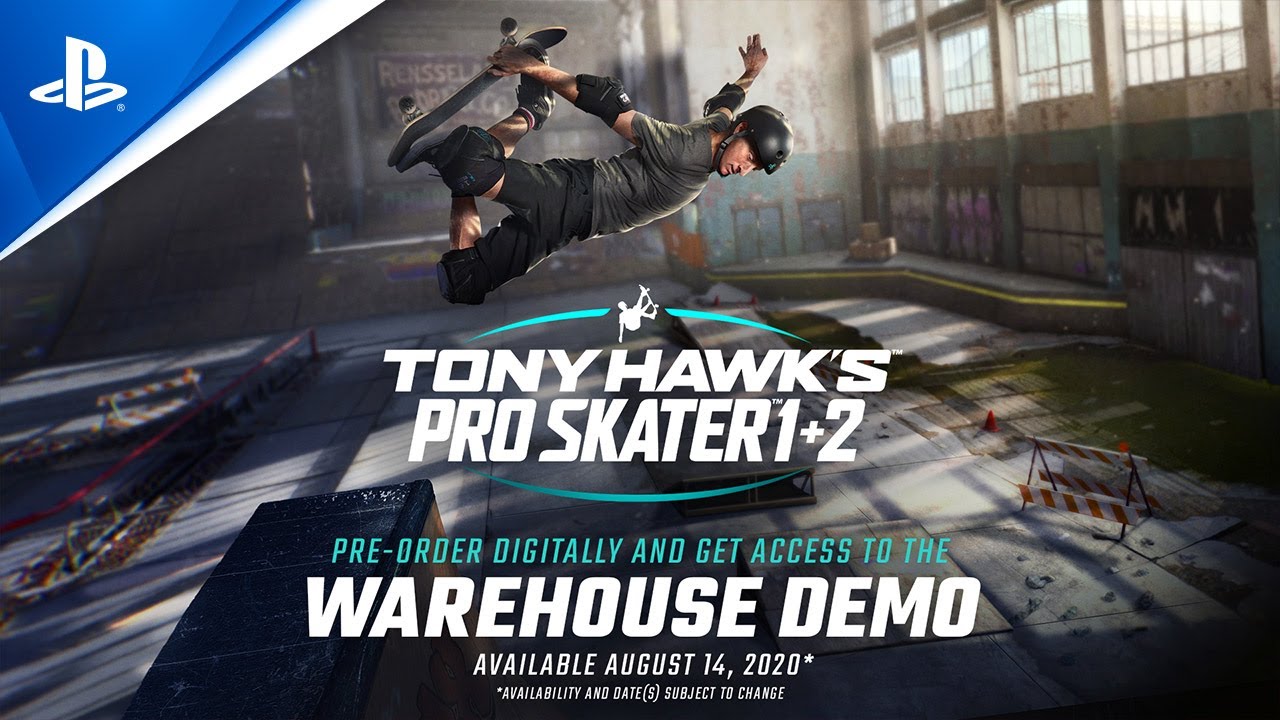 Meet the new roster members and learn how to gain access to the Warehouse Demo on August 14.
You already know the legends of the Tony Hawk's Pro Skater 1 and 2 roster – from Elissa Steamer to the Birdman himself, these extreme athletes defined an era of skateboarding.
Since then, those legends inspired the "next generation" of skaters, who would go on to expand the skateboarding community to a more global and connected scale, dominate the competition medal boards, and find a seat next to the O.G.'s as faces of the sport itself.
With the launch of Tony Hawk's Pro Skater 1 and 2, Vicarious Visions are now bringing the past, present, and future of skateboarding together with eight additional skaters joining the lineup of OGs in this epic remaster.
These eight skaters – Lizzie Armanto, Leo Baker, Leticia Bufoni, Riley Hawk, Nyjah Huston, Tyshawn Jones, Aori Nishimura, and Shane O'Neill – will skate alongside the legendary roster of pros from 1999 and 2000 in Tony Hawk's Pro Skater 1 and 2 and represent just a few of the latest shining stars in the sport today.
Just like the original pros, all eight of these skaters come with their own style, stats, and signature tricks to represent the strengths and accomplishments of their young careers.
But who are these fresh faces to the franchise? Here is a breakdown of these eight newcomers to Tony Hawk Pro Skater 1 and 2, from their hometowns and skating styles to what they've accomplished in their careers thus far:
Lizzie Armanto
Straight out of Santa Monica, California, this Finnish American dual citizen is a regular-footed park skater who was previously labelled as "Tony Hawk's protégé." Armanto, 27, is a barrier breaker in the sport, winning the first ever Skateboard Park X Games Gold Medal in 2013, and appearing as the first female cover athlete on TransWorld SKATEboarding magazine.
Leo Baker
Leo Baker is a goofy-footed street skater from Covina, California about 22 miles east of Downtown Los Angeles. An X Games Street Gold Medalist, this 28-year-old is one of the LGBTQ+'s most prominent voices within the skateboarding community.
Leticia Bufoni
A native of São Paulo, Brazil, 27-year-old Leticia Bufoni is a goofy-footed street skater and is an influential female competitor in international sports. She has won Gold Medals in five X Games Street competitions.
Riley Hawk
Who is Riley Hawk? If you said, "Tony Hawk's son," you'd be right, but would also be discounting a talented goofy-footed street skater who is carving his own path after being named Skateboarder Magazine's Amateur of the Year in 2013. Despite reconstructive surgeries on both his ankles – career-ending for most skaters – he's still shredding in and out of the skatepark, being the frontman for his own rock band and founding a coffee house record store hybrid.
Nyjah Huston
Deemed "The X-Factor" by ESPN Magazine as the pro-skater who will change the course of the sport over the next decade, pro street skateboarding phenom Nyjah Huston (25, Laguna Beach, CA) has lived up to the hype, dominating street skating for the past decade. Winning six Street League Skateboarding (SLS) Super Crowns (including 2017-18-19), 12 X Games gold medals and the "Best Male Action Sports Athlete" award at the 2013, 2014 and 2019 ESPY Awards, he remains the face of skateboarding worldwide.
Tyshawn Jones
Born on the isle of Manhattan and raised in the Bronx as well as New Jersey, 21-year-old Tyshawn Jones was named Thrasher Magazine's Skater of the Year in 2018. He has more than a few memorable video parts to his name, including the groundbreaking "Blessed" film.
Aori Nishimura
The youngest newcomer hailing from Tokyo, Japan, Aori Nishimura is an 18-year-old skating prodigy who was the first Japanese-born competitor to win an X Games Street Gold medal. She is one of Japan's brightest prospects and professionals in skateboarding and is now appearing in Tony Hawk Pro Skater 1 and 2, whose original versions were out before she was even born!
Shane O'Neill
Sponsored since age 14, Melbourne, Australia's very own Shane O'Neill is a 30-year-old pro skateboarder who has earned victories at Tampa Pro and various SLS events around the world. An active skater and gamer, Shane was inspired by the original Tony Hawk's Pro Skater games growing up and learned some of his own tricks and combos by playing the games themselves!
Pre-Orders Live Now at PlayStation Store – Warehouse Demo Date Announced
Are you more than set to shred? The digital pre-order for Tony Hawk's Pro Skater 1 and 2 just went live on PS4 and PS4 Pro, and it comes with a demo to be released on August 14.
As the first ever level in THPS history, the Warehouse is as memorable to fans of the franchise almost as much as the Birdman himself, and what better way to celebrate its prestige – and return to glory – through the aptly named Warehouse Demo? Yes, pre-order the game digitally on PS4, and get access to the Warehouse level.
Who will be your skater? Of course, it will be Tony Hawk, a man who needs no introduction. Just be sure to catch as much air as possible before trying to pull off The 900!
Stay tuned for more information on the Warehouse Demo as we roll closer to August 14, and pre-order the game now at PlayStation Store.