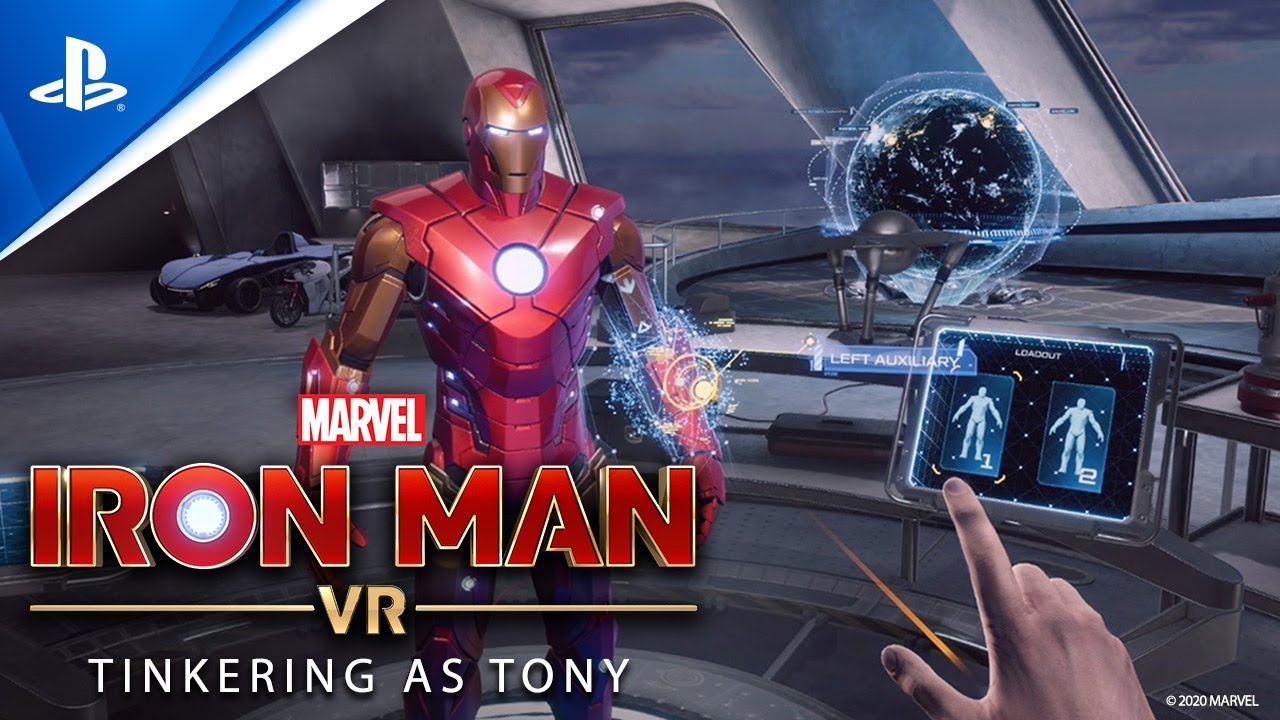 Learn how you'll upgrade your armor before you suit up on July 3.
Hi everyone! My name is Yara Abou Samra and I am a producer at Camouflaj working on Marvel's Iron Man VR. I'm looking forward to the game's July 3 release date when you all can suit up as Iron Man and revel in this PlayStation VR* exclusive game. In the meantime, please let me tell you about one aspect of the game we haven't spoken about: Tony Stark's garage and what you can do in it!
Early on in development, the team at Camouflaj knew that bringing the iconic garage into virtual reality would be essential. We knew it had to be a place where players could get the full-fantasy of the inventor, Tony Stark. We wanted the garage to empower players to tinker with and upgrade their suit and get more powerful as they got deeper into the campaign, looking stylish along the way.
As many of you know, we collaborated with legendary Marvel artist, Adi Granov, and Marvel Games Creative Director Tim Tsang to design our signature Impulse Armor. Once the armor was designed, our next challenge was ensuring players will actually get to see the iconic armor in more detail. Thankfully, the garage's Armor Station was the perfect location for players to get a third-person perspective on the armor.
After you've caught the Stark Jet, as seen in the Marvel's Iron Man VR PS Store Demo, you will unlock the garage, be able to get up close to the Impulse Armor, and make modifications including swapping in Repulsor types, new Auxiliary weapons, Arc Reactors and Thrusters. By completing missions and progressing deeper into the campaign, you will unlock Research Points which allow you to do deeper customizations.
One of the things that makes Marvel's Iron Man VR so fun is the amount of freedom you have in flight and combat. You can fly with one hand, while blasting enemies with the other. At the Armor Station, you can attach homing missiles on your left hand and cluster bombs on your right with the Research points that you've obtained. You can even customize two unique loadouts to suit different play styles, which is a feature much beloved by our most hardcore players here at Camouflaj. One of my favorite loadouts is pairing the powerful Anti-Armor Missiles with the shotgun-like Scatter Shot, allowing you to deal heavy damage to enemies both at a distance, and at point blank.
In addition to gameplay-driven upgrades, you can also unlock incredible-looking Armor Custom Decos to look awesome while you take on Tony's deadliest foes. With the base game, pre-order bonus and the Digital Deluxe Edition, there are 16 decos in total (seven with the base game, one from playing the demo, four if you purchase the digital deluxe edition, and if you pre-order any edition you will receive four). They are ranging from the "Vintage" deco, to my personal favorite, the "Hornet" deco: 
One of our character artists here at Camouflaj, Chris Foster, crafted each one of these decos. He puts his heart and soul into each of these, taking extra care to add various details such as brushed metal, carbon fiber, and chrome so that every deco looks and feels unique.
We've been blown away by how passionate testers on the game have been about Custom Decos, and it puts a big smile on my face.
You can pre-order or purchase the Digital Deluxe Edition to get Custom Decos, such as the Stealth Armor or Silver Centurion. You can also unlock the exclusive Molten Lava deco by downloading and playing the free demo. Once you first visit the garage in the full game, you will be able to give it a go!
Digital Deluxe Edition: $49.99 USD MSRP/$59.99 CAD MSRP (Digital only)
Includes:
Marvel's Iron Man VR Game
4 Deluxe Edition Deco Armors (Golden Avenger, Black Centurion, Sun Stinger, Stealth Armor)
12 Research Points – Research Points are gained by analyzing combat data from Iron Man's performance in the field. This research and analysis allows Friday to develop new technology (weapons and augments) for the Impulse Suit. Use these Research Points to unlock some weapons and augments early and customize to play style.
Marvel's Iron Man VR Digital Deluxe Soundtrack
Digital Deluxe Edition Iron Man PS4 Theme
Pre-Order:

4 Custom Armor Decos (Origin Armor, Vintage Armor, Silver Centurion Armor, & Ultraviolet Armor)
Marvel's Iron Man VR Dynamic PS4 theme
Tony's garage is a place where players can take some time to relax, acquire important information, tinker with the Iron Man armor, and plot their next move.
It's thrilling seeing the last bits of polish going into the missions, cinematics, and garage as we get closer to the game's July 3 release date. I can't wait to see what loadouts you all build, and how cool you'll look playing around, blasting enemies, and saving the world.
Until then, back to the garage!
*PlayStation VR is not for use by children under age 12. PlayStation 4 system, PlayStation VR, and PlayStation Camera are required to experience VR functionality. Two PlayStation Move motion controllers required to play. Sold separately.