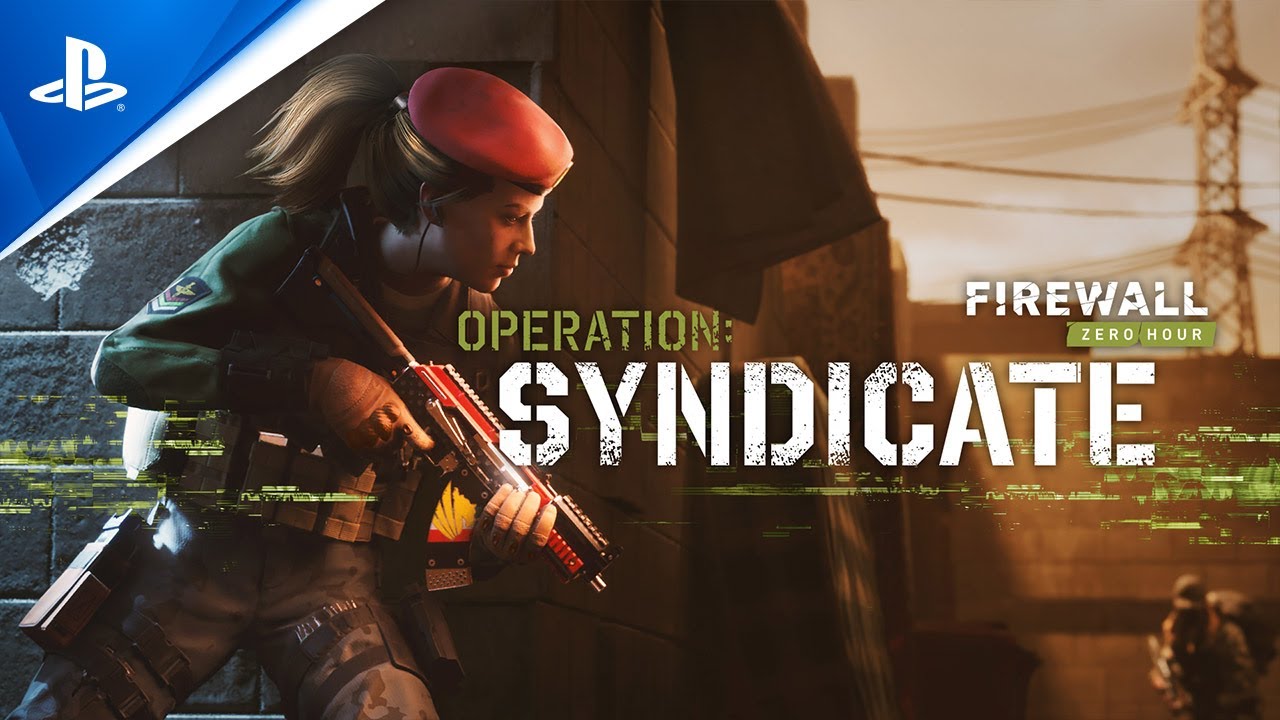 Firewall Zero Hour's fifth season arrives for PS VR with a new map, contractor, and more!
Hi all! Damoun Shabestari (aka Shabs) here, Game Director at First Contact Entertainment — developers behind Firewall Zero Hour*, the team-based multiplayer shooter exclusive to PS VR.
It's been an absolute blast for myself and our devs to witness the sheer number of you joining the game this year! We welcomed tons of new players into the game when Firewall Zero Hour was offered as a free game to PlayStation Plus members during February 2020, right at the same time the game's fourth season, Operation: Black Dawn, went live.
Today we're excited to keep that momentum rolling for the launch of Firewall Zero Hour's fifth season, Operation: Syndicate! Below you'll find a rundown on everything you'll see in-game this season, beginning tomorrow.
New Map
Operation: Syndicate launches with a brand new map, Blacksite, available for free for all players who have access to Firewall Zero Hour. Set at the golden hour of sunset, players will find themselves in the Blacksite — the sector of a Middle Eastern city with a heavy military presence. Work with your teammates to scope out the apartment interiors, creep around alleyways, and fight through the open air marketplace to protect (or defend) the data on the laptop! You'll utilize an array of cover points across the map, from field tents to sandbagged rooftops. And beware of those tight engagement zones! Players will also find themselves immediately immersed in the Blacksite map scene, as it becomes the Lobby environment during Operation: Syndicate.
New Contractor
This season introduces a brand new Contractor: Lucia Gallo, better known by her hacker handle — Luna. Born in Italy, Luna's studies were predominantly focused on computer science and combating cyberterrorism. Her masterful abilities lead to her being hired to spearhead a newly established cyber security agency. At the same time, she took up weapon and combat training to match her abilities as a hacker–becoming the perfect combo hire. Luna's Skill of "Backtrace" is very unique: players can see the outline of all signal jammers in the world for 4 seconds, helping players locate and destroy the equipment in time. This Skill is the perfect antidote for even the sneakiest jammer placements. Luna and her Skill are only available to Operation: Syndicate Op Pass holders**.
New Cosmetic Rewards
There are over 24 new cosmetic Rewards available this season. Upon completion of Missions, a variety of different trinkets, face paints, and camo skins can be equipped by players. In addition to Free Mission Rewards, Op Pass holders have access to Premium and Bonus Mission Rewards.
New Weapon
Arriving in Operation: Syndicate is a brand new weapon, the Custom ZS, available to all players upon completion of the Free Mission in the first week. The Custom ZS is a full auto, short-range sub-machine gun — perfect for the short and medium-range engagement zones found in Operation: Syndicate's new map, Blacksite.
New Legendary Weapon Skin
The Legendary Weapon Skin of Operation: Black Dawn is Luna's HZU — available to Op Pass holders who complete all Free, Premium and Bonus Missions in Operation: Syndicate (a total of 24 Missions) and redeemed for 250,000 Crypto.
Reminder: Op Pass and Hack Key Bundles
The Syndicate Op Pass allows players access to 16 additional Mission cosmetic Rewards, plus access to the new Contractor Luna, and the ability to unlock the Legendary Weapon Skin, Luna's HZU after completion of all 24 Missions this season. Hack Keys can be used to instantly complete any Operational Mission and receive its cosmetic Reward — a great option for players who don't have as much time to play as they would like. If you have any Hack Keys left over from last season (Operation: Black Dawn), you can use them on Missions this season (Operation: Syndicate).
Firewall Zero Hour – Syndicate Op Pass + 25 Hack Keys ($24.99 USD)
Firewall Zero Hour – Syndicate Op Pass + 5 Hack Keys ($9.99 USD)
Firewall Zero Hour – Syndicate Op Pass + 1 Hack Key ($5.99 USD)
Firewall Zero Hour – 5 Hack Keys Pack ($4.99 USD)
Firewall Zero Hour Digital Deluxe Edition and Deluxe Pack
As a reminder, Firewall Zero Hour's Deluxe Pack recently became available on the PlayStation store, released in conjunction with the Digital Deluxe Edition. Great as an add-on for those newer to the game, the Deluxe Pack features some of the most popular Contractors, skins, and face paints released for Firewall Zero Hour since launch!
The Deluxe Pack ($19.99 USD) includes the following:
Contractors: Jag, Nash, Node, Ruby, Lynx, Kane, Proxy
Camo Skins: Banana, Bella, Dark Carbon, Fractal, Graffik, Lava, Snakeskin, Sunset
Face Paints: Aztec, Clownface, Eagle, Fierce, Janus, Kiwi, Rotten
Weapon Skins: Banana, Bella, Dark Carbon, Fractal, Graffik, Lava, Snakeskin, Sunset
Well there you have it, Contractors!
We can't wait to get your feedback on this new season, Operation: Syndicate. It's been truly awesome to see how Firewall Zero Hour has connected PS VR players from every corner of the globe. We've heard countless stories from our amazing fans — from people meeting their future spouses through the Firewall Zero Hour community, to fans who convince family members to get a PS4, PS VR, and a copy of the game, so the whole family can play together as a squad. It's been a dream come true to see the Firewall Zero Hour community continue growing around the world, after almost 2 years since launch! Thanks to everyone for your continued support and sticking with us. We appreciate you!
Let's squad up and I'll see you online, Contractors!
* An internet connection is required for all modes of Firewall Zero Hour, including Single Player Training Mode. An active PS Plus membership is required for Multiplayer Training and Multiplayer Contract modes.
**Firewall Zero Hour: Syndicate Op Pass required to unlock Luna, available for purchase at the PlayStation Store
PlayStation®4 system, PlayStation®VR and PlayStation®Camera are required to experience VR functionality.