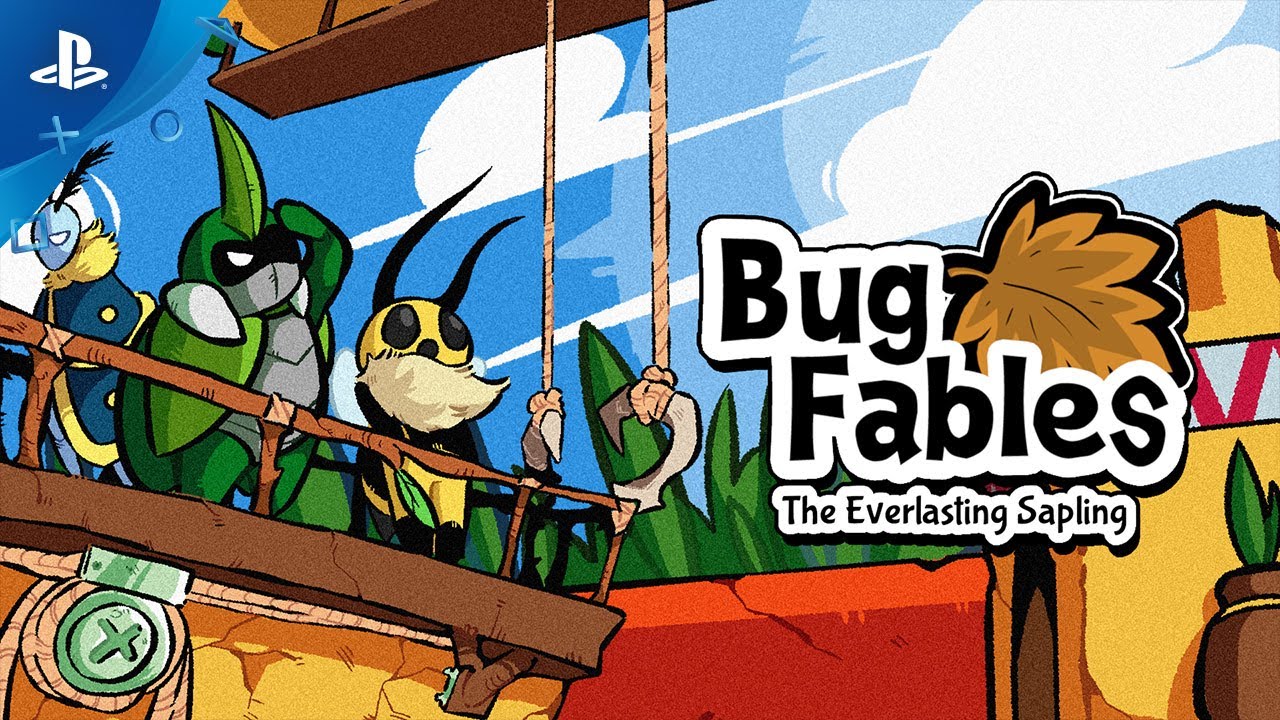 Meet the colorful trio you'll control as they search Bugaria for immortality.
Hi everyone! We are so thrilled to finally bring Bug Fables: The Everlasting Sapling to PlayStation 4! It has been a passion project for the developer at Moonsprout Games since 2015 and is truly a heartwarming, charming RPG for players of all ages. We'd like to introduce a little bit about the world of "Bugaria" to you today.
In Bug Fables, players take the role of three aspiring heroes, Kabbu the beetle, Vi the bee, and Leif the moth, as they embark on an epic quest to find the Everlasting Sapling, a mysterious treasure that is said to grant immortality. Their journey will take them to various locations in the kingdom of Bugaria, where they will meet a colorful cast of NPCs, traverse vast fields, explore dark dungeons, fight off evil mushrooms, even cook their way to victory! Though Bug Fables is an RPG at its core, it also offers clever puzzle solving in dungeons and action command mechanics in battle.
Small heroes with big personalities
One of my favorite aspects of RPGs are the characters and getting to know their personalities as they progress through their journey. Bug Fables makes no exception with its charismatic cast of main characters and wide range of wacky, adorable NPCs you will encounter as you explore the various locations of Bugaria. Here I'd like to introduce our three main heroes and show off their unique abilities and special attacks.
Kabbu, the righteous Beetle!
Kabbu comes from the far off Northern Continent, which neighbors Bugaria. Level headed, altruistic and a bit self-conscious, Kabbu looks out for his team above all else. Drawn by the grandiose legends of the land, Kabbu seeks to unearth every artifact and make sure no bug goes missing looking for them!
With his Horn, he can cut down bushes or push rocks to open a path!
In battle, Kabbu is robust and can deal extra damage by charging his Horn attack!
Vi, the sassy Bee!
Vi comes from the Bee Kingdom, the hive resting at the top of the largest tree in Bugaria. Easy to anger and quick to jump at the chance for riches, Vi is a crafty, sassy, and talented explorer. But don't tick her off, or she'll sting you in the face! (!!!)
Vi can use her "Beemerang" to get items out of reach or hit switches! She always gets her mark.
In battle, Vi can hit enemies multiple times with well-timed button presses!
Leif, the serious Moth!
Leif is a resident of the Ant Kingdom, who meets up with Vi and Kabbu during their expedition in Snakemouth Den. Confident and unfazed by almost anything (except delicious food and cute things), Leif doesn't have much to say. But when he does…
With his Freeze ability, Leif can encase water or enemies into blocks of ice which can be used as stepping stones! What other uses does it have?
In battle, Leif makes use of his magic to blast multiple enemies at once!
Moonsprout Games
Moonsprout Games is the culmination of a childhood dream. A small group of creators with the aim of evoking the same magical feeling of exploring new lively worlds everytime a new game boots up, all while keeping minute attention to details and balanced gameplay. Bug Fables development started in 2015 and was successfully funded on Indiegogo. Although Bug Fables began as a fun passion project, the great work dynamic and the potential of this IP was enough reason for the developers to bet on opening a company and delivering many more experiences. Lead developer Jose Fernando Gracia states, "When we started making Bug Fables as a passion project, we never expected the response and encouragement we've received. We're extremely grateful to our Indiegogo backers, and to everyone who's sent a like or a message our way. Although we're a small team, we've worked hard and hope everyone will get to enjoy this love filled adventure RPG!"
Mark Your Leaves!
We hope this gives players who are new to Bug Fables a small insight into the world of Bugaria and we can't wait for PS4 players to give it a try. If you're looking for a heartwarming RPG to start your summer off with, check out Bug Fables: The Everlasting Sapling, out today!