To mark the one year anniversary of London Studio's action shooter, the game's award-winning lead writer Colin Harvey shares his insight into developing its story.
I'm Colin Harvey, Lead Writer on London Studio's ode to action cinema, Blood and Truth. In the past I've worked across different media such as books, comics and audio.
My games work includes writing and narrative design for Rebellion's Sniper Elite 4, as well as uncredited work on The Getaway 2 and the 'lost classic' Eight Days, both for Sony. I even have a PhD in video game storytelling (yes, really).
I got the gig on Blood and Truth because I'm fascinated by the possibilities of VR, both for the challenge of developing a storytelling language for this new medium and to work with actors on the mo-cap stage.
As this week's marks the game's first anniversary, I wanted to share with you some of those experiences. If you're an aspiring writer or interested in learning more about the medium, this hopefully will shed some light on the work that goes into crafting a first person PS VR title.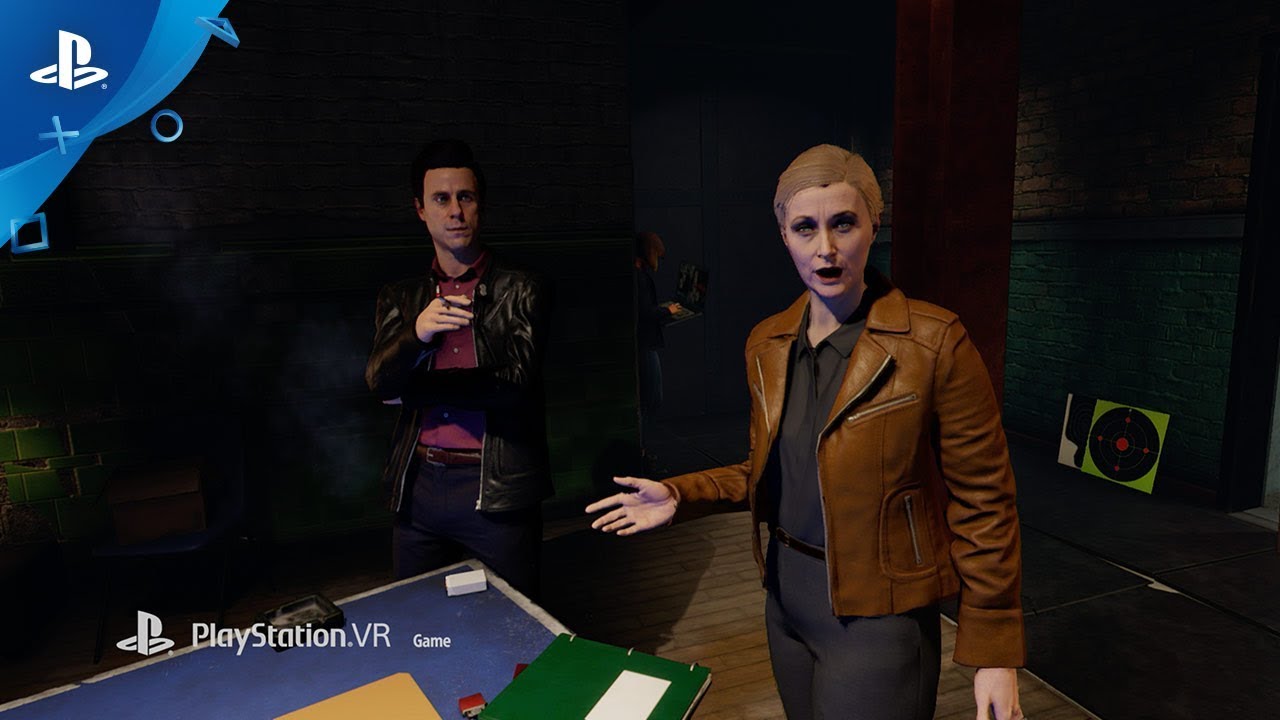 Do… expect to join the party late
I joined the game part way through development. This is pretty common in terms of game writing. This can be a nightmare as you're having to make a story work with pre-existing characters, locations and missions, but in the case of London Studio, there were loads of clever people at different levels of the organisation willing it to succeed. Working within that tight remit, I was given a lot of agency to work up the story.
Don't… be afraid to rework the story structure (if you can)
Our remit was 'Be the Action Hero', so we knew we wanted to take the player and place them in the midst of action sequences familiar from Hollywood movies. This meant building an equally thrilling story that could facilitate these sequences. All the missions were already designed [by the time I joined the project], but, climax aside, there was some flexibility about playing with the order [they appeared in] for maximum impact.
Do… add your own spin on your chosen genre
We wanted to reference action cinema greats, but obviously make our own mark on the genre.
We gave our characters a unique spin so they weren't stereotypes, giving them these interesting back stories. As a result, we ended up with a very diverse cast. [As an example, we had] really interesting, positive female role models in this story. The kid sister is the brains of the operation, you've got the indomitable mum character. How often do you see a mum in videogames?
Don't… treat narrative and gameplay as two separate development pillars
You establish the narrative which sets up the gameplay sequence. That then dovetails nicely into the next narrative scene, and so on. Do it right and you're progressing the story within those gameplay sections. The comparison I always use for people who don't play games is it's like a musical: you'd have some story, then a song, then some story. The best musicals move the plot along within the song.
Do… always consider your player's point of view
VR isn't like a film – we can't cut to a close up or a long shot, everything is told from the player's point of view.
We discovered, though, that we could get a similar effect by having a dramatic action cut across the scene, like when your kid sister Michelle sweeps into the scene to tell you your Mum's been kidnapped by the villainous Tony Sharp. VR is more like theatre in that regard.
The POV is one thing we had to make the actors aware of when shooting their scenes during mo-cap. As you can't guarantee where a player will look, everybody is potentially in close up.
Don't… distract the player (too much)
Getting the balance right in terms of interactivity is key. We'd shot these drama sequences and worried the player didn't have enough to do with their hands. But add too many interactive objects and the player doesn't play attention to what's unfolding.
Interactions need to be tied to the drama. The classic Hollywood comparison would be someone playing baseball. You're using the bat while getting the info at the same time. Or the Matrix 'kung fu' scene: you're learning martial arts while being told about the Matrix by Morpheus.
Do… look to your performers to bring something you didn't expect
We workshopped the scenes with the actors first. Let them extemporise a bit. Sometimes we incorporated their improvisations into the script, so things looked naturalistic. For certain scenes that were central to making them work, because a lot is built on the interplay between the characters, how they spark off each other.
Do listen to your actors. We were blessed with a brilliant bunch of performers who would often suggest alternative ways of doing things, or even resurrect lines from earlier drafts! Working with an actor of the calibre of someone like Colin Salmon was extraordinary, especially as this is someone who's always been at the forefront of new storytelling developments, and someone who's equally at home with Hollywood as he is more experimental stuff.
Do… factor in last minute challenges
You can miss things. One critical challenge we had was a sequence when you chase the villain's brother down a corridor. We realised that some players would just shoot him and escape. But doing so meant you didn't get a piece of key information.
We couldn't go back and reshoot it. That was literally a case of me writing something, going into the recording booth, recording the line, dropping that new dialogue with that key information elsewhere in that sequence. Voice over was our catch-all that covered what would have been a plot hole.
---
The above are observations I discovered over the course of the project. Given what we were doing was so new in so many regards, we're pretty pleased with the results – certainly the fanbase response and critical response suggests we succeeded.
Going forwards we'll be looking to tell more sophisticated stories that really utilise the strengths of VR. Sure we borrow from films and theatre, but we're different from both those mediums. We've also assembled an in-house team of Narrative experts dedicated to exploring the possibilities of storytelling for VR, which is incredibly exciting.
---
To also celebrate Blood & Truth's 1 Year Anniversary we also have a never seen before treat for everyone.
This video is an 80 piece orchestra re-imagining the Diplo vs Autoerotique track 'Waist Time' (it features beats & vocals the original track too).
We originally wanted a short piece that could transition between the commercial track & the original orchestral score but it worked so well we ended up getting full orchestral versions of this Diplo track & others by MJ Cole & Tim Deluxe. All recorded at the world famous Air Studios.
This joins the original grime reworks on the soundtrack, featuring production by Zdot and rappers such as JME, Eyez, Kamikaze and Ocean Wisdom.