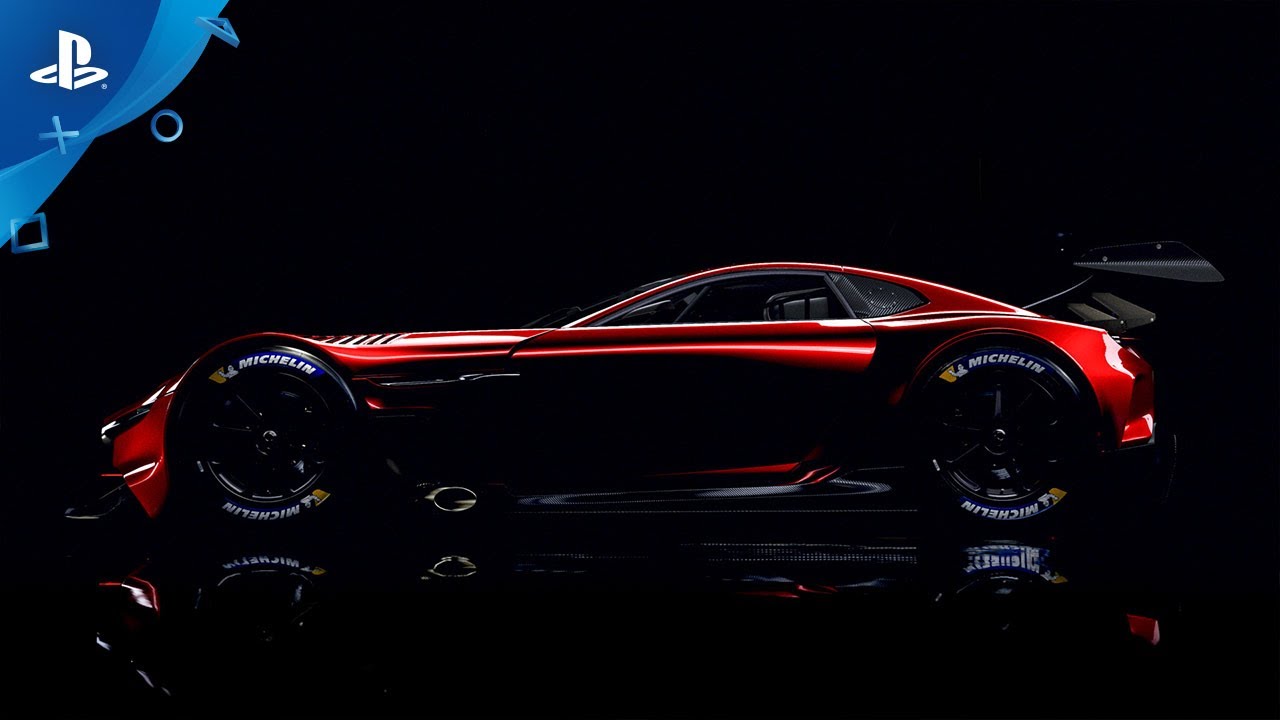 Introducing two special events commemorating Mazda's 100-year anniversary. 
The May content update for Gran Turismo Sport Patch 1.59 will be available tonight, May 21 at 11:00pm. (Internet connection required)
MAZDA RX-Vision GT3 Concept (Gr.3)
The MAZDA RX-Vision is a concept car announced at the 2015 Tokyo Motor Show. Based on Mazda's "Kodo-Soul of Motion" design theme, this was a challenge to create the most beautiful FR sportscar that Mazda could come up with. This car is also powered by the next generation rotary engine "SKYACTIV-R," a dream that Mazda wants to bring to life in the future.
Overcoming numerous technical difficulties, Mazda successfully introduced a commercial rotary engine through the Cosmo Sport back in 1967. Thereafter as the only manufacturer to mass produce rotary engines, they worked to improve output, fuel economy, and durability, and even took the overall victory in the 1991 Le Mans 24 Hour Endurance Race in their 787B.
The MAZDA RX-Vision GT3 Concept expresses the design beauty of the base car in the form of a more aggressive race car. To meet the performance requirements of the Gr. 3 class, the design draws from the 787B engine concept, with a 4-rotor engine brought back to life using SKYACTIV technology. This new rotary engine is mounted in a lightweight body to achieve unprecedented performance.
Two Special Events
Mazda's dream rotary engine racing machine, the RX-Vision GT3 Concept is finally coming to Gran Turismo Sport on Thursday, May 21 at 11:00pm PT. Mazda is celebrating its centennial anniversary this year since its establishment back in January 20, 1920.
Starting on Friday, May 22 in Gran Turismo Sport, Mazda will be hosting two special events commemorating Mazda's centennial anniversary and the release of the RX-Vision GT3 Concept; the "RX-Vision GT3 Concept Time Trial Challenge," and the "RX-Vision GT3 Concept Livery Design Contest."

The top winners from both events will receive special prizes from Mazda including a limited-edition sketch and miniature car. This is a unique opportunity to feel and share the spirit of Mazda's motorsports and design celebrating its 100th year. We invite everyone to take on this challenge!
For more information on the two special events, including terms and conditions, please visit
https://www.mazda.com/en/innovation/digital-motor-sport/mazda-100th