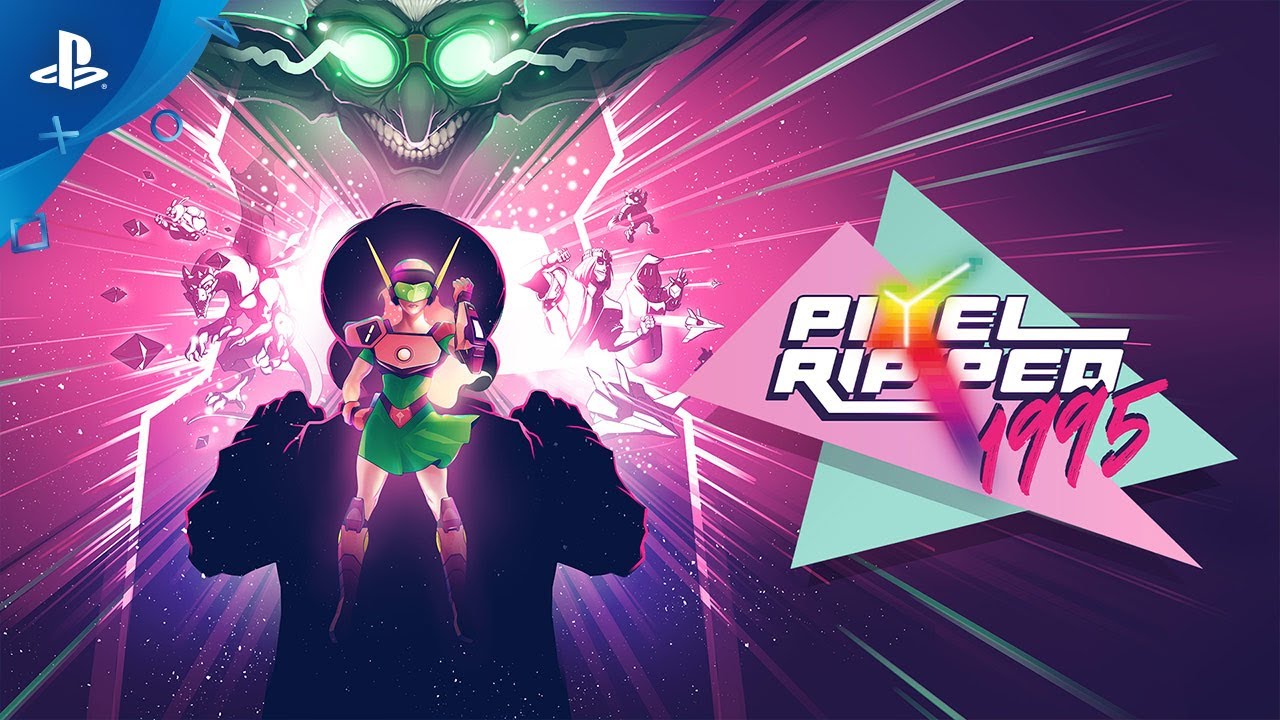 The second title of the award-winning Pixel Ripped series launches on PS VR tomorrow.
We're thrilled to announce that Pixel Ripped 1995 is coming to PS VR tomorrow! In anticipation, we decided to share more about our new co-protagonist David and explain how we designed his world to transport players back to 1995!
In the Pixel Ripped series, Dot is a video game heroine who must protect the Pixel Stone, an artifact keeping the balance between the Game World and the Human World. As the evil Cyblin Lord takes the Stone's power for himself, Dot seeks the help of a human player to beat the villain in both realms. In Pixel Ripped 1989, Dot fought alongside the rebellious British student Nicola, but now it's time for David Keene, an unassuming nine-year-old boy from New Jersey, to prove he's the best player from 1995.
Virtual reality has the power to transport us to the most fascinating places, and with Pixel Ripped, we have the opportunity to travel through time. Designing David's universe, we wanted players to feel immersed in a distinctive 90s world, seen through the eyes of an eager child. The environment should feel authentic, but we knew it needed a lot more wonder and excitement than reality could provide.
Our approach was to ground our research not only in real life places and experiences, but also in the way movies and TV shows portrayed life at the time. That means our players can relive glorious mundane moments, like fighting for the last copy of your favorite game at the rental store or beating your friend's high scores at the arcade, while feeling like the star of a kid action movie with parents that could have come straight out of a family sitcom.
The change of setting from Nicola's authoritarian school to David's winter holidays with his parents spontaneously turned the story into a more intimate tale, focused on personal relationships. Unlike the satirical villains from 1989, our new characters needed depth to feel like people David cared about.
During playtests, we implemented rough versions of the dialogue, recorded by ourselves, to gather feedback about the characters. Our biggest struggle was with David's mother, Karen, whose overprotectiveness and fear of technology set her up as one of the main antagonists. Through various rewrites, we realized that showing Karen's quirks and vulnerabilities behind the strict mother façade helped players relate to her, even when she was making their games harder.
This process also helped us find Karen's voice. Since I had recorded her dialogue tests, Karen used to share my Brazilian accent. This resonated with our Lead Artists, who proposed to redesign her as Latina. The team loved the idea and, by the end, we decided she would be Mexican. The team's collaborative work, amplified by the incredibly talented voice actress Michelle Bonilla, made Karen go from just a gameplay obstacle to a vibrant, memorable character.
Designing the universe of Pixel Ripped 1995 involved a lot of research, hard work and hilarious brainstorming sessions. But above it all, it was about pouring our hearts into this story. Our amazing creative director Ana Ribeiro lets her passion for video games shine through each corner of the game and every day she inspired us to do the same. Slowly, David's world became a mosaic of our collective childhood memories, carrying a little bit of ourselves in the most significant ways. Now, we invite you to make it your own as well!
We can't wait to hear all of your thoughts after the game's launch! And while you're here, why don't you tell us some of your favorite memories of being a gamer in the 90s?