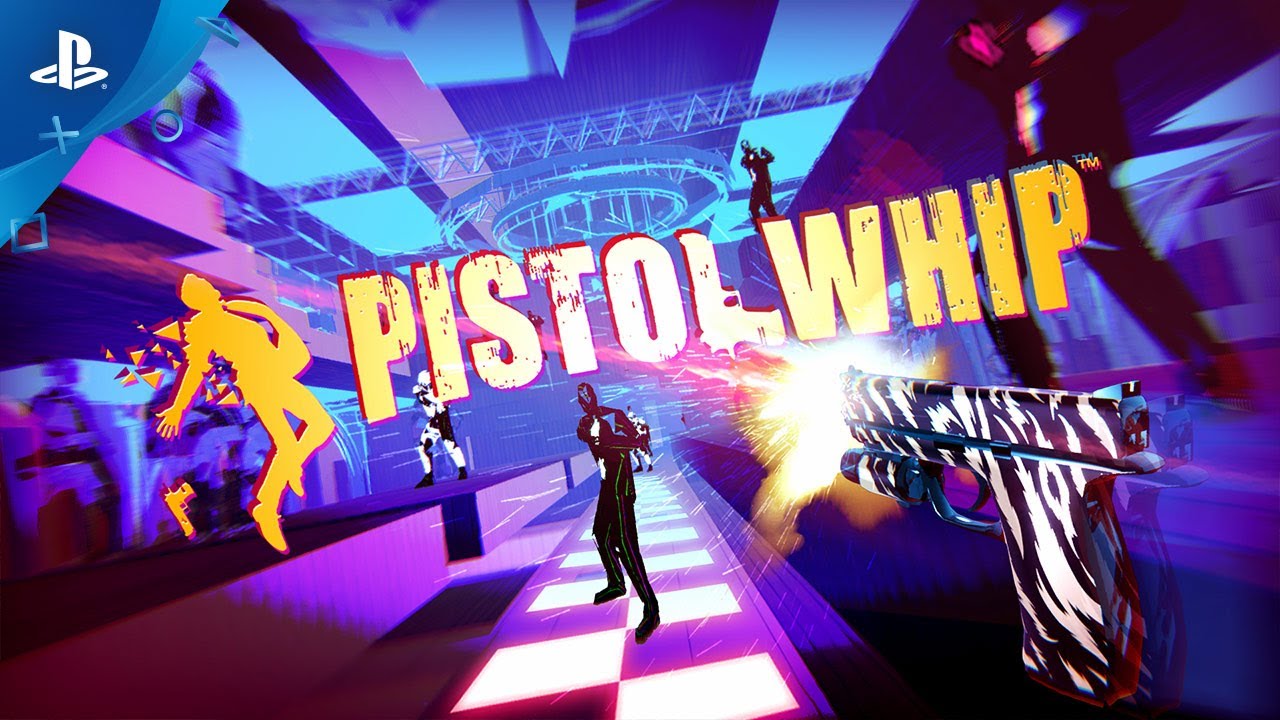 Become a rhythm-action hero in Cloudhead Games' toe-tapping VR sensation.
You know how in action movie trailers they sync all the gunfire and fisticuff sounds to match up with the music — that's what it feels like to play Pistol Whip, our first-of-its-kind action-rhythm FPS for PlayStation VR. You'll become the hero of your own action movie scenes, with hand-crafted enemy engagements and environments synchronized to a breakneck soundtrack.
Since we launched on PC late last year, Pistol Whip has rocketed to become one of the highest-rated VR games available, even becoming recipient of Immersive Reality Game of the Year at the 2020 DICE Awards. We're extremely excited to bring Pistol Whip to the PS VR family at long last this summer, so you can become the ultimate action hero badass you were meant to be.
For Pistol Whip, we took divine inspiration from the tone and stylings of god-mode action movies like John Wick and Equilibrium, as well as PS VR classics like Beat Saber and Superhot. Built for pick-up-and-play with dead simple, single-button controls, Pistol Whip is easy to play but tough to master. By default, you'll use a single PlayStation Move controller to aim and shoot, encouraging you to brace your weapon with your offhand like a real action movie badass.
Unlike traditional rhythm games, Pistol Whip features dynamic levels instead of a static void. Comfortable, constant momentum journeys you through a variety of "scenes" inspired by action movie settings, from bank heists to airship raids. Each scene comes with three difficulties, and we have a suite of weapon personalization options and gameplay modifiers, including dual wield akimbo, to mix up the flow, challenge you, and encourage new playstyles as you chase friends and global leaderboards.
Also unlike traditional rhythm games, Pistol Whip has no line in the sand; you have complete freedom to shoot, dodge, and melee targets (pistol whip) to the rhythm you feel is right, in no specific order. You'll earn bonus points if you take out baddies to the beat of the music, but you can play Pistol Whip entirely rhythmless like a classic arcade shooter. Whether you play tactically or musically, Pistol Whip offers unprecedented player agency.
Pistol Whip was built for virtual reality by our team of veteran VR developers to take advantage of the physicality of the tech. With Pistol Whip on PlayStation VR, you'll use the breadth of your space to dodge bullets, avoid obstacles, and land some mean pistol whips. For the fitness-minded, Pistol Whip can also be used as a workout tool perfect for maintaining your best quarantine bod. Plus, it's fun to watch and you look pretty cool playing it.
As a veteran VR team, we also have a keen focus on comfort. For Pistol Whip, we came up with a comfort-first locomotion design that prevents motion sickness while you play, even during the most hectic movements. With this design, you're able to experience non-stop motion without the fear of nausea, allowing you to focus on the action and stay in rhythm. If you're motion sensitive and have been holding out on VR action games for that reason, Pistol Whip may be right for you.
When Pistol Whip launches on PS VR this summer, the story does not end there. We'll be continuing to support the game with content updates over the months to follow, introducing new scenes, customization options, and more to be revealed.