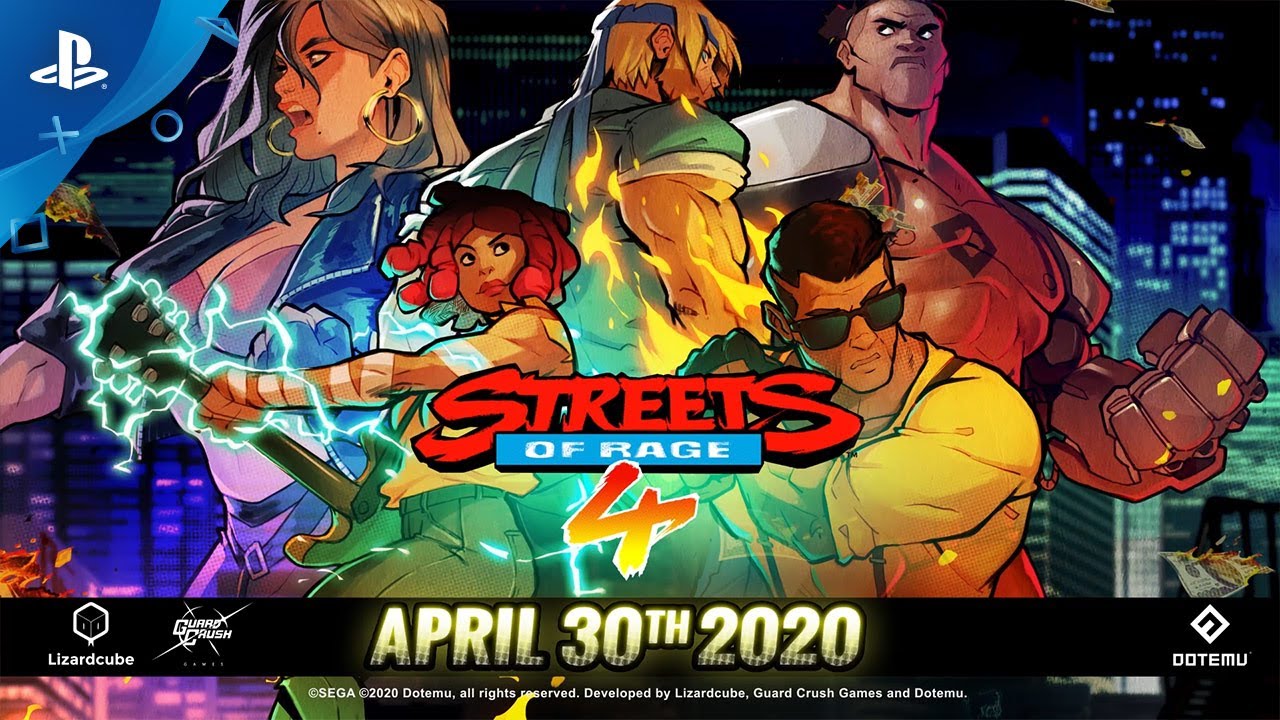 26 years after the last episode, the Streets of Rage saga finally returns - with loads of surprises.
Hey everyone, I'm Cyrille Imbert, Executive Producer of Streets of Rage 4. It's been 26 years since the last episode of the Streets of Rage series, but today I'm happy to announce that we're finally launching the new chapter on April 30! Everyone at Dotemu, Lizardcube, and Guard Crush Games is super excited to finally make this dream a reality. As huge Streets of Rage fans ourselves, we can't wait for you to play and enjoy the game.
This blog is about more than just the release date. We're also ecstatic to reveal the return of Battle Mode, a game mode that will help you and your friends decide once and for all who truly is Wood Oak City's finest alley-clearing ruffian.
But enough talk – check it out for yourself in the trailer above!
Battle Mode lets you select your favorite characters and test your skills against one to three friends across several memorable levels. While it's true that Streets of Rage 4 is all about cooperation, we thought it would be fun to let you guys play around with the characters and discover which of them is the most powerful, and which ones best suit your playing style. Whether you want to train your combos and specials, or just have some fun, Battle Mode is the place to do it – and it will be available right from the start.
As shown in the trailer above, you can try out Battle Mode with the Streets of Rage 4 characters, as well as the complete roster of twelve retro characters that we announced last week (once you've unlocked them, of course!).
These retro features have us super excited, and I want to take this opportunity to provide you with more details:
In Streets of Rage 4, you'll be able to use the characters from previous Streets of Rage installments. We brought back almost everybody (sorry Roo) – complete with their own shiny pixel-art outfits and unique characteristics, for a total of 17 playable characters.
You may already know this, but you'll also be able to choose between two different soundtracks for Streets of Rage 4. One is an all-new soundtrack composed by an all-star line-up of musicians (including Olivier Deriviere, Yuzo Koshiro, Motohiro Kawashima, Yoko Shimomura, Das Mörtal, Scattle…). The other consists of tracks selected from Streets of Rage 1 and 2 – for those who want the full nostalgic trip! Plus, you can switch soundtracks in-game whenever you want.
Go Straight
Bringing these pixel characters back to life was no easy task, but as fans it was something we were committed to and wanted to surprise you guys with.
Everything started right at the prototyping stage of development. We didn't have any Streets of Rage 4 characters ready then, so in order to start testing things and working on the gameplay, Jordi Asensio, our game designer, ripped some sprites from previous Streets of Rage games and integrated them into the Guard Crush engine. As the development went along, we realized that these sprites actually looked really good visually – with the lightning effects and all – and that having them playable was something we knew fans would love.
The same was true for the music. We didn't have any new tracks to work with at the beginning, but we knew we wanted something with the same spirit as the previous soundtracks. We used classic Streets of Rage 2 tracks like "Go Straight" as placeholders in order to maintain a "Streets of Rage flavor" while testing the game. What we ended up with was a mix between beautiful new sounds and old-school 16bit-era music, and it felt so right that we decided to put all our effort towards integrating this as a feature in the final game.
Fighting in the street
As mentioned above, bringing back all these characters wasn't easy. First, our team had to rip each and every character, one by one, frame by frame. This was an exhausting process because we were dealing with around 1,500 different frames. But the next phase was even more complicated because we had to reconstruct all the animations with the right timings from the original games. Because of how intricate this process was, everything had to be done by hand.
Once the animations felt authentic, it was time for the real fun: the gameplay Because all the characters come from different games and because Streets of Rage 4 is a brand-new title, Jordi and the Guard Crush team had to adapt everything to the Streets of Rage 4 system. This meant going over all the characters and reproducing the properties of all their moves, one by one. This process required a lot of research and tuning, because our goal was to be very faithful. Thus, the team had to go over every timing and every hitbox, frame by frame.
Hitbox comparison for the same move: on the left, Streets of Rage 4; on the right, Streets of Rage 2
Occasionally, exactly reproducing the original properties didn't work because Streets of Rage 4 works differently from the previous episodes and the old gameplay did not feel as fun as expected. So, for some characters or moves, we had to adapt and do even more fine tuning to make their move-sets work in a way that felt fun and on-point, which also meant adding some new subtleties. I don't want to spoil those for you here though – I'll let you discover them on April 30!
After months of seriously hard work, voilà: 12 freshly tuned classic combatants and five new fighters, for a total of 17 playable characters! We hope you enjoy playing Streets of Rage 4 as much as we enjoyed making it. Thank you all very much for your support since we first announced the game. It has been an exceptionally long, extremely rewarding journey for us, and you can't imagine how excited we are for you to enjoy the finished product.
Don't hesitate to keep sharing with us on social media your love and thoughts for this amazing series. Reading your feedback, ideas, and encouragement was a real pleasure, and it most definitely helped us to give our best all the time.
Grand Upper!