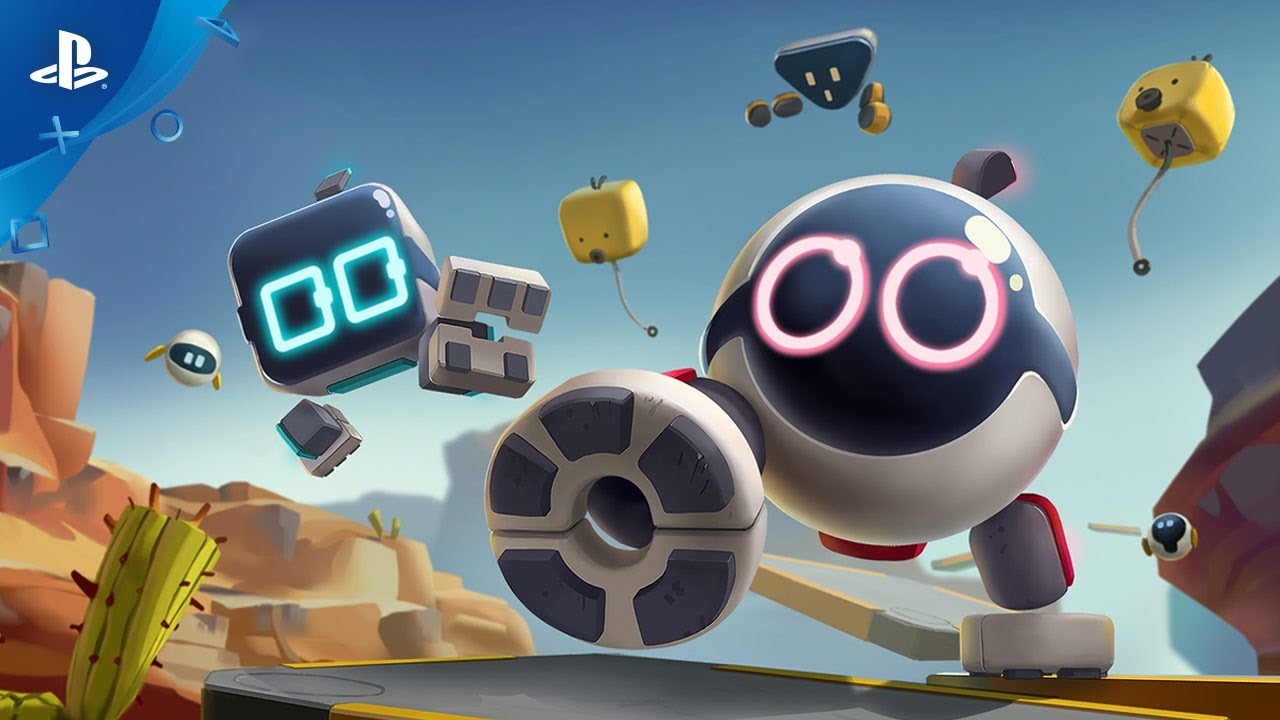 Grab a friend for a platforming adventure where bipedal motion and coordination is key.
Hello! I'm Dong from NExT Studios, producer of Biped — our upcoming co-op action adventure game with a strong focus on moment-to-moment collaboration between two players. Today, I'm very happy to share with you the release date for the game: April 8!
Biped may take place on planet Earth, but it's actually Earth in another dimension and time, where human beings don't inhabit the planet and bipeds have built planetary facilities in the wild. At the beginning of the game, a galactic anomaly unexpectedly "turns off" the light beacons on Earth, and it's up to these little robots to descend to Earth, locate the beacons, and restore them.
The game is primarily composed of three parts: co-op missions, solo missions, and extra hard pro missions. The co-op missions are for two players and cover the main playbook in a balanced way, but the most difficult challenges are in the pro missions where all the experience and skill players have learned from coop will be put to the ultimate test. You'll also unlock lots of decorative items by collecting coins and buying them in the in-game shop. These are anything but serious, meant to toss a few extra laughs into your time with the game.
Two years ago, two of our developers were trying to make a climbing game using full ragdoll animation tech on characters, just like Human Fall Flat. While iterating on this idea, they found it was very difficult to control and they decided arms might not actually be necessary, opting instead to let the character's two legs do everything. And that's how the Biped idea was born. When we started working on Biped, we were trying to make a lot of prototypes. We had a big biped, a tall biped, a strong biped… even a dog with two bipeds. This is fun because you can see a lot of possibilities. But it's also hard to choose which mechanics we should put into the game.
The theme of Biped is a joint adventure. So we wanted the visual style to illustrate a warm, vibrant, and whimsical world in which players can have an emotional adventure. It's colorful, easy on the eyes, and hopefully will provide a soothing backdrop to the game's otherwise demanding challenges.
We tried to make our game literally for everyone! The control scheme and fundamental mechanics of the game are so simple and straightforward that everyone, of all ages, has not yet had any problems picking it up and having a fun time instantly. It goes without saying that the game is great for couch cooperation among friends and family members, but it also works magic when absolute strangers are paired together and compelled to cooperate for the first time. It brings out the empathetic inner selves in all of us.
One thing we really want players to look out for is the mini-quests with the various NPCs in the game, who have a lot of harmlessly strange personalities. One day, one of our game designers made a little guy who drops coins while complaining if you try to bash him. If you are familiar with old school Capcom side-scrolling beat 'em ups you might even recognize where this comes from. We decided to keep this in the final game, along with many other Easter eggs you may find along the way.
It's exhilarating to finally talk about Biped — thanks to everyone who has read this story. If you find Biped interesting and you are curious about more, please check out Biped on PS4 when it launches next week!