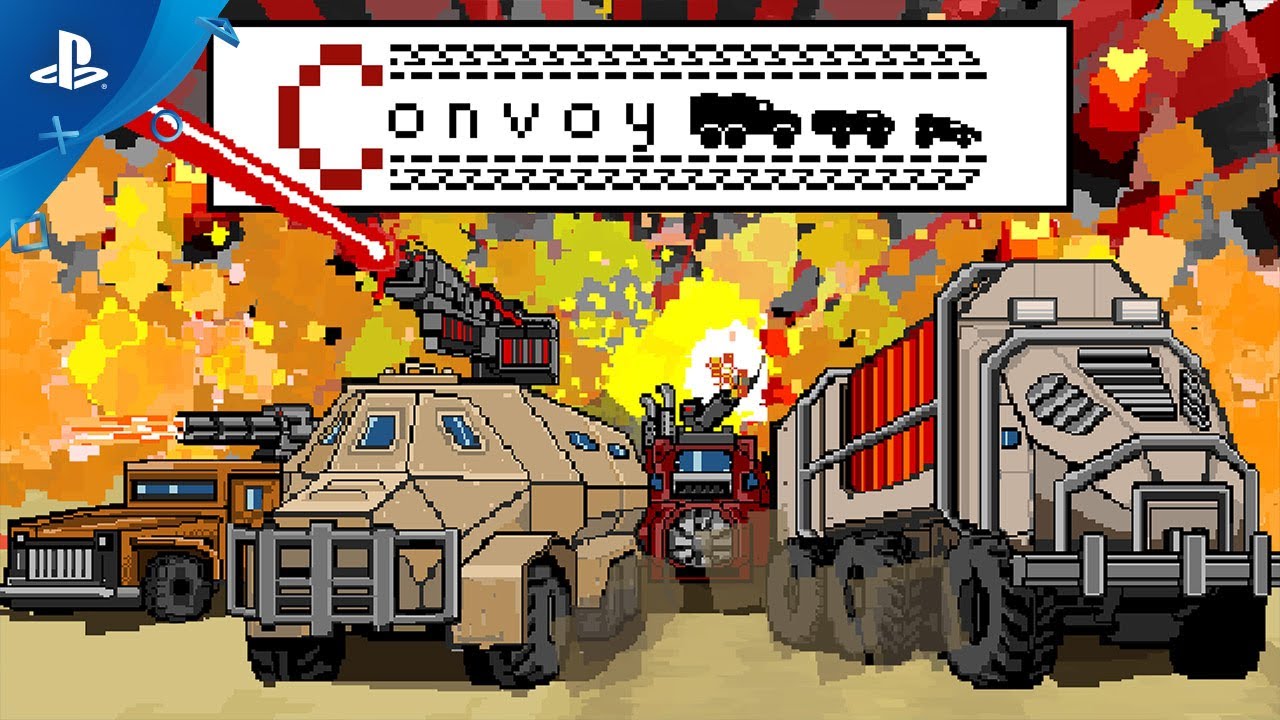 Brave the wasteland with a crew of combat vehicles to find parts and repair your downed spaceship.
On April 8, Convoy Games' hit indie roguelike will crash land on PS4! Drive a convoy of futuristic, armored trucks through a barren wasteland and scavenge parts for your stranded spaceship through clever dialogue and tactical combat. Put your wits to the test against the dangerous factions of Omek Prime… and risk losing everything.
At Convoy Games, we've always had the ambition to bring our game to consoles. With our upcoming release, this is finally becoming a reality. As a small team, it's quite difficult to release a game to more than one platform. Something that seems quite trivial can take months of work to accomplish. Fortunately, we were able to join forces with Triangle Studios, which made the whole transition much easier and allowed us to focus on making the PlayStation version as good as it can be.
When bringing a PC game to PlayStation, there are lots of details to consider. Of course, since the original game was playable with a mouse, we needed to make the game just as enjoyable to play with a controller. On top of that, we added fresh vehicles such as the Kyran and Shredder — and their accompanying storylines — ensuring that the PlayStation version is the most enjoyable deployment of Convoy ever!
Hundreds of thousands of players have enjoyed Convoy on PC, now it's your turn to explore the world of Convoy from the comfort of your couch!
For those of you who are new to Convoy: A Tactical Roguelike, the game is best described as a squad-based tactical roguelike, where you travel with your crew of combat vehicles across a wasteland to find parts needed to repair your downed spaceship. During your journey, you will pick up radio signals from strangers of different factions in randomized scenarios.
Depending on the choices that you make, these encounters can lead to tactical combat, dialogue or chance-based role playing. Whatever choice you end up making, you need to keep your Convoy and its cargo safe from raiders, warriors and other threats and use your resources wisely when upgrading and customizing your vehicles.
Combat plays out in real time in the form of high-speed chases, where positioning your vehicles and using their abilities is imperative to survival.
In the world of Convoy, three factions compete for control of the planet. Your actions may distort the balance, making you an enemy to everyone. As each faction grows in strength, it's up to you to keep up. And if knowing that a wrong move could be the end of you isn't enough: Death is permanent. Stay vigilant.
Convoy: A Tactical Roguelike will be available on PS4 April 8.