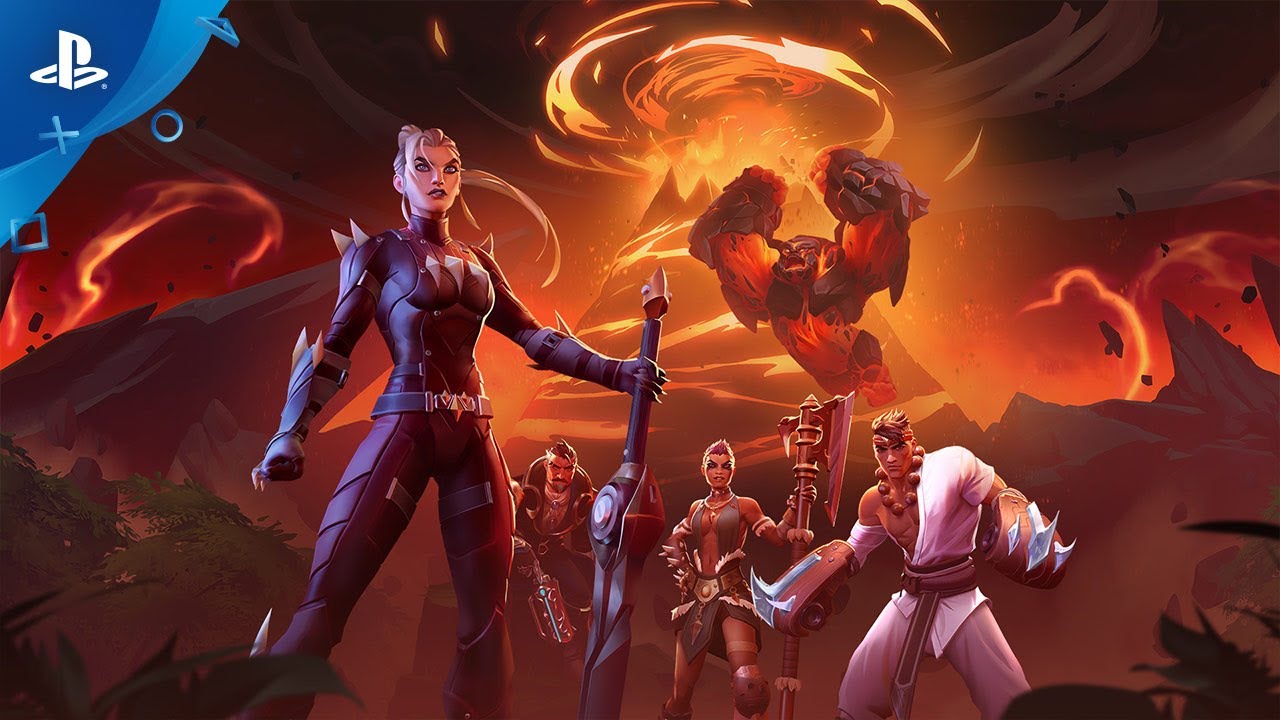 New Behemoth, Escalation, Hunt Pass, and more await PlayStation Slayers
Hello again, PlayStation Slayers! I'm here today to tell you about the Scorched Earth content update for Dauntless, arriving March 19 on PS4. It's a hefty update that includes a new Behemoth, Blaze Escalation, Hunt Pass, and loads of new bells and whistles for you to check out.
Blaze Escalation
If you took part in our Shock Escalation season that launched this past December, you'll be familiar with the mechanics of the hunt type, but here's a refresher: Escalations task Slayers with a series of Behemoth encounters with unique difficulty modifiers and randomized Behemoth combinations, culminating in a battle against the Escalation's "boss" Behemoth. Shock Escalation was our first experiment with this type of hunt, so we wanted to expand the breadth of content for this season.
You'll find new fiery Behemoth variations in Blaze Escalation, and we've added a number of new attack patterns to these variants that should keep you on your toes. If you've been keeping an eye on our interactive Scorched Earth map you probably noticed a few teasers for Blaze Escalation content, including new aggressive fauna, a lush, tropical island chain to explore, and the star of the show, our new Behemoth. Without further ado…
New Behemoth – Torgadoro
Meet the Torgadoro! Torgadoro is the "boss" Behemoth in Blaze Escalation, and you can reach this menace by successfully netting an Escalation score of 40 or above in a "10-50" level Escalation hunt. With a high level of agility (despite his gargantuan size) and fists that can quite literally crack the earth and bludgeon Slayers to a pulp, the Torgadoro is a formidable opponent for even the most seasoned Slayer. You'll get your chance to test your might against this foe in the crater of a volcano soon.
If you successfully reach the end of a 10-50 Escalation hunt, you'll earn schematics for powerful legendary weapons forged using Torgadoro parts. Each legendary Torgadoro weapon includes two prismatic cell slots, the ability to "bond" the weapon to another blaze weapon, and a special ability that calls forth Torgadoro's rage, letting you rampage across the battlefield with oversized fists.

Searing Talons Hunt Pass
Scorched Earth also brings with it a brand new Hunt Pass, Searing Talons. You can earn up to 50 levels of cosmetic rewards and consumables from the enigmatic Blaze Hawk faction of Slayers known for swift, stealthy hunts in fiery islands of the Burning Heights. The set culminates in a dazzling set of Blaze Hawk armour skins that will show you're ready for Torgadoro's domain.
Hunt Pass Prestige
Completing all 50 levels will open up Hunt Pass Prestige, launching Thursday with the content update. Each Prestige level you complete will earn you Vault coins — a new currency created especially for Prestige players. These can be used to purchase hard-to-find items from previous Hunt Passes, including cosmetic armour sets, emotes, weapon skins, and more.
New Improvements
This update brings a number of quality of life improvements and other features we've been itching to get into Dauntless. You'll find a new and improved move list that provides detailed information about combos, weapon specs, and more. We've also updated our daily login bonuses to include a multitude of potential items, including rams, elemental orbs, arcstones, patrol chests, bounty tokens, and tonics. For the "bounty hunters" out there, bounties have been rebalanced across the board, and the bounty rating (bronze, silver, gold) should now properly reflect the challenge associated with each bounty.
We hope you enjoy Scorched Earth, Slayers! If you have any questions or comments, feel free to leave us a message below.